One-Month Itinerary in Thailand
During our long-term journey last year, Thailand was one of the destinations that we were looking forward to the most. After Hawaii, Japan, Hong Kong and Vietnam, we spent an entire month there in July and August, which is the rainy season. We never experienced really bad weather and were always able to do what we wanted.
We stayed in cities but we chose to spend most of our time in the Thai islands, which was still a great mix and allowed us to discover the culture of the country.
This post is also available in:

Français (French)
Bangkok, 3 days / 4 nights
Bangkok was our first stop in Thailand. Not being fans of big cities, we would both have been ok to skip it but we thought we would give it a chance and stay there for a few days. The city is not really pretty in itself, it's big, busy and between the buses that you can wait for hours (I speak from experience here…), the BTS that gets as crowded as the Paris metro at rush hours and the overcharging taxis, it's not that easy to get around.
But to be fair, we still found things to do that we enjoyed. After all that's what travel is about – wherever you are, you learn to adapt and we had fun.
How to get there: The best means of transportation obviously depends on where you are coming from. We visited Thailand after 6 incredible weeks in Vietnam so the easiest for us was to fly from Hanoi ($108 per person).
Where we stayed: Hotels in Bangkok are usually more expensive than in other areas of Southeast Asia. We ended up staying at the Admire Thonburi Hotel located just outside of the city centre and we were quite happy about our choice. Offering dorms as well as private rooms, the hotel was nice, clean and the staff, very friendly. The area was quieter than any downtown neighbourhood and we were still able to walk to restaurants and street food options as well as a BTS station.
Read more: How to spend three days in Bangkok.
Chiang Mai, 4 days / 5nights
After a bit of a rough start in Bangkok, we set off for Chiang Mai. The city being mainly known for its temples (after 3 months in Asia, Simon was getting a bit tired of temples), we almost skipped it entirely. Everyone we spoke to about it kept praising it so we decided to go and we were not disappointed. Chiang Mai is simply stunning and offers a lot to do whether you want to stay within the city as we did or if you want to explore its surroundings.
How to get there: There are buses available to travel through Thailand like from Bangkok to Chiang Mai. Prices vary a lot and honestly, after travelling through Japan on night buses, we were not willing to spend so much time in buses anymore. Despite what you might think, flying within Southeast Asia is not that expensive, especially within the same country. We actually found one-hour and ten-minute-long flights from Bangkok for $27 per person, which is barely more expensive than the bus.
Note that there are 2 airports in Bangkok, make sure you know where you are flying from!
Where we stayed: We chose to stay within the old town, at the Fuengfa Place for $27.6 per night. The area is cute and quiet and you will reach downtown with a short tuk tuk ride.
Read more: A few days to relax in Chiang Mai.
Phuket, 5 days / 6 nights
Phuket had always appeared to me as a dream destination and that's where he headed after a few days in gloomy Bangkok and lovely Chiang Mai.
How to get there: We flew from Chiang Mai for $64 per person. Since the airport is located on the North of the island and our hotel was in the South, we had booked a shuttle for direct and stress-free pickup and drop-off ($27 for both of us).
Where we stayed: Phuket is not that small so it's important to pick well the area you're going to stay at. The island is mostly known for the Patong beach area on the West coast which is very touristic and famous for its nightlife. Remaining true to our ourselves, we decided to stay away from it and chose the far less busy Rawai area.
We stayed at the Thai Palace Resort for $29.4 which was definitely one of the nicest hotels that we have stayed at.
Read more: Rawai, the quiet side of Phuket, Exploring the old town of Phuket.
Koh Phi Phi 5 days/6 nights
Koh Phi Phi must be the Thai island that has the worst reputation. Or the best, if you love partying. Some people will tell you it was worth it 25 years ago but that the island has been ruined by tourism. Unfortunately, I can't say that it's not true: every inhabited part of it is basically a holiday village to itself, packed with hotels and restaurants. It's definitely not the right place to go if you want to discover Thai culture. But 25 years ago, I was three years old and I'm not sure I would have been able to enjoy any of it! So should we have just skipped it? I'm happy we didn't.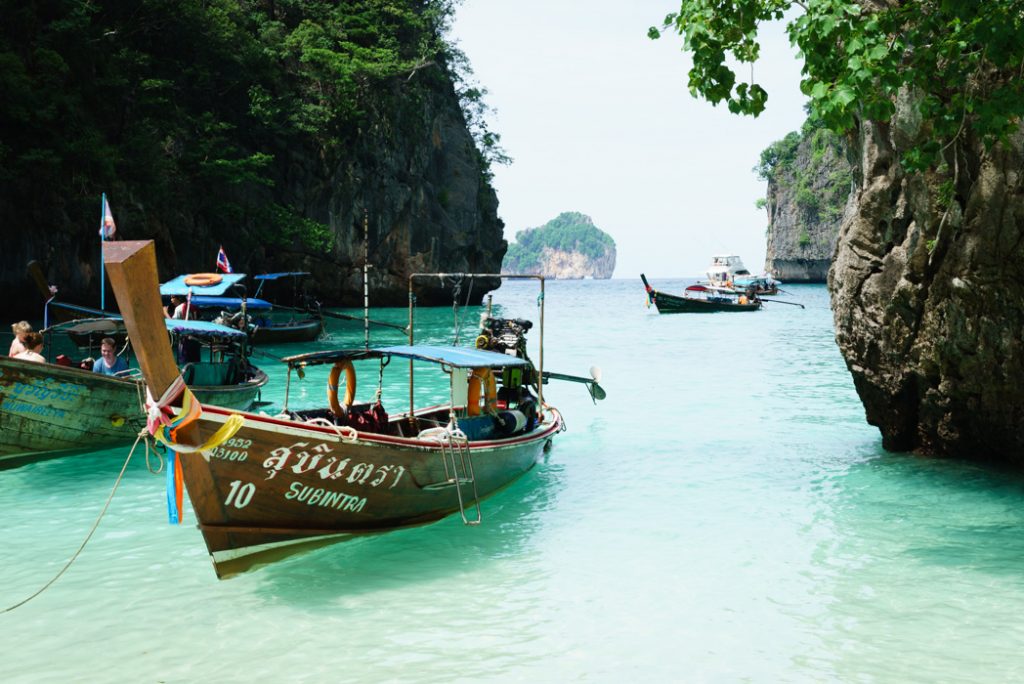 How to get there: We booked our transfers to Koh Phi Phi, then Koh Lanta and Krabi at our hotel in Phuket for about 1900 Bahts ($55) for both of us. The tickets we bought included boat trips as well as drop-offs and pick-ups at our hotels. If you are planning to visit several islands, it is usually cheaper to book all your transfers together.
Where we stayed: We stayed on the North East coast at Ba Kao Bay resort, a very impersonal, not great yet not horrible hotel nearby a beautiful beach. We were just steps away from restaurants and a few convenience stores.
Read more: Koh Phi Phi without the crowd and the partying, How to see Koh Phi Phi Leh at its best.
Koh Lanta, 6 days / 7 nights
Less touristic and even more laid-back than Phuket and Koh Phi Phi, Koh Lanta offered a total change of scenery and atmosphere and it quickly became my favourite Thai place.
How to get there: The boat trip from Koh Phi Phi to Koh Lanta as well as transportation to and from our hotels were included in the $55 (for two) island hopping arrangements we made in Phuket (see above).
Where we stayed: We stayed at the Golden Bay for $22 a night, right by Klong Dao beach and we were very happy about it. The bungalows were nice and it couldn't have been closer to the beach.
Read more: Koh Lanta, Thailand: we found paradise.
After heartbreaking goodbyes (from me at least) to Koh Lanta, we spend only an evening and a night in Krabi before flying to Sri Lanka. We felt like a whole month was perfect to experience the culture. You might have the time to visit more places in four weeks but our rhythm really allowed us to enjoy our time in the country.
Share it on Pinterest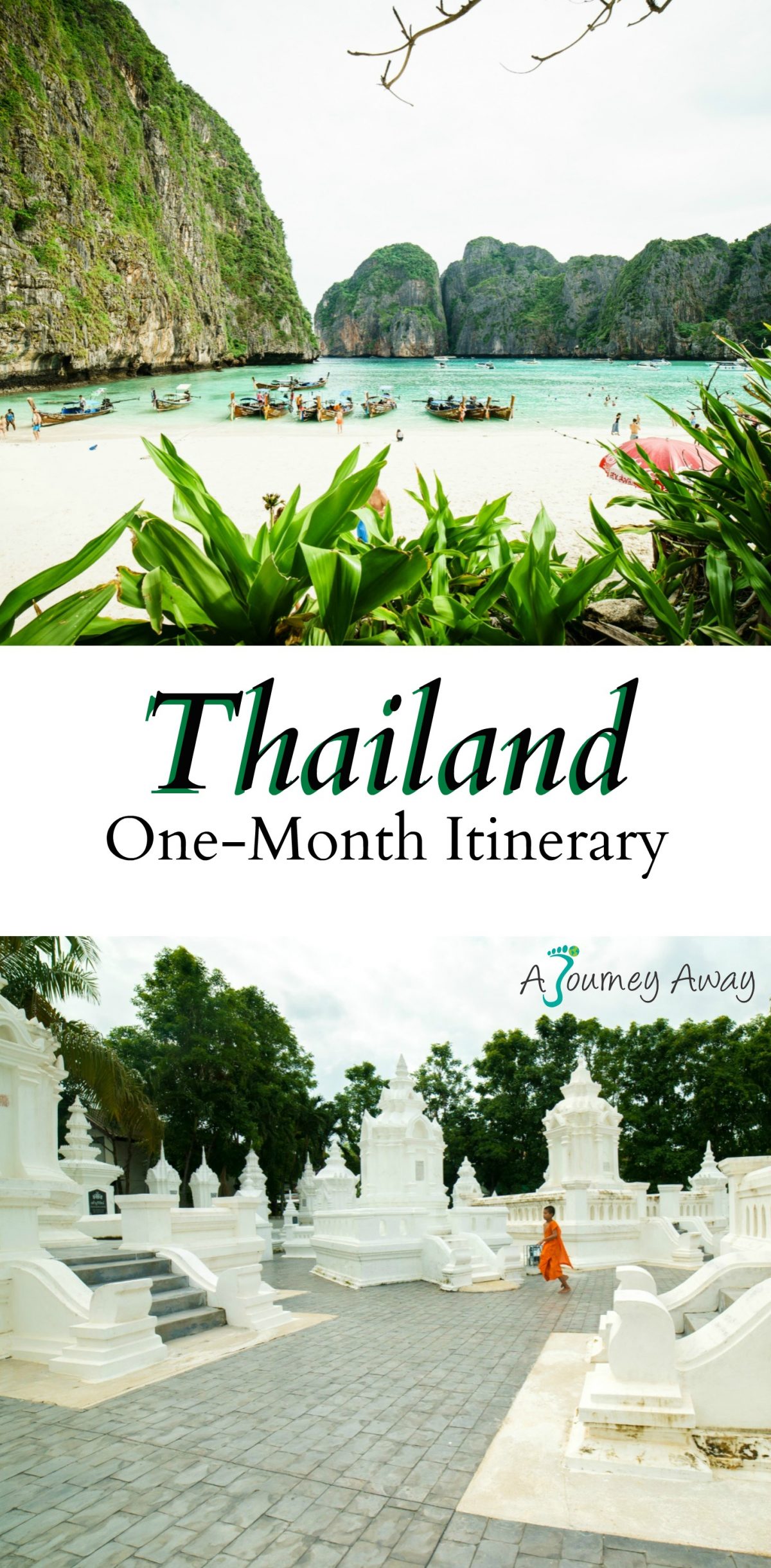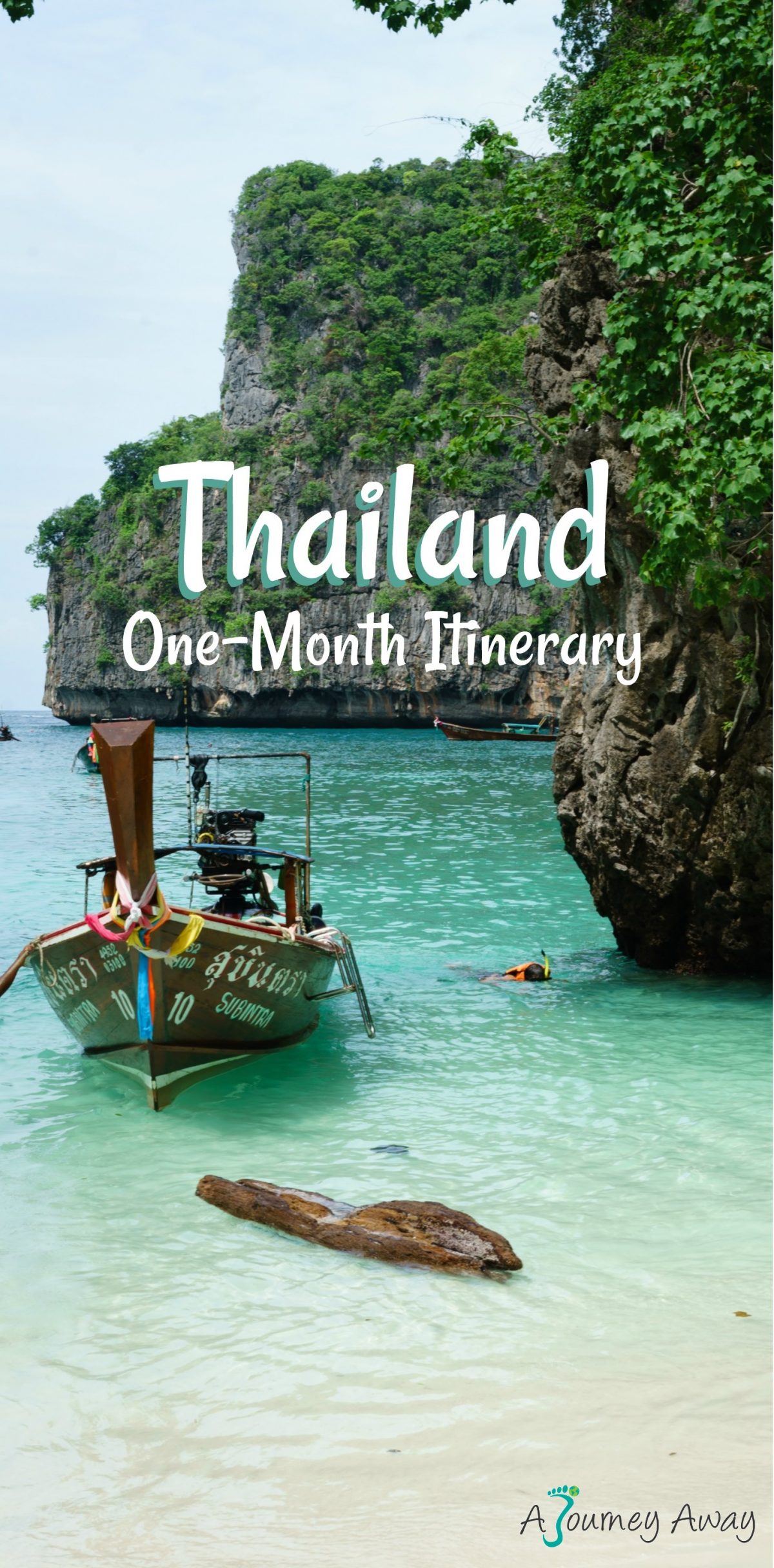 Note: there are affiliate links in this post, meaning we get a small commission if you place an order on the website through one of the links but to no extra cost for you.