Relax in Chiang Mai
After a bit of a rough start in Thailand during our few days in Bangkok, we set off for Chiang Mai. The city being mainly known for its temples (after 5 months in Asia, Simon was getting a bit tired of temples), we almost skipped it entirely. Everyone we spoke to about it kept praising it so we decided to go and we were not disappointed.
This post is also available in:

Français (French)
Chiang Mai is stunning. Whether you want to see elephants, jump in the water from the cliff of a canyon or trek in the jungle, there is plenty to do around the city. We weren't really up for hours of transportation to go out of town though and we needed to rest and relax so we looked for every opportunity to do so within the city. Here is what we did: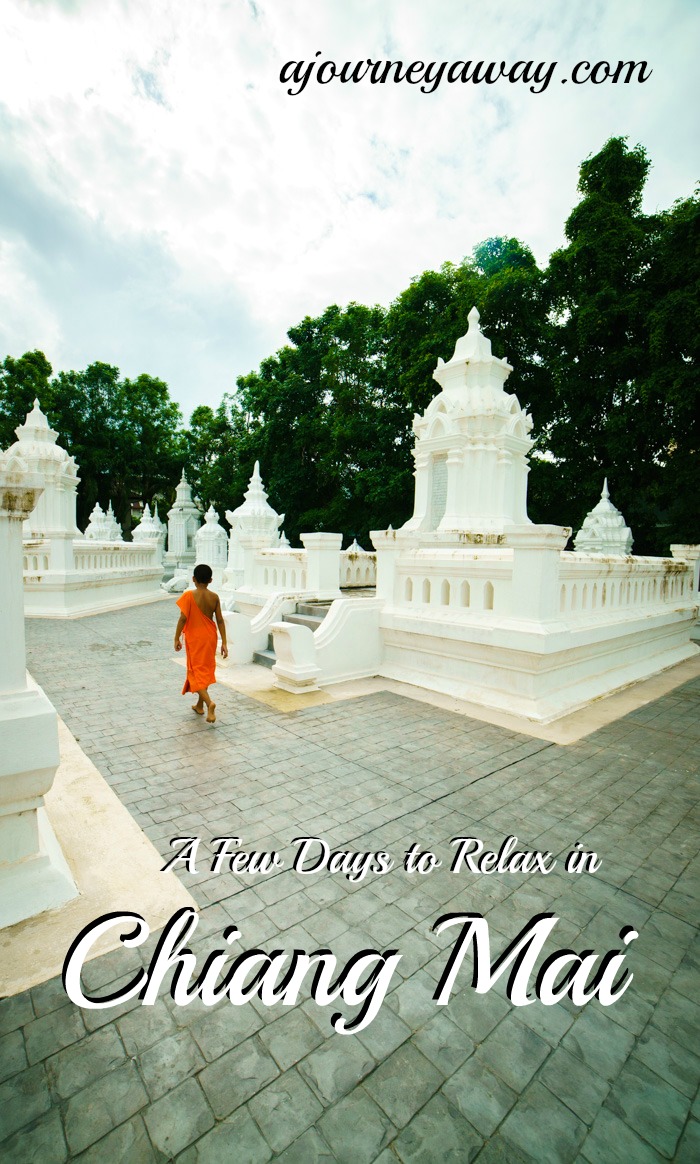 Take a cooking class
When I'm at home and need to take my mind off of things, cooking (especially baking!) is how i relax. I've missed it tremendously since we left. Chiang Mai is famous for its cuisine so it was impossible not to take a cooking class there. There are a lot of classes to choose from and it was fairly difficult to choose one since they all offer basically the same thing for the same price.
We went for a whole day class at the Thai Kitchen Cookery Centre and we had such a great time. Some people chose a half day class but we were never more than about 15 people. We started with a quick tour of a small local market where they showed us the main ingredients for Thai food that we would use later. We all received tags with our names with a vegetarian mention for me and "no sea food" for Simon. We were able to cook 7 dishes each that we chose within each category (fried spring rolls, a curry paste and the corresponding dish, a stir fry dish, an appetizer, a soup and a dessert). With each new dish, we were divided into small groups according to what we chose to cook. It never felt crowded and we were always able to ask questions and feel comfortable. Everything was so tasty, we will definitely use the recipe book they gave us at the end of the session!
Take a stroll within the old town
Chiang Mai old town is delimited by walls that were built against Burmese invasion. It's a lot of fun to get lost in all the small and cute streets. They are quite narrow so there is hardly any cars. You will also always find a nice cafe or restaurant to stop at. We stayed in a hotel located in the western part of the old town but my favourite area was the South-East side, just because it looked so cute.
Get a Thai massage
This is the most obvious way to relax. I must say I was a bit nervous because I had heard it can be painful…. well that's true. "ouch… ouch… it will be ouch… worth it ouch"! It doesn't always feel so nice but it gives your body a good stretch and it is so relaxing. I think I still prefer a regular oil massage even if I feel more zen after a Thai massage.
You can find massage places everywhere you look in Chiang Mai. We went to Green Bamboo Massage in the old town and we can only recommend it. Everything was perfect. We were welcomed with smiles in a very quiet and relaxed atmosphere. After changing into the outfit they provide (we had to laugh a bit at the hospital look it gave us), we entered a small room fitted with soft music, fans and mattresses on the floor with curtains to separate them. Our only complaint would be that mattresses on the floor are not the nicest when you lie on your stomach with your head on the side. They even offered us some tea after the massage. I felt so good and at peace and I didn't want to leave!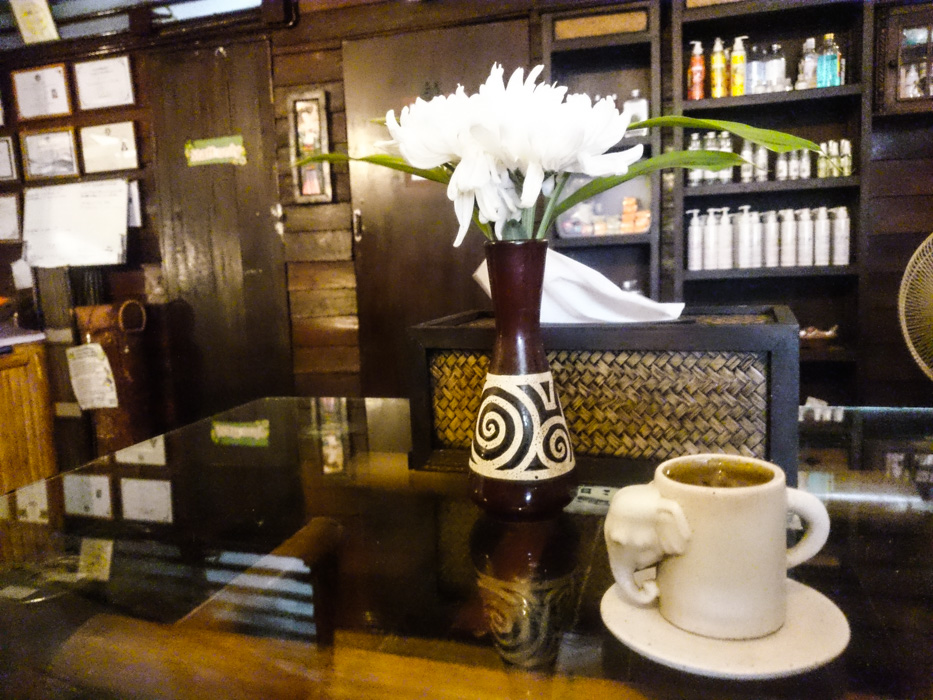 There's a wide range of prices from one place to another. Count 250 bahts, around 7 dollars (plus tip) for a traditional Thai massage at the Green Bamboo place and make sure you call beforehand to make an appointment as they can get busy.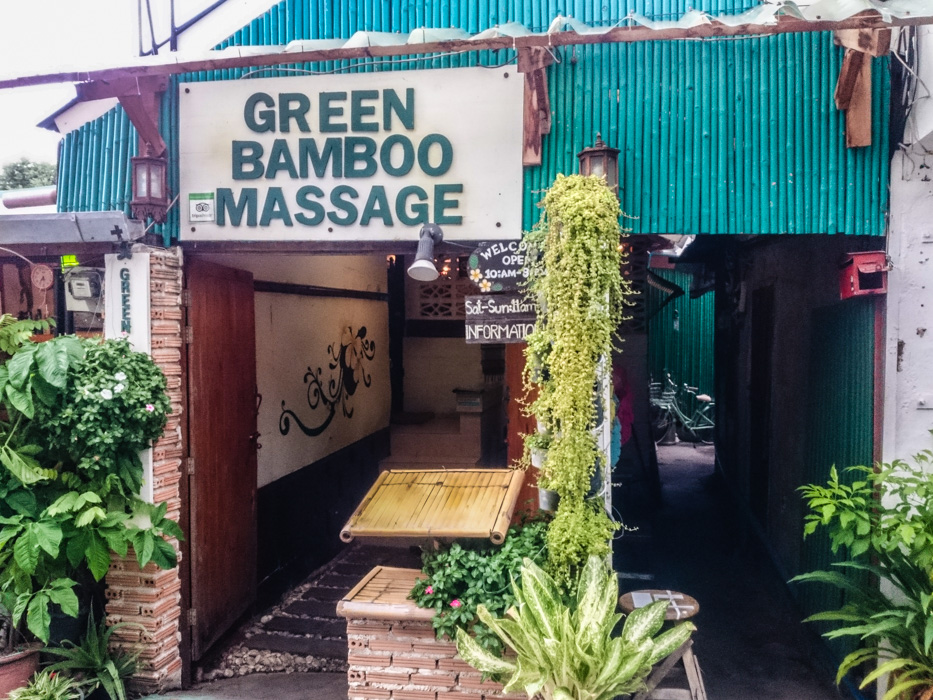 Visit a temple
If Simon was getting tired of temples, I liked Thai temples. I find them different from the ones we had seen in Vietnam and Hong Kong that have a heavy Chinese influence. We chose to go to Wat Suan Dok. There were hardly any other tourists and we were even able to witness a prayer led by a monk.
What we liked the most about this temple was the complex of white mini temples outside where children monks dressed in the traditional bright orange outfit were playing hide and seek.
There is also a vegetarian restaurant, the Pun Pun Organic Vegetarian, on the temple grounds that we enjoyed very much.
Go to a tea house
I found out about the TianZi Tea House in an article about tea houses in Chiang Mai on Nomad is beautiful travel blog. I absolutely loved it as soon as we entered it. It had greenery that separated it from the street completely and a covered wooden patio outside, furnished with low wooden tables and triangle cushions. It's also a restaurant so they first handed the food menu to us, which is mainly spicy Chinese food, and we had to ask about their teas instead.
They only have a couple of choices of tea but they're very specific, well selected and explained. I had never tried any of the one they offered and I picked, mainly from the description, an orchid tea to "replenish the Qi, the vital energy of the Chinese medical philosophy […] also in charge of uplifting the mood, strengthening the immune system and balancing internal forces". The tea was good enough but in the end, I was more interested in the peace and charm of the place than by the tea itself.
Go to a market
Ok, this one only half counts. Markets can be loud, crowded and you have to negotiate everything which is not the most relaxing experience. But the animation and the colourful stalls can lift my spirits. Plus in Thailand, people don't do everything to catch your attention so it's not so overwhelming.
I recommend the night bazaar, which is big enough so you can sit and breathe at one of the food courts if you're done with the narrow and crowded aisles, and Waroros market.