How to See Koh Phi Phi Leh at its Best
Koh Phi Phi is composed of several islands among which Koh Phi Phi Leh, a small uninhabited islet, home to Leonardo DiCaprio's famous Beach. Touring Koh Phi Phi Leh has become a major attraction since the film was released in 2000. This island features paradise beaches, clear waters and a dreamy lagoon. Its beauty is simply breathtaking.
This post is also available in:

Français (French)
The thing is that it's far from being a secret anymore and it gets awfully crowded. In Tonsai and in the small village where we were staying in the northern part of Koh Phi Phi Don, the number of guides organising day trips to Phi Phi Leh is endless. They all offer the same thing and all include a visit to Maya Beach, where the film was shot, Pileh lagoon, snorkelling and Monkey beach on Phi Phi Don, all of this with dozens of other boats. It can be a bit discouraging but the place is so beautiful that it would be a shame to skip it. Some people even recommend to get on a taxi boat and go without a tour. We really wanted to go snorkelling and we thought a tour would be a good opportunity for it.
We eventually found a way to see the island at its best, aka without being part of the crowd too much and enjoy our day, thanks to Mr Chet. When we were walking in the village trying to compare all the tours, which is useless, all the travel agents would call us and start their selling pitch no matter what we would say. Mr Chet had a different approach. He only said that we should have a look at the reviews he receives on Trip Advisor and decide from there if we wanted to go with him. He added that there wouldn't be more that six people in the tour and that we would leave at 7.30 am, which is one hour before all the other tours. We were already sold.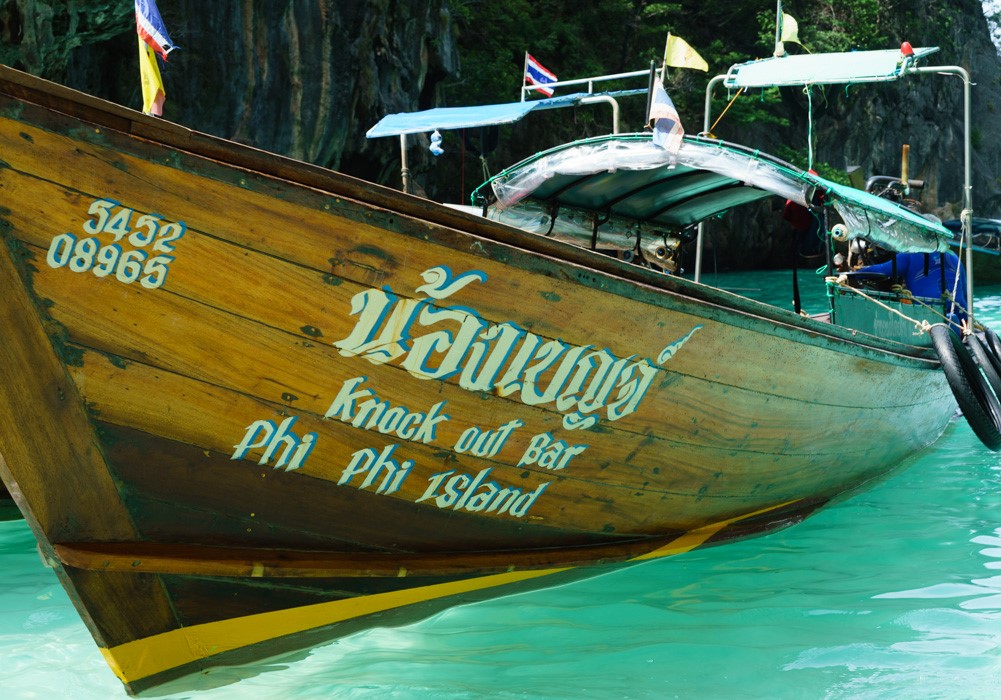 We hopped on Mr Chet's traditional long tail boat early in the morning as agreed. After picking up the last two people of the tour in Tonsai, he first took us to Pileh Lagoon. He explained that the other tours don't visit the lagoon until later in the morning and it becomes completely packed. Luckily, this is not the image we have of the place. When we arrived, there was only one other boat and we were able to fully enjoy its jaw-dropping beauty, clear water and absolute calm. After many years as a tour guide, Mr Chet knows what he is doing and we were so happy we saw the lagoon first. We couldn't resist jumping in the water while Mr Chet was taking pictures for us. It was such a magical place that I could have stayed for hours.
We then went to the famous Maya Beach. It was still relatively early in the morning and the beach was far from being deserted. We had room to breathe but it wouldn't have been nice to lie on the sand to enjoy the scenery. Instead, we took a quick walk to the other side of the island that offers a nice view. As we were leaving, it was hard not to notice the large number of boats full of tourists coming to the beach.
We continued our tour with a quick stop at Loh Samah beach, a very small and pretty beach where we took nice pictures. It was then time to go snorkelling and Mr Chet had equipment for all of us. We first tried a spot where you can see turtles but it was a bit cloudy and we quickly changed locations. We saw several kinds of fish and corals and loved it.
We then headed to Phi Phi Don for lunch. On our way, the boat stopped and Mr Chet jumped in the water again to check if there was any sharks for us to see. Sharks? really?? A couple of minutes later, he was waving at us to join him. Again, really?? We all nervously got ready and swam towards him. After a little while, there it was. We were able to catch a glimpse at a small shark (small but still, a shark!), luckily uninterested in us. The water wasn't the clearest at that spot but we did see it for a few seconds and it was impressive.
We had lunch on the pretty Moo Dee beach which wasn't too crowded and offered some shade. I appreciated that me being vegetarian was not a problem too. The last highlight of the tour was a stop at Monkey beach. I didn't expect to see so many of them but they were everywhere, chilling on a branch, jumping from one rock to the other or even swimming. It was fun to see.
The tour ended as we went back to the North of the main island in the beginning of the afternoon, our heads filled with images of the gorgeous places we had just seen.
Share this post