How to Spend 3 Days in Bangkok
Bangkok was our first stop in Thailand. Not being fans of big cities, we would both have been ok to skip it but we thought we would give it a chance and stay there for a few days. Well, we could have skipped it. It turned out I didn't like it at all. The city is not really pretty in itself, it's big, busy and between the buses that you can wait for hours (I speak from experience here…), the BTS that gets as crowded as the Paris metro at rush hours and the overcharging taxis, it's not that easy to get around. It also didn't help that it rained all day long when we arrived and were trying to get to our hotel with our big backpacks on.
This post is also available in:

Français (French)
But to be fair, we still found things to do that we enjoyed and here is our three-day sample itinerary.
Day 1 – Temple hopping and Chinatown
There are a lot of beautiful temples in Bangkok that are worth a visit. We chose Wat Traimit, the golden Buddha temple and Wat Pho with its impressive giant reclining Buddha (my favourite). We had planned to see Wat Saket but temples tend to close early and we didn't have time to go. Instead, we walked to a small temple nearby Wat Pho and which was much quieter.
A lot of the most famous temples are located around Chinatown, which is also worth a visit. We happened to walk through its market while going from one temple to another. I heard they even have some of the best food in Bangkok.
Day 2 – Floating market
You can book a trip to Damnoen Saduak floating market from basically every travel agency and hotel. The drive is just over 1h long from Bangkok. Once there, we had 2h to discover the market by ourselves. It's a highly touristic place and I'm actually not sure any locals go there to shop but it's still somehow enjoyable.
We chose to do the extra boat tour around the market. It was nice but didn't add much to the experience, if not for the fun of buying a fresh coconut water from another boat. We preferred walking around and were able to try some good food like vegetables spring rolls and some kind of traditional Thai sweets made from sticky rice and coconut milk.
The trip also included a quick ride in a speed boat through a village where people were happy to wave at us and say hello despite the number of tourists they must see every day. It was then time to hop in the minivan and drive back to Bangkok.
Day 3 – Jim Thompson's house & shopping centre
Visiting Jim Thompson's house is an opportunity to see traditional Thai houses. This American expat fell in love with Thailand and settled in Bangkok to work in the silk industry before disappearing mysteriously. He had a complex of six beautiful houses built along with a nice garden. You will visit the still furnished house with a guide. Don't skip the restaurant which offers very good Thai food.
In the afternoon, head to one of the city's big shopping centres. Bangkok is even home to the 7th biggest in the world. We went to the Siam Paragon centre which happens to have a cinema that offers films in 4D. It's not cheap but the experience is definitely worth it. For those who don't know what 4D is (I can't have been the only one…?!), it's like 3D but your seat is also moving, blowing air at you and even smells and water. It's actually a lot of fun.
Shopping centres also usually have giant food courts with both sit-in restaurants and take away options.
Although I had to build up some energy every time we were leaving a place and back in the streets of the Thai capital, we were happy with our itinerary that allowed us to see a bit of everything.
Oh and don't forget there are two airports in Bangkok so make sure you know which one to go to when you fly out… We luckily made it just in time and it was eventually a 800 bahts mistake (about $23) – taxi fee to change airport with no time to negotiate – but it could have been a lot worse!
Share this post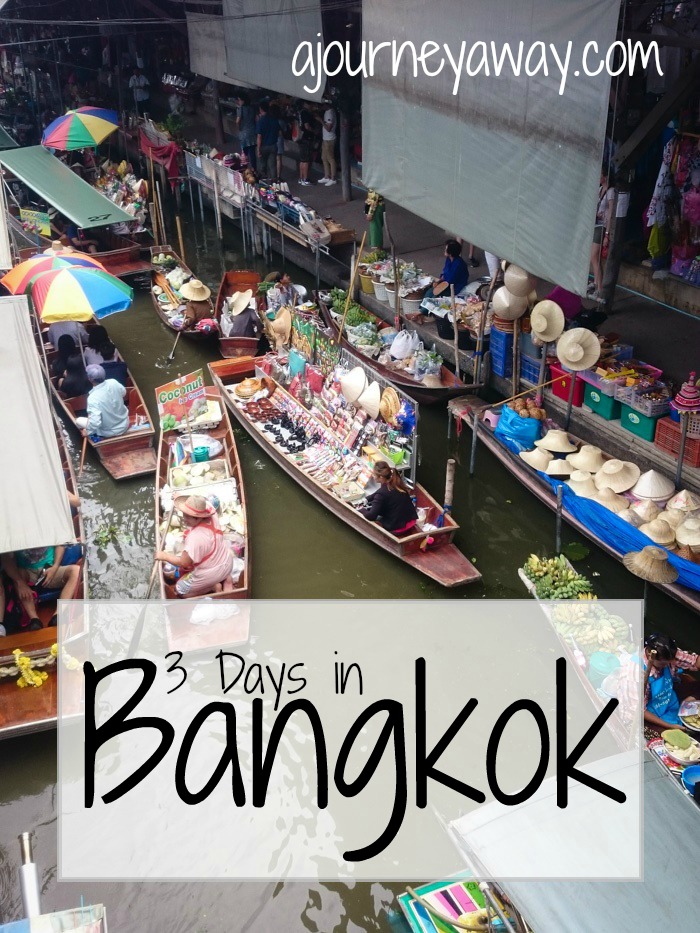 Note: there are affiliate links in this post, meaning we get a small commission if you place an order on the website through one of the links but to no extra cost for you.