Koh Lanta, Thailand: We Found Paradise
We spent most of our month in Thailand in the islands on the South-West coast of the country. After Phuket and Koh Phi Phi, Koh Lanta offered a total change of scenery and atmosphere and it quickly became my favourite Thai place.
This post is also available in:

Français (French)
It was our very last week in the country and we did less sightseeing than usual. Laid-back and away from all the partying, there is something about Koh Lanta that makes you want to relax. We really took time to enjoy our surroundings rather than cross things to do off a list. At the time, we were also approaching the end of our long-term trip and Simon spent several hours a day working on his portfolio for future employers while I worked on this blog.
Koh Lanta is composed of two main islands, Koh Lanta Noi and Koh Lanta Yai, the biggest one. It is less famous than some other Thai islands and we visited it off season (end of July), which meant a little bit of rain every day but nothing too bad. As a result, it was far from being crowded.
How to get there
We booked our transfers to Koh Phi Phi, then Koh Lanta and Krabi at our hotel in Phuket for about 1900 Bahts ($55) for the both of us. The tickets we bought included boat trips as well as drop-offs and pick-ups at our hotels. If you are planning to visit several islands, it is usually worth it to book all your transfers together. Alone, transportation between Koh Lanta and Krabi or Koh Phi Phi costs 400 baht ($11.5) per person for example.
Hotel on the beach
The island is big and you can find all kinds of accommodations, from hostels to resorts. The best option for a relaxing stay is to pick a place on the beach. We stayed at the Golden Bay for $22 a night, right by Klong Dao beach and we were very happy about it. The bungalows were nice and it couldn't have been closer to the beach. Waking up and having breakfast by the ocean has always been priceless to me. Klong Dao beach is also close enough to Saladan where the ferry dropped us off so it didn't take too long to reach the hotel with a tuk tuk.
The beaches
Beaches on Koh Lanta are completely different from those on other islands. The long stretches of sand are pretty impressive and have a much wilder touch to them than in Koh Phi Phi for instance. The hotels and restaurants they are lined with are not even undermining them. We only saw Klong Dao, Klong Khong and Long beach and I fell in love with the former.
Lazy days
Well, as I mentioned earlier, it wasn't such a lazy stay since we were both working on our own things. But Koh Lanta was probably the place that we explored the less, we mainly stayed in the Klong Dao beach area and it was fine. We relaxed a lot at the hotel, where it was fun to play hide and seek with monitor lizards. I first mistook these big lizards for baby crocodiles but they actually look very different from each other. You can spot them as they usually appear with the sun and I challenged myself to photograph the one whose home was right next to our room.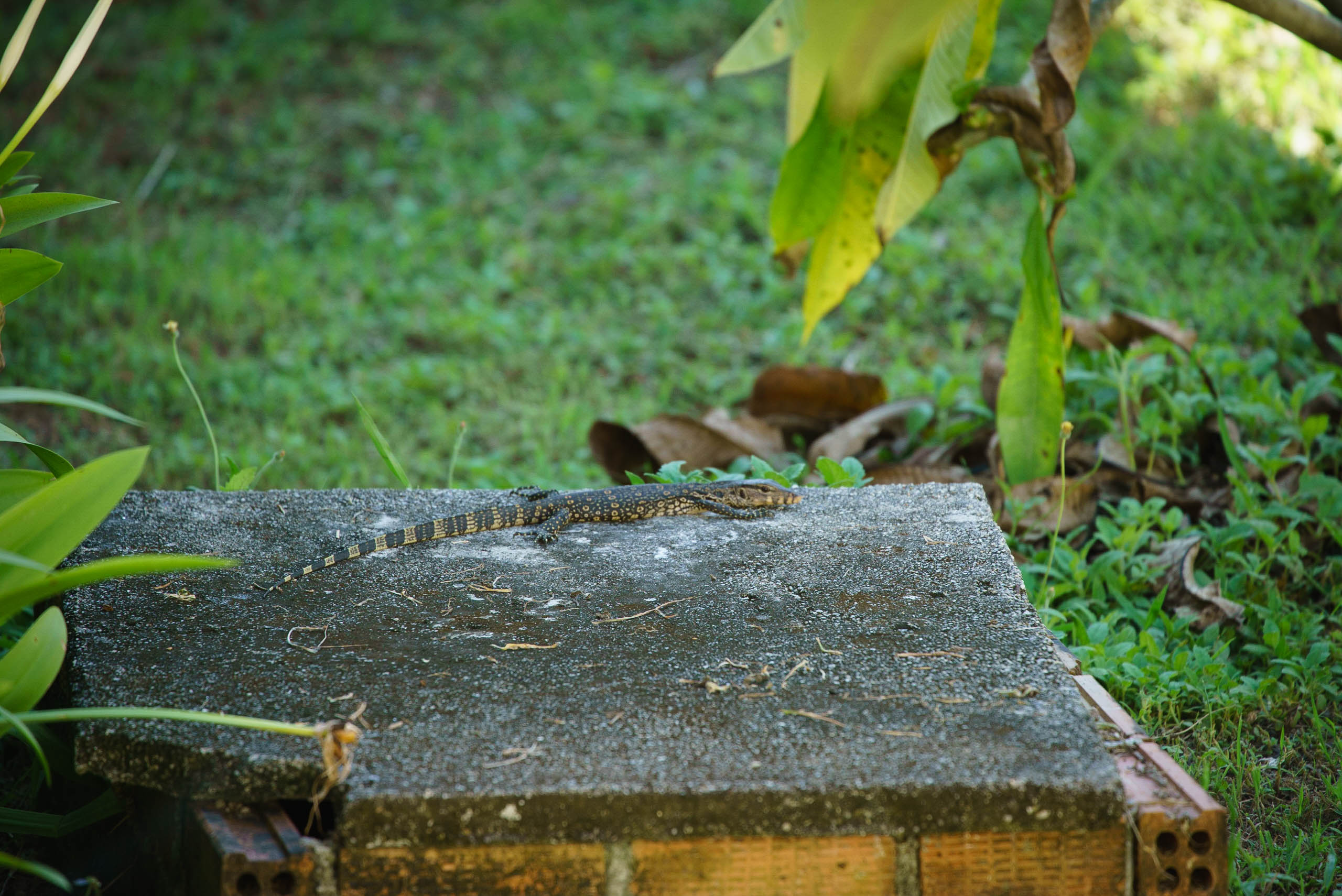 Getting a massage had become a ritual in each new place we were visiting in Thailand so we made no exception for Koh Lanta. We picked a place rather randomly and we could have chosen better. My feet massage left me with one of my feet burning for the next two hours.
Our days were made of relaxing time by the pool, some time in the waves in front the hotel (the ocean is not so calm during the rainy season, in the summer months) and discovering good restaurants.
The food
Koh Lanta has some of the best food we had in Thailand. As unconditional fans of massaman curry (Fat Monkey restaurant makes a really good one) that we discovered during our cooking class in Chiang Mai, we still loved trying new dishes like a green curry spaghetti at Banana food-bar-grill restaurant. Despite its spiciness, it was one of the best dishes we have had in Thailand.
Among all the restaurants we visited in the area, we also loved Time for Lime, located at the South end of Klong Dao beach. Also a cooking school, this restaurant has a unique concept offering a sample menu, different everyday, including several courses and even vegetarian options. We were able to share the vegetarian menu and it was simply delicious, most of the courses being new to us. This place also offers gorgeous sunsets on the ocean.
The only disappointment we had was the Freedom bar. I had seen pictures online of this beach bar with colorful rugs and cushions. Maybe it was because of the time of the year, but when we went, it didn't look like the pictures at all, starting with nothing set on the beach. Two people were massaging each other in the restaurant, the only other tourists were choosing their next tattoo and the waiter who didn't seem very awake asked us if we wanted weed. In a word, it wasn't for us.
Restaurants as well as street food, there are definitely a lot of opportunities to discover Thai food on the island.
We unfortunately hear much less about Koh Lanta than other islands like Phuket, Kho Phi Phi or Koh Samui. Well, it may not be so unfortunate since the island is much quieter as a result. It was definitely the most relaxing island that we visited.
Pin it!
Note: there are affiliate links in this post, meaning we get a small commission if you place an order on the website through one of the links but to no extra cost for you.