What to Budget for a Month in Japan?
We knew Japan would be expensive so we initially had a budget of $95 per day. We quickly decided that we didn't want our trip to be entirely dictated by a budget so we kept it loose, without going crazy either. We were able to more or less stick to it, spending close to $110 per day (or $55 per person). We were surprised to notice that we spent almost the same as in Hawaii, where we flew from, but without restricting ourselves as much.
Since we're travelling as a couple, the averages described below are for two people per day and are actually rounded up.
This post is also available in:

Français (French)
Accommodation: 48 USD
After Hawaii where we didn't have the choice for a few nights, we knew that we were definitely done with hostels. It is nice to meet people and share travel stories. But it was actually more important to us to have a place that would be just for us and where we would be able to fully relax at the end of a busy day.
In Japan, hotels are usually the same price as Airbnb. Except for one night when we stayed at a hotel for $65.5 to be closer to the airport before flying out of the country, we went with Airbnb the whole time (you can sign up on Airbnb here and get a discount on your first booking). We had the whole place to ourselves every time and we were able to always find nice and well equipped flats with full kitchens and washers. We also had a lot of fun discovering the real Japanese way of life.
We stayed in big cities (Tokyo, Kyoto, Osaka and Fukuoka) and paid between $51 and $64 per night. Travelling with night buses allowed us to save up on a few nights.
Another way to experiencing Japanese culture is staying at a capsule hotel. We initially found a place in Tokyo for $30 per night and per person, but we realised that really needed a quiet place to wind down at the end of the day. We eventually cancelled and booked a private flat on Airbnb and we were very happy about it.
A true regret that I have as far as accommodation is skipping on ryokans. These inns seem like the perfect way to fully immerse in the traditional Japanese culture. But they are usually pretty pricey so they might not be the best fit for budget travellers.
Food: $35.5
We were really looking forward to discovering the food in Japan. It turned out to be more difficult than I imagined for me as a vegetarian, but i was eventually able to find ways to experience real Japanese cuisine. We treated ourselves with meals at a restaurant or a tea house at least once a day. We also quickly became regulars of the 100-yen shops (Daiso, where everything is actually 120 yens now) where you can find all kinds of snacks.
Having an Airbnb flat with a kitchen helped us keep our budget reasonable for two people.
Read more: my tips to susrvive as a vegetarian in Japan
Transportation: $20
It is very expensive to get around in Japan. The most famous means of transportation is the train, or Shinkansen. Starting at $261 for 7 days, the Japan Rail Pass might be worth it depending on your travel plans (a single ticket from Tokyo to Kyoto costs about $160). We were going to spend a month in Japan and we wanted to stay for a week in each city we would visit. At $531 for 21 days, the JR pass was just too expensive for us. We only took local trains to go on day trips, like from Osaka to Nara.
We decided to travel between cities with night buses instead. We bought Willer Express passes valid on 5 different days for $112 per person. We were able to save money on transportation and accommodation. We thought we would save time as well travelling by night, but it turned out we always needed a day off to recover after an overnight trip. Airbnb flats were also usually not available before the afternoon and there was only so much that we were willing to do with our heavy backpacks.
Travelling within big cities is fairly easy with well-developed public transportation systems. Prices vary according to the city and day passes are sometimes available (500 yens, or $4.5, for a bus day pass in Kyoto for example). Although very convenient, Tokyo subway is also very confusing. On more than one occasion we found ourselves staring at the map, trying to figure out how much we should be paying to get to our destination. Luckily, there are fare-adjustment machines to use when you get off the train if you didn't get the right ticket. Japanese are also very kind and we were able to count on their help when we couldn't figure things out.
Activities and miscellaneous: $7
Temples and shrines, which are the main attraction of Japan, are free or very affordable. We never paid more than $5 or $6 to visit a temple. And like us, you might be lucky to come across people giving away their tickets when they are done with their visit. Some other places ask for entrance fees like the Fukuoka tower or the World Trade Center in Tokyo too. Most of the time, we were also happy to just wander the streets of different neighbourhoods and spend money on cheap activities like arcade places.
We absolutely loved our stay in Japan and we are ready to go back, maybe with a bigger budget so we can afford the couple of things that we had to skip like the bullet train and staying at a ryokan.
Share it on Pinterest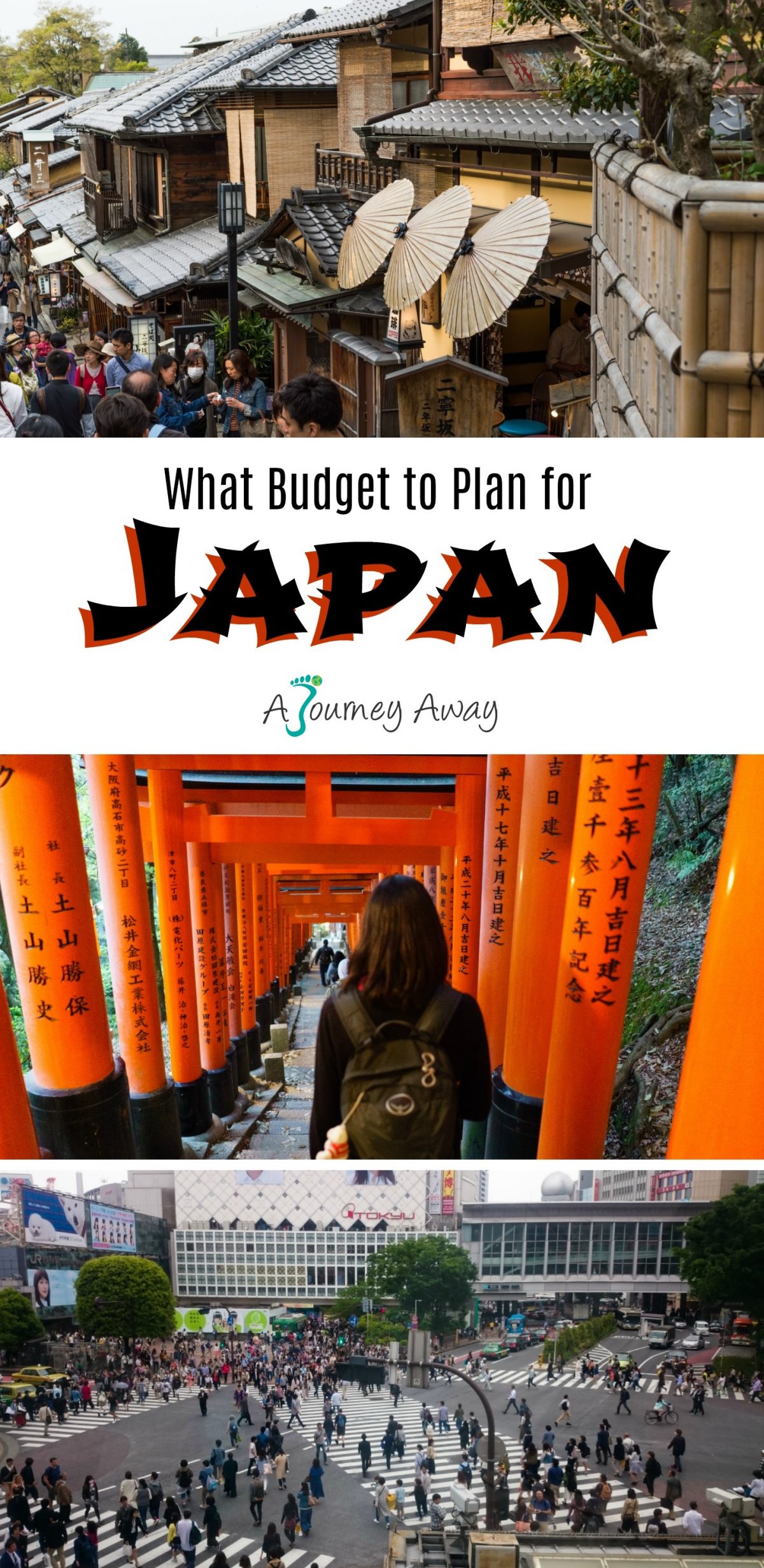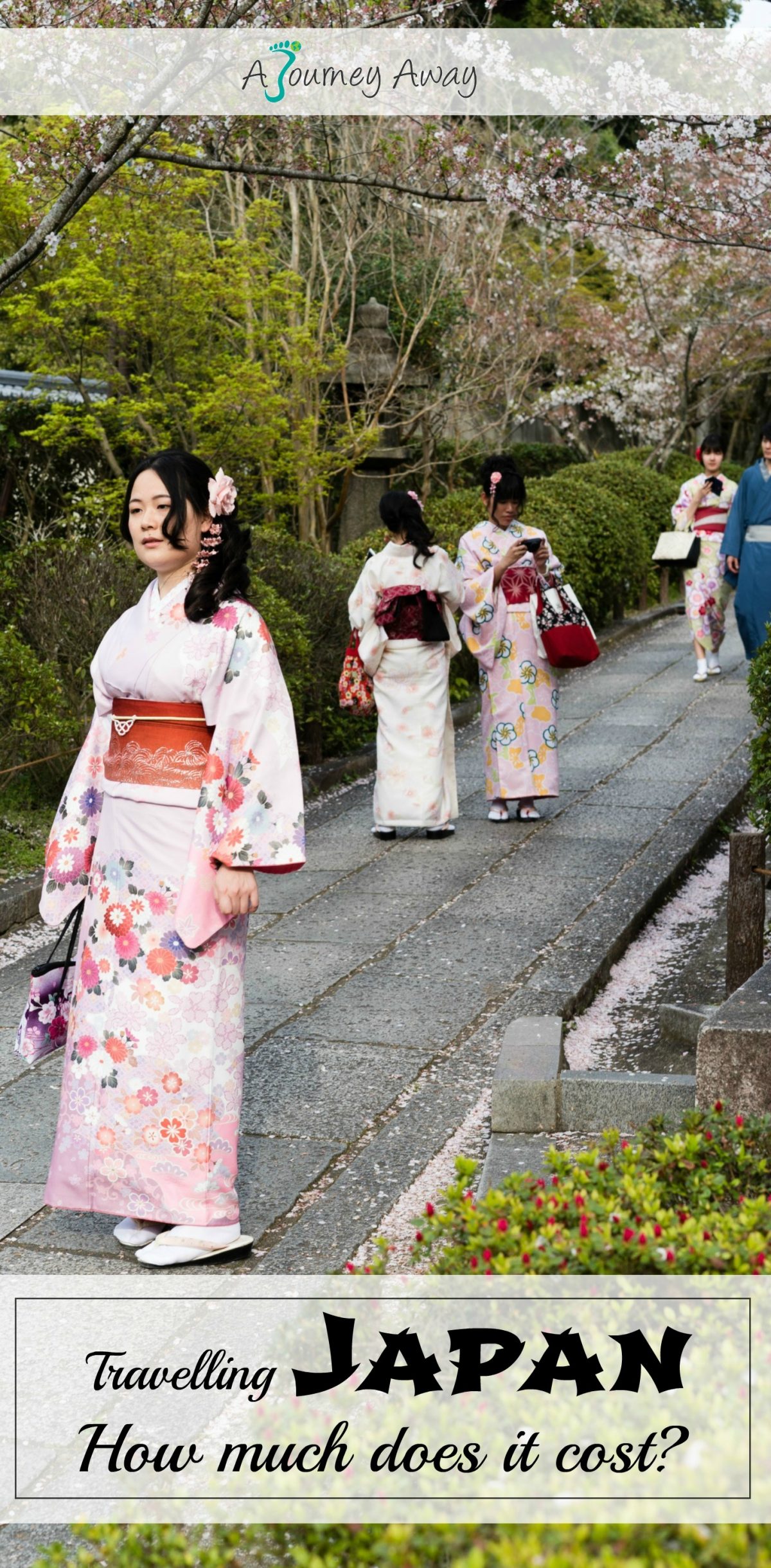 Note: there are affiliate links in this post, meaning we get a small commission if you place an order on the website through one of the links but to no extra cost for you.