Things about Japan that you Didn't Know
Last year, we spent a whole month travelling Japan. While it had been a dream for Simon to visit the country, I personally didn't expect too much from it. The idea of swarming streets and giant buildings never sounded so attractive to me. I was eventually won over by people's kindness and their culture.
Here are some things that we learned while in the country and that you might not know either.
This post is also available in:

Français (French)
Women-only subway car
Some passengers cars in trains are only accessible to women. They are indicated by bright pink signs, usually both in Japanese and English, on the train and on the platform ground. We had never heard of this before our trip to Japan and were very surprised to find ourselves in front of such a sign before getting in the train. Whether they are efficient or not, female-only cars are meant to fight against sexual harassment. Although we mostly came across these cars in Tokyo, they exist in several countries, especially in Asia as well as South and Central America.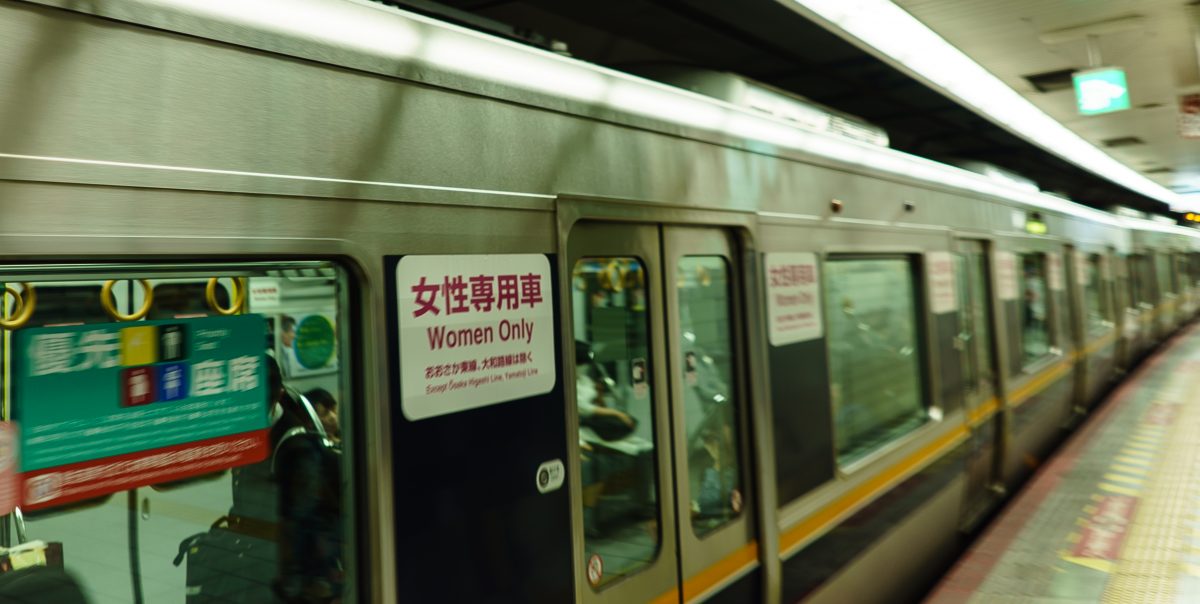 They have a loose definition of "vegetarian"
Since Japan is mainly a Buddhist country, I thought it would be easy for me to travel there as a vegetarian. I couldn't have been more wrong. There is a Japanese word for "vegetarian" that was actually inspired by the English word, "bejitarian", but it doesn't mean quite the same as for us. A dish can have fish flakes, fish oil or meat broth and still be called vegetarian. There is meat by default in everything and I had to learn it the hard way. It happened several times that I had no other choices but dessert. If you want real vegetarian, and even vegan food in Japan, go to vegetarian restaurants or look for "shōjin ryōri", which is the traditional food for Buddhist monks.
Read more about being vegetarian in Japan
Yes to spicy food
Japanese people might have a loose definition of "vegetarian" but they certainly know what spicy food is. One of their most famous food is Japanese curry. After being told that there were "pieces of meat" even in the eggplant curry, I unfortunately had to pass my turn. Simon, who really likes spicy food, asked for a spiciness level of 8/10 and was actually not able to finish it.
The best pancakes
You can stop your search for the best pancake. We found it and it is in Tokyo, in a cafe called West Ginza. It became famous thanks to its special rice cooker pancakes. It results in a delicious, thick and fluffy cake. I personally recommend having it with chocolate butter cream. I tried to recreate it home, without luck so far.
Weird vending machines
Before we went to Japan, we had heard about their vending machines and how they sell the weirdest things. They do exist but they are not so easy to find. The weirdest things that we saw in vending machines were batteries, alcohol, cigarettes (this one didn't surprise me as much because I had seen them in Germany) and ice-cream.
Have you seen a bin?
One thing about Japan that is not a myth is how clean the streets are. Even in big cities, we never saw rubish or dog excrement (do you hear that Paris?! It is possible!) on the ground. That is even more surprising when you notice how few bins there are in the street. We usually had to keep whatever garbage we had accumulated until we would go back to our room at the end of the day. Some people say that most of the bins were removed in Tokyo after a chemical attack in the subway that killed and injured many people in 1995, other say it is simply part of the culture not to leave litter in the street.
Japanese dollar stores
As a foreigner, I have always loved the American dollar stores, so I was very happy to find out that Japan had its own. You can find Daisos, 100-yen shops where everything is actually 120 yens, everywhere in Japan and even in the United States now. They have a lot of trinkets and souvenirs and we would always find tasty and/or weird snacks and candies.
These are a few things that made us smile throughout our four weeks in Japan. If you have also visited this country, you might relate to some of it, feel free to share your memories in the comment section.
Pin it