One-Day Itinerary in Austin for First-Timers
It has been close to eight months now since I moved to Austin, Texas, time flies! And after the long journey to the fiance K1 visa I got in France, I am still waiting for my green card… but that's another story.
This post is also available in:

Français (French)
We don't live exactly inside Austin or even close to the downtown area anyway (the 1h20 bus trip is making me miss the convenience of Paris metro), but I have always loved it. The first time I came to the US a few years ago and told people I was visiting Texas, I would always get looks and advice to go to New York instead. Well, my in-laws live in Austin, not in New York so Texas it was and I had a blast. Actually, anybody who knows Austin will tell you it's not really Texas. Our Live Music Capital of the World is much more diverse than you would think and lives up to its motto, "Keep Austin weird".
All in all, we don't go downtown so often but when my good friend from Paris said she was visiting me, I knew she would love it as much as I do. So I came up with a nice itinerary for a day out in the city.
Get tacos at Torchy's
If you haven't had breakfast yet, start your day off on the right foot with some breakfast tacos from Torchy's, located on South Congress Ave. Although you can find them in several states now, they started in Austin and make some of the best tacos.
Greeting from Austin mural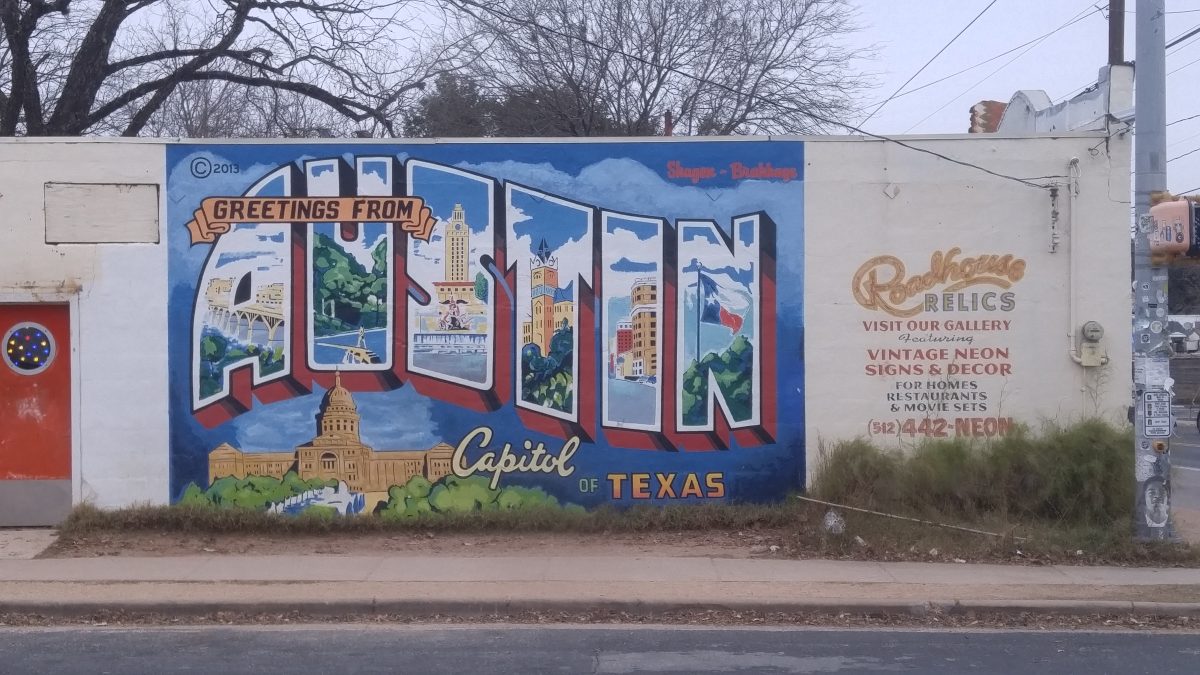 Austin is known for its art and many murals. What better way to start a day in Austin than this one? You can find it on the corner of 1st street and W Annie Street.
Big Top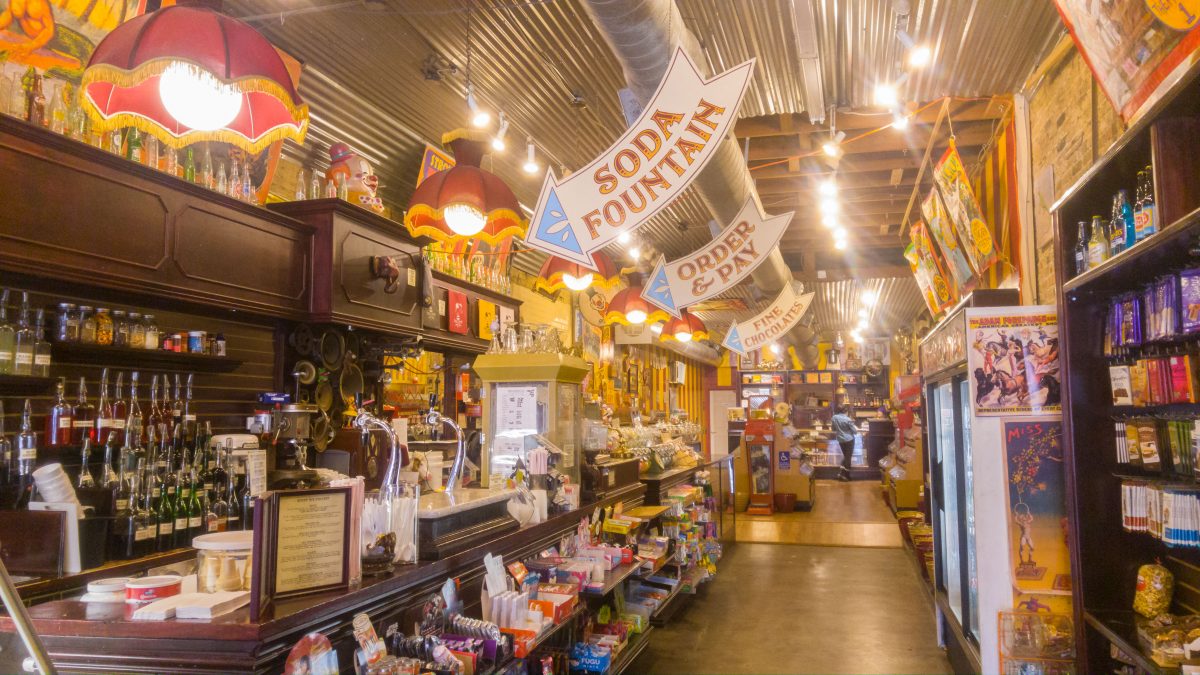 It's time for some shopping. From clothes to trinkets and art works, South Congress, or SoCo is lined with shops that are fun to explore. Make sure you stop at Big Top. This old fashioned candy store features a soda fountain, chocolates, fudge and taffy of all flavours like maple bacon or chicken waffle among others. Hard to resist!
Allens boots
Another must-stop on SoCo that will remind you that you are in Texas is Allens Boots. We actually spent quite some time there, trying on the weirdest boots and finding some that we could actually wear!
Before I die Wall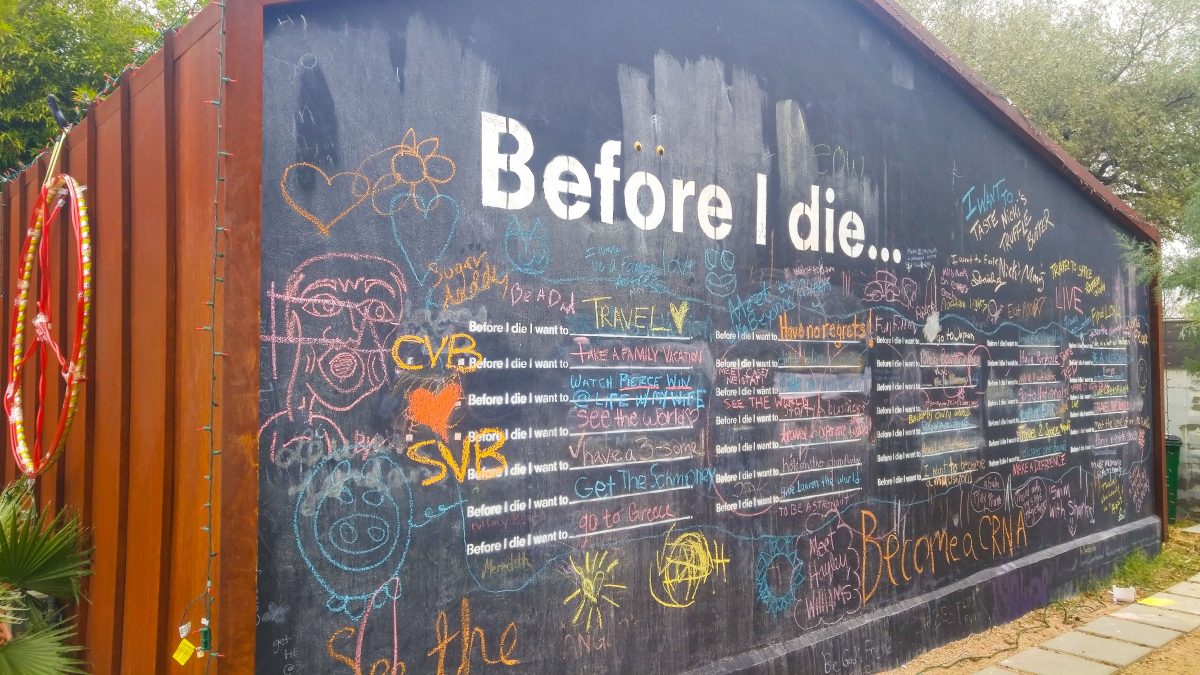 Let's make a short detour from Congress Ave along Elizabeth street. That's where you can find the "Before I die" wall. It's a fun way to leave your mark in Austin. There is so much I want to achieve before I die that I ended up picking a short-term (fingers crossed) goal: have an actual wedding. Simon and I have been married for about 7 months now but we haven't had a proper wedding reception yet with our closest friends and family.
Jo's Coffee
Back on S Congress now towards Jo's Coffee. They probably make good coffee and snacks, but what we were more interested in was the mural on its right side.
Lunch
At this point, you will probably be ready for some lunch. We went to Freebirds world burrito, just a few minutes walk away. If you are driving, there are several food trucks in the area that are worth the detour. I recommend the Vegan Nom located on E Cesar Chavez St for vegan tacos, they even have a cactus one. The Picnic food truck park, on Barton Springs Rd,  is another option with more variety of cuisine too.
Texas Capitol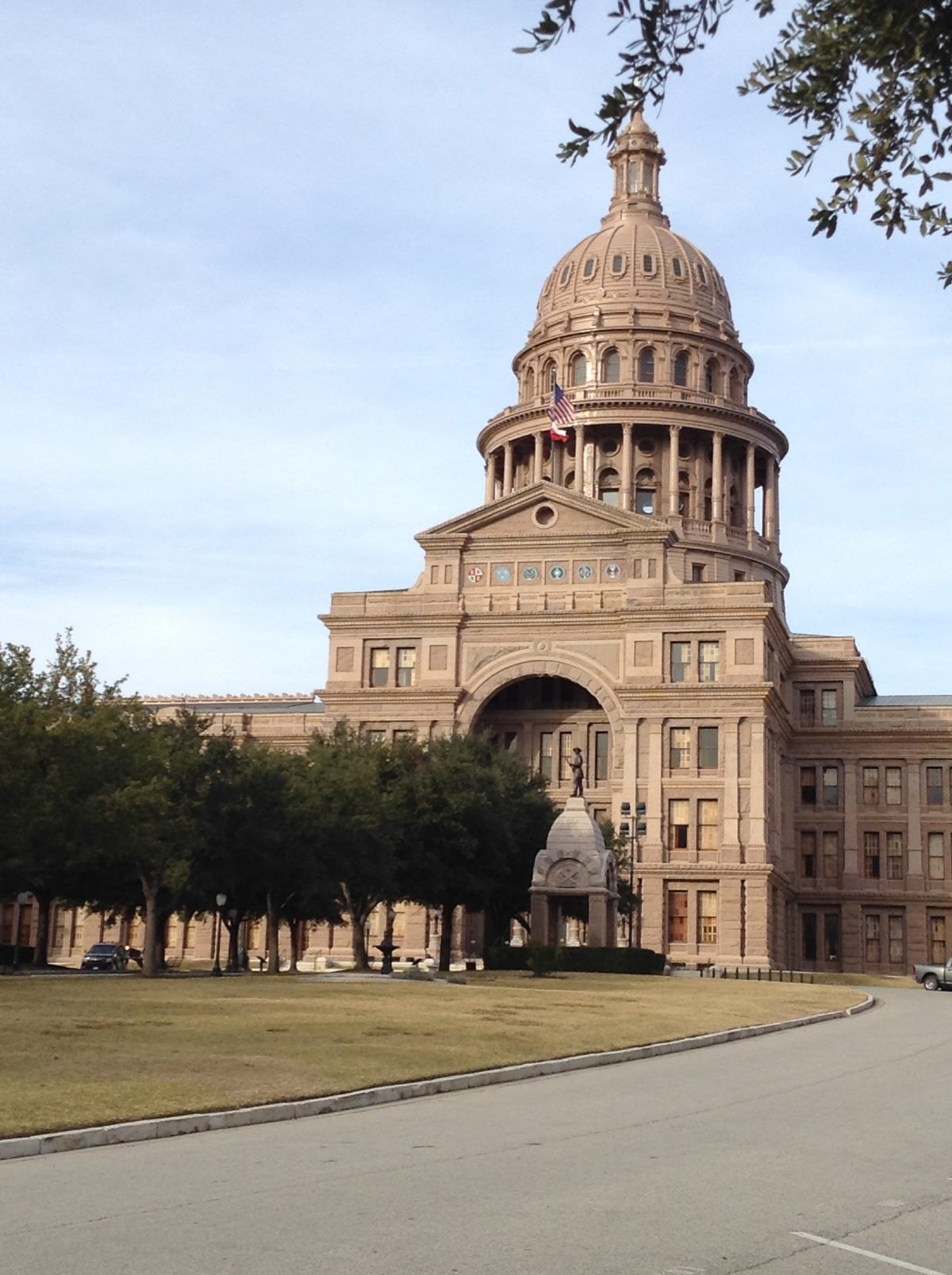 Take a couple of hours in the afternoon to visit the Capitol. I feel like knowing a bit of history always helps understanding a new culture. They even offer free guided tours.
Ann and Roy Butler trail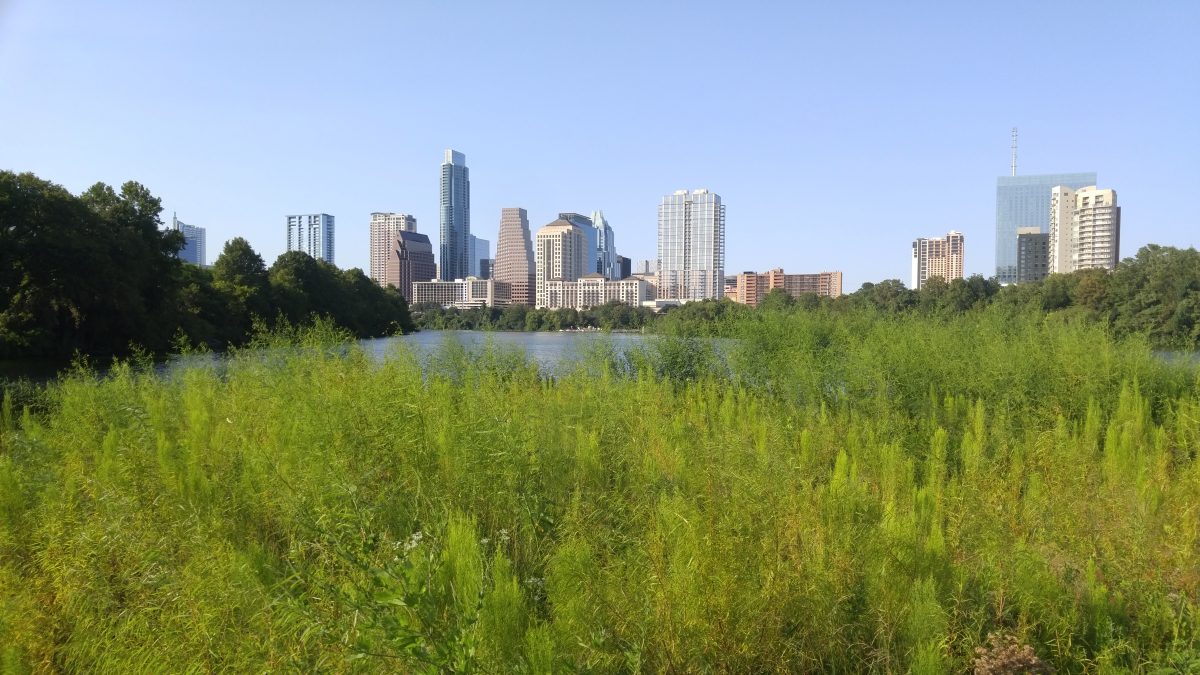 If you still have some time to spend in the area, enjoy a walk along the river.
Dinner
There are plenty of restaurants to choose from in the downtown area. If you are still up for Tex-Mex, the Iron Cactus is a good choice. If your palate needs a change, I recommend the Russian House. We discovered it recently and I would describe it as hearty food in a warm, welcoming atmosphere.
6th street/Meeting the bats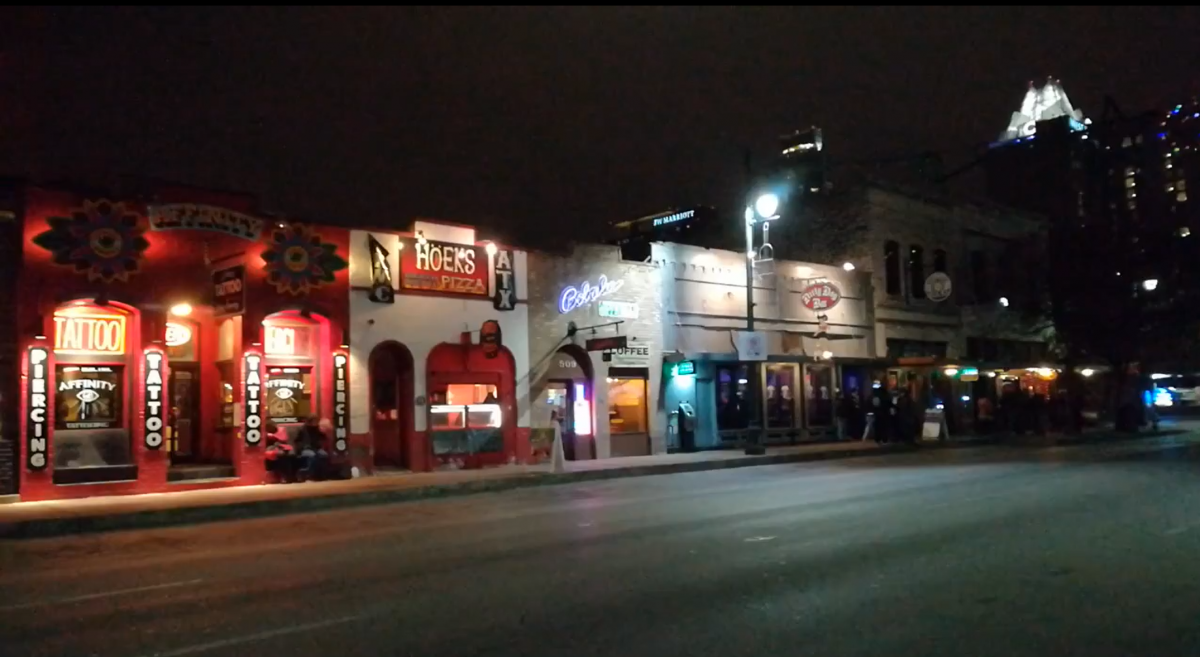 If you are not totally exhausted, take a moment to wander along 6th street which is famous for its bars and live music.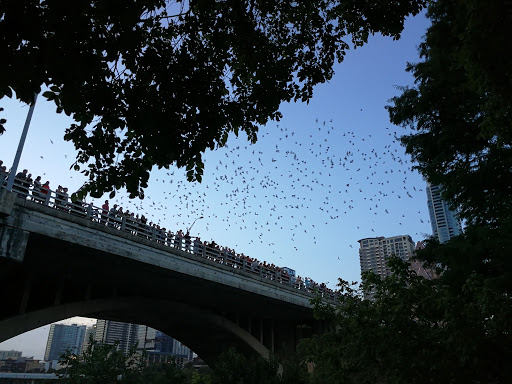 In the summertime, head out to Congress Avenue bridge to watch the bats. 
Have you ever been to Austin? If you have other ideas, I'd love to read about them in the comment section below!
Pin this post