French in The US: K1 Visa
After living in France and travelling through Asia together, the new chapter of our lives includes marriage and settling in Texas but first, long visa procedures… We had been engaged for over 2 years and we were planning on getting married in Texas so we decided that I should get a K1 or fiance visa. Although it leads to a green card application, the K1 visa is considered a non-immigrant visa and allows you to get married within 90 days after entering the US.
This post is also available in:

Français (French)
I know how difficult it can be to find precise information from official websites. The process is long and it can get very frustrating. I do not aim at providing professional advice here and I only want to recount our own experience with this visa. This post will only give you an idea of what to expect even if the process seems to be different today from a year ago already.
You should always refer to the official documents that you receive, but I would strongly recommend making researches to be able to anticipate the next steps.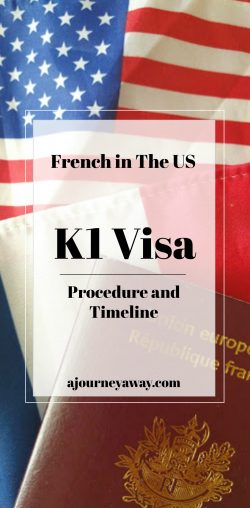 November 19th 2016: the I-129F petition
We fill in the I-129F petition, which is basically Simon asking the US government's permission to marry me in the US. At this stage, they want to make sure that you are a real couple and that it is not a marriage of convenience. We were asked to gather the following documents:
– Payment of $340
– I-129 petition
– G-1145 form to be notified when the USCIS accepts our form
– G-325A form with passport-style picture, for each of us
– Petitioner's (US citizen) birth certificate
– Letter of intent to marry within 90 days after the arrival in the US of the beneficiary (the foreigner, me!) on the K1 visa (one letter for each of us)
– Proof that we had met in person within the past 2 years (flights, pictures, emails, previous visas etc.)
– Cover letter summing up all the documents (not asked)
We sent everything to:
United States Department of Homeland Security
U.S. Citizenship and Immigration Services
USCISP.O. Box 660151
Dallas, TX 75266
November 23rd: NOA 1
Simon receives the first Notice of Action or NOA 1 stating that the USCIS has received our application and the long wait starts. You can check their website to get an idea of when to expect an answer but it wasn't very accurate for us.
January 11th 2017 – March 6th: Trip to Texas
I visit Simon in Texas. The last time I entered the US on a tourist visa, I was asked a lot of questions and mainly how much savings I had since I was not allowed to work without a proper visa. This time, I enter the country on the same ESTA, no questions asked.
March 17th: Petition approved – NOA 2
After almost 4 months without any updates, our petition is finally approved. We receive an email informing us that they are going to mail the next instructions to us. Simon receives the NOA 2 by mail shortly afterwards.
April 14th: Case transferred to the NVC
Simon receives a letter informing us that the National Visa Center (NVC) has received our approved I-129F from the USCIS and will transfer it to the U.S Embassy or Consulate in Paris. At this point, we need to refer to the instructions of the NVC website.
April 26th: Case transferred in Paris
We receive an email from the US embassy in Paris confirming they received our approved petition and referring us to the instructions on their website.
April 28th: Help!
I am confused because the instructions say we will receive a letter when the NVC has transferred our case but we received an email stating so (I know it can sound silly but the process is so long that I didn't want to miss a step). I call the embassy twice to make sure about the next steps. I get different answers each time (so reassuring..!) and I am finally told to wait for another email or a letter with a date for my interview at the embassy.
May 5th-9th: Making the appointment at the embassy
After dropping an email to get confirmation of the previous calls, the embassy informs me that I'm supposed to make the appointment at the embassy myself. I'll let you imagine my frustration and stress level when I understand that I have been waiting for over a week for a letter that would never arrive. After more researches and more confusing phone calls, I finally understand that I am supposed to fill in DS-160 online form (very, very long form, prepare your travel calendar of the past years and your whole resume). I am then able to create an account on the visa service website (Update 2018 : when I did it, I selected  "nonimmigrant visa applicant" but it seems like K visas are now listed under the "immigrant visa applicant" section) to pay the $265 fee and make an appointment at the embassy (I have to wait 24h before seeing the dates available and I actually don't have the choice). My interview at the embassy will be on June 7th and I make an appointment (compulsory) with Dr Slattery in Paris on May 23rd (it's possible to have it on the day before the interview).
Dr Slattery's office sent me an email with information on vaccination while I was on the phone to make the appointment. I go to a GP to get a prescription for the vaccines that I am missing.
May 23rd: Compulsory doctor's appointment in Paris
I get early to my 11.30am appointment with Dr Slattery, steps away from the Trocadéro in Paris, with the documents I was asked to bring:
– My passport
– 5 id pictures
– Any vaccination record (I had my old health record and my vaccination booklet from our travels in Asia)
– The confirmation for the interview at the embassy – I stressed about this one because they asked for a letter but I never received any letter and I only had a confirmation email (in the end they didn't even check it)
– Vaccines (if needed)
I fill in some documents before seeing the Dr. It is a simple and complete check-up where I get measured and weighed, he also takes my heart rate, blood pressure and checks my breathing. I get vaccinated and the visit is done. The consult costs 200€ (plan on having a checkbook or cash because they don't accept credit cards). I will have to come back at 3pm with the result of my lung scan.
His assistant had given me clear instructions and a map for the rest of the tests. I only have to cross the street for my urine and blood tests. Everything goes very smoothly and I don't even have to wait. The results will be sent directly to the Dr's office in the afternoon. These two tests cost 60€ (to be paid with cash or credit card).
The last test to take is a lung scan in another centre, about 10 minutes away by foot. Except a little problem with my credit card (40€ this time) that get declines for an unknown reason (they don't accept checks so I have to run to an ATM), the whole thing is pretty quick. I receive an envelope with the scan and the result.
I have about 2h to relax and enjoy the nice weather at the Trocadéro garden before going back to Dr Slattery's office. He checks my scan (I don't see him again though) and the assistant gives me the results from my other tests, everything came back normal (phew). She gives me a non-sealed envelop with my results for me to keep and bring to the US, as well as a sealed envelop to bring as is to my interview at the embassy.
June 7th: Interview at the embassy
Before the interview, I make sure that I have all the documents required. It can be a bit tricky because several web pages and documents give information about what to bring. The main websites to refer to are those of the embassy and the NVC. Here is what I gathered:
– Passport valid for at least six months beyond the date of entry into the United States
– 2 2×2 inches or 5×5 cm colour id pictures (see intructions here)
– Birth certificate (from less than 3 months)
– Criminal record (from less than 3 months)
– Affidavit of support: I-134 form from the US citizen with required proof :
– Statement from the bank with the date when the account was opened and the total amount
– Statement from the employer with the date and nature of the job, salary and if the position is temporary or permanent
– Documents that establish our relationship (flights, pictures, emails, previous visas etc.)
– Proof of visa fee payment
– DS-160 confirmation (document with the id picture I provided while filling in the form and a bar code)
– Health and vaccination records as well as the sealed envelop from the medical appointment
– Confirmation for the interview at the embassy (email with all of my case's information – case number, pin code, date of payment, date and address for the interview, etc.)
Other documents I have available, just in case:
– Letter of intent to marry from the both of us
– Copy of the I-129F petition
– Copies of the NOA 1 and NOA 2 to prove that our I-129F was approved
– Copies of the letter from the NVC and of the email from the embassy stating they have received our case from the NVC
– IMBRA 
Blue: the only documents that I was asked to show, but it probably depends on your case.
On the day of the interview, I show up 15 minutes early but it's not a problem. Before even entering the embassy, I'm asked to turn my phone off and to show my passport, the sealed envelop from the doctor, my DS-160 confirmation and my criminal record. My purse gets checked (every small pocket is searched) and they keep my phone in exchange for a card to get it back after the interview.
I finally enter the embassy and follow the "visa" sign. I am immediately shown a counter where a nice woman asks again (in French) for the documents I showed at the entrance. I also need to give her my 2 id pictures and my birth certificate. She checks our home addresses, takes my fingerprints and sends me to another line for the proper interview.
There are several counters available for the interview and just a few people before me so I don't have to wait too long. When it's my turn, the agent has me raise my right hand to swear to tell the truth and starts asking me questions, in English this time:
– Where did you and your fiance meet? What year?
– Was it love at first sight or did it take more time? (not kidding, she did ask me this)
– What does your fiance do for a living?
– Has he been to France? When and how long did he stay?
– Have you been to the United States?
– Have you and your fiance meet each other's family (because it's important)? (again, her words)
She checks if they have all the documents they need and concludes that she doesn't need anything else from me. It is probably different for every case but I didn't need most of my documents. She tells me everything is ok on their side and I will receive my passport with the visa in about 10-12 days.
June 12th: Visa received
I receive my passport with my visa and a sealed envelop (make sure that you don't open it, even by accident) upon arrival in the US. I hurry to book my flight to Texas for 10 days later.
June 22nd: One-way ticket to the U.S
I fly to Austin without a return ticket. I made sure that I had all my documents handy (petition, medical records, sealed envelop and extra documents I wasn't asked for at the embassy). It doesn't take much longer at immigration than when I was on a regular ESTA. I am taken in a room on the side where they check the sealed envelop from the embassy and I'm on my way to my new life in Texas.
Next steps:
Getting married and having the marriage recognized in France
The AOS (Adjustment Of Status)/green card, work authorization and travel authorization