A Trip to An Binh, in the Mekong Delta
After almost four months of travelling, we were starting to feel some kind of burn out – all the temples looked more or less the same, we were a bit less excited about all the new things that surrounded us and more than anything else, we were exhausted all the time.
This post is also available in:

Français (French)
Even if the thought of going back home popped in my head from time to time because of exhaustion, we were not really ready to give up on this life style just yet. The solution we agreed on was to significantly slow down and find a place to stay for a month to rest and put things into perspective. My brother, Ben, being settled in Ho Chi Minh City, we didn't take too long to decide where to go. So here we are, staying in a nice serviced flat in HCM for a month and just the fact that we don't have to pack and change location every few days already makes us feel better.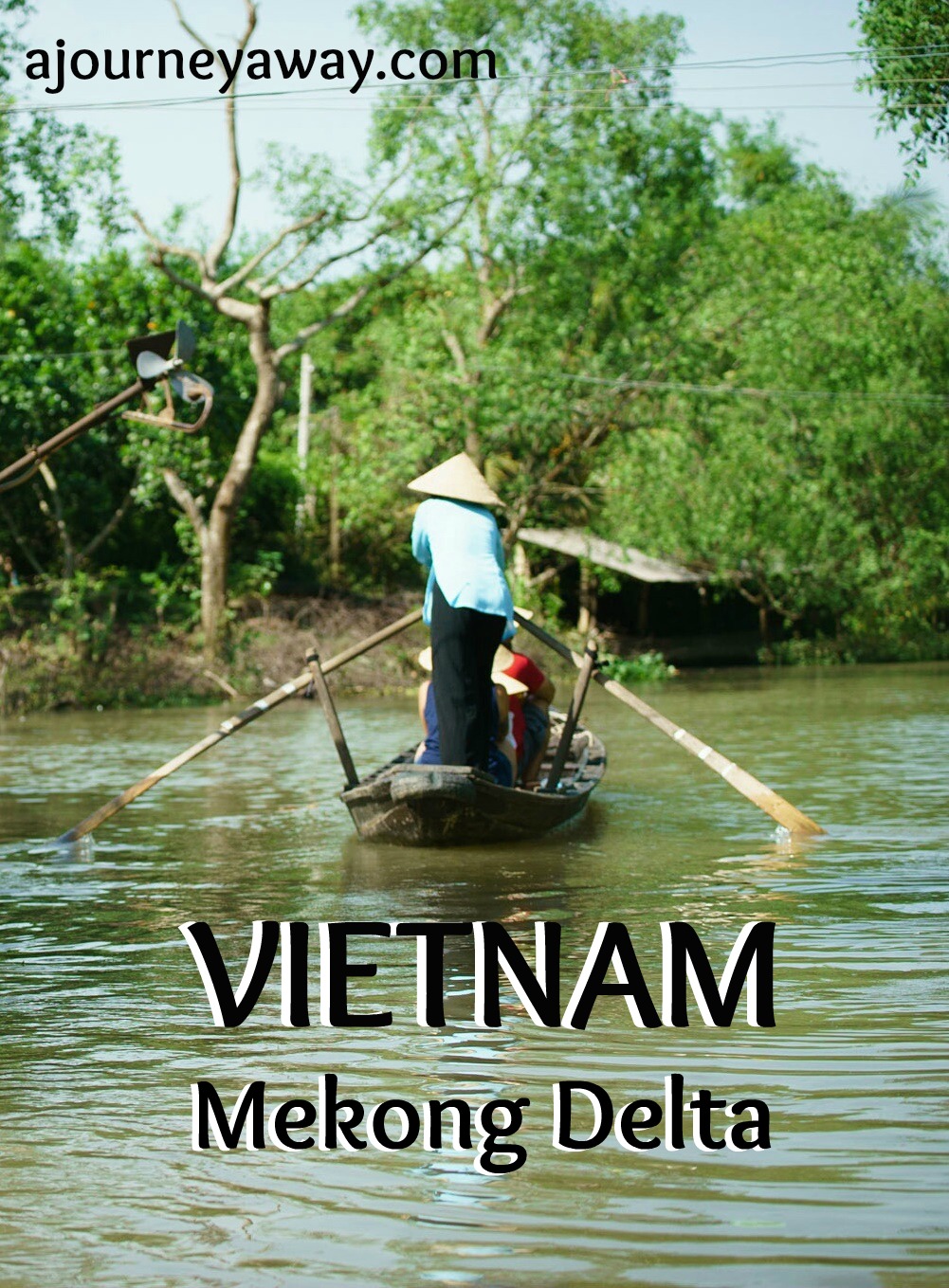 But it doesn't mean we need to stop travelling and exploring all together. A few days after arriving in HCM, we were already off to get a glimpse of the Mekong Delta on An Binh island. What a joy to leave with only a small backpack each (the rest of our things staying at my brother's)! especially on the long journey to Vinh Long, where we would take a boat to the island. You have to deserve it to get out of the city – a taxi to catch a bus to Mien Tay bus station (one of the main two bus stations in HCM), where we found our bus to Vinh Long after asking at least a hundred times. We even had time to grab a bite at one of the street food stands nearby. Simon got rice with pork bathed in some bright orange sauce and a hard boiled egg that looked like it had been sitting in that same sauce for quite a while, and I got a simple banh mi chay, a vegetarian sandwich (chay is my magic word here!). I watched the sweet old woman making my sandwich with her hands covered in dirt and strangely enough, I was ok with it. Me who wouldn't even drink in a glass with the slightest dirt on it at home… They say that travel change you.
The bus drove through small cities and more rural areas, it was nice to see something different than the big city! When we arrived in Vinh Long, we almost didn't even get out of the bus. It was a very small bus station with a taxi company right next door. A man immediately started talking to us in a good English "where are you going? where are you staying? I have a homestay!". We felt a bit a overwhelmed "thank you, we've already booked one", but the man was persistant. As happy as we were to have things taking care of for us after four months on the road (thank you Ben), we didn't even know the name of the homestay my brother had booked for us and I completely forgot the name of the owner. Well guess who the man was… he finally showed us the text from my brother to book the room and we introduced ourselves properly, guards down. He found us a taxi to get to the boat and arranged for his sister to pick us up once on the island. We were surprised to be the only foreigners on the boat, everybody was looking at us.
We discovered an island with lush vegetation and very narrow paths that only bikes and of course motorbikes can take. The owner's sister took us to their homestay, Ngoc Phuong homestay. It must be one of the most peaceful places on earth, a big house with an open roof and walls made out of bricks and banana tree leaves. They had the most relaxing porch with hammocks and a garden with a small river. If I had any stress from not really knowing where we were going (the downside of letting others plan for you), it disappeared in an instant. We enjoyed a walk on the island where people were smiling at us and kids were greeting us in English "hello, hello!", before making the most of the hammocks.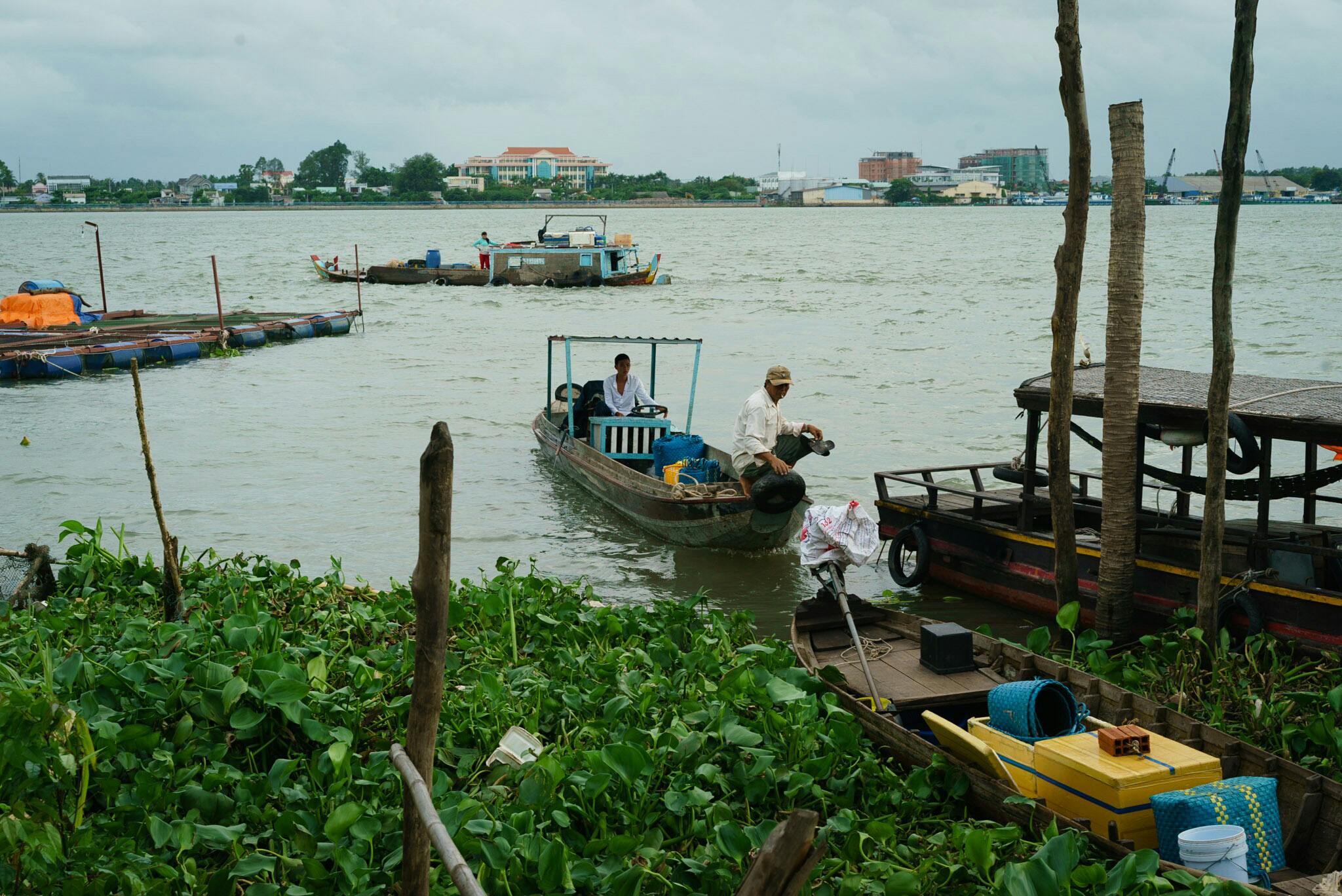 Dinner was then served to all guests and we shared a table with two solo backpackers. The meal was hearty and flavourful: a whole fish for two to combine with vegetables and rice noodles in diy fresh spring rolls, chicken, rice, vegetables and a plate of fresh fruits. We had fun sharing stories with the other travellers. We went to bed early that night to be rested for the early boat trip we had booked for the next day.
6 am the next day, we were ready to see a bit more of the Mekong. Everybody on the island seemed to be awake already, people live at the rhythm of the sun there. We got on the boat with a French family that was staying at the same guesthouse and started our journey on the Mekong river. What surprised us straight away was to see people using the river as a rubbish bin, literally. It made us wonder if they really realise that their lives basically depend on the river… it also made us think about the fish that was served to us the previous night..! After picking up other people, we went towards a floating market that we thought was supposed to be the main attraction of the tour. I must say we were a bit disappointed because there wasn't so many boats and it almost looked like it was there just for us. We learned later that it was most likely because they were already done for the day and that we would have seen more activity around 5 am.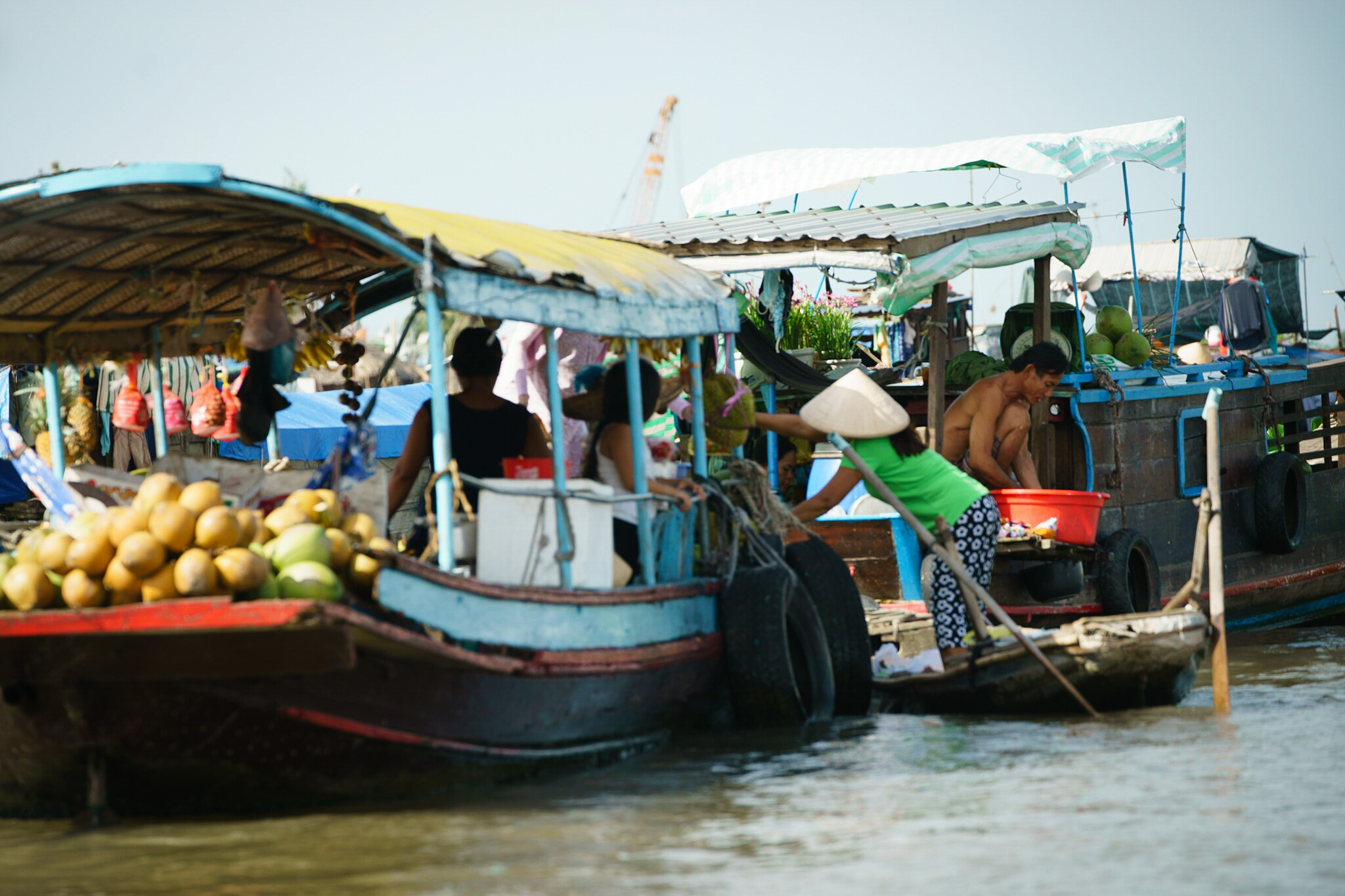 In addition to a short ride in a smaller boat on a more narrow river with traditional hats on, we had several other breaks along the way and got to see a small bee farm (their jasmine tea with homemade honey and kumquat was delicious), a bonsai garden and a hundred years old house, and finally a candy factory. The latter was making some really good coconut milk fudge but it wasn't quite enough to make up for the fact that they made me eat chicken, hidden in some kind of puffed rice treat… since when does chicken go in candy? I even need to question candies now..!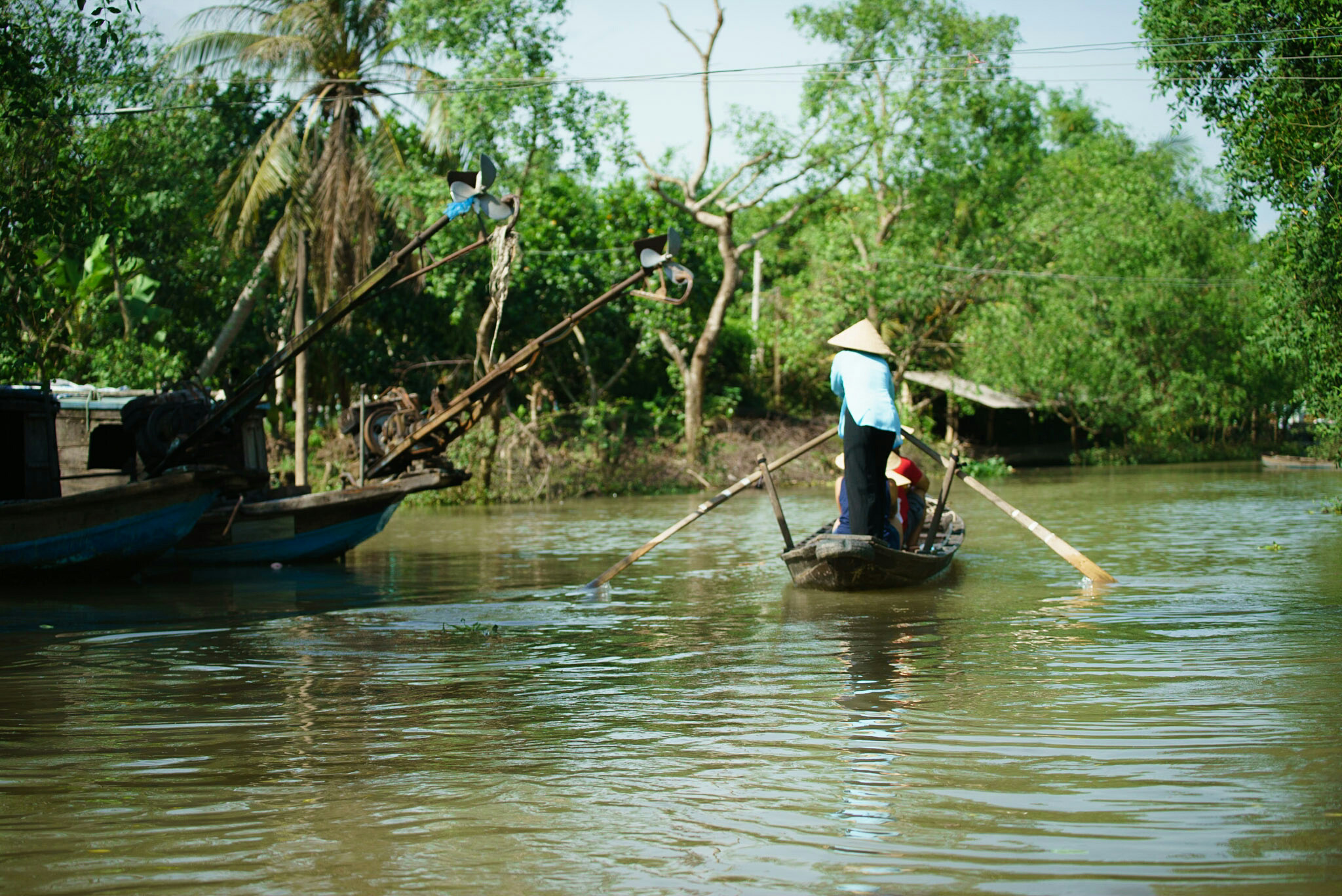 Apart from this incident (that seems to be becoming a ritual during our travels), the boat tour was enjoyable, even more so if you call it a boat tour and not a trip to the floating market like I did in the beginning. We didn't get back to the homestay before noon and it was already time for us to pack our bags. The owner's sister was once again of a great help when arranging the trip back to HCM and we were on our way soon after that.
Ngoc Phuong Homestay
118C/10, Binh Luong Hamlet, An Binh Ward, Long Ho District, Vĩnh Long, Vietnam
Make sure you ask them to book the boat tour when you get there (about $10 per person for a 6h tour)!
Note: there are affiliate links in this post, meaning we get a small commission if you place an order on the website through one of the links but to no extra cost for you.