Two Days to Discover New York
The first few times that I flew to America were dedicated to meeting and then visiting family and friends in Texas. At every trip, we would also enjoy a few days somewhere else, like Jamaica or Las Vegas but we hadn't had the chance yet to visit New York City.
This post is also available in:

Français (French)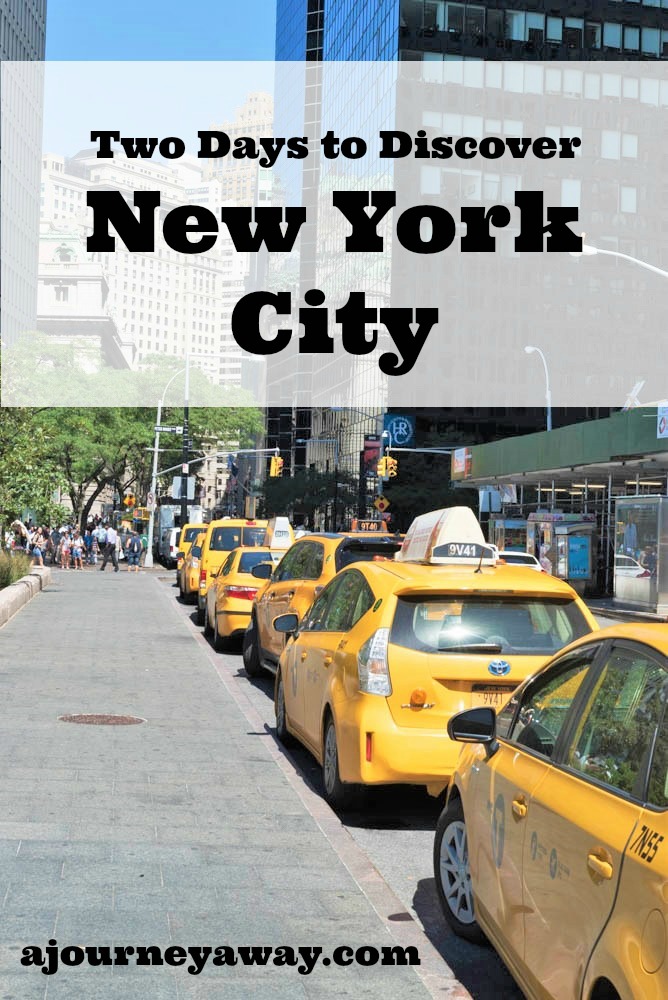 When we were looking for a flight back to Texas from Sri Lanka though, every affordable option included a layover in New York and counted at least 30 hours of journey. We thought we might as well divide the travelling time and have a real stop in NYC, two birds one stone! That's when we had a cultural shock. After several months in Asia, it was a bit hard to accept to spend 100 dollar per night for a room with shared bathroom in Manhattan…. welcome home!
In fact, it was not Simon's first time in NY. Given that I had been in charge of most of the organisation the previous weeks while Simon had been focusing on studying to get a good job when we would return, he decided to surprise me with the itinerary in the city. As nice as it is to feel like you have control over things, I was very excited to see where he was going to take me. It even reminded me of when I visited him in Scotland right after we met a few years ago and he showed me around the lovely city of Edinburgh, one surprise after another.
We spent the first of our three days there recovering from jet lag and walking around the upper west side, where we were staying, and nearby Central park. The first highlight of the day was without any doubt the fresh bagel with tons of cream cheese that we had for breakfast.
Statue of liberty and battery park
We started with a walk in Battery park to catch a glimpse of the Statue of Liberty. It was the first time I could see it for real and even if the park is a bit far away, it is still impressive to see. I also really enjoyed the waterfront and the park itself which are particularly nice in summer.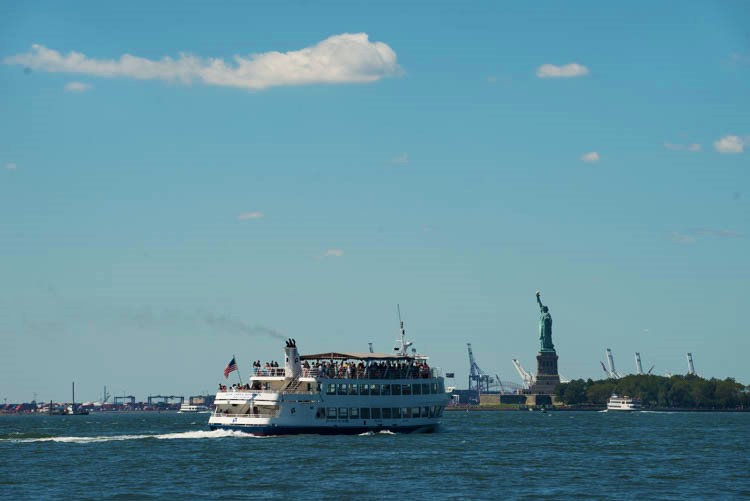 Charging bull and Wall street
We walked away from the water front to end up in front of another statue. I must admit I felt a bit silly, standing by this bronze bull in the middle of the road, with a lot of people trying to get pictures of it and without knowing what it represented! I eventually understood it was the symbol for Wall Street and remembered where I might had seen it before. Walking along Wall Street and its area showed me all the images I had of New York, from the crowd to the tall buildings. Wall Street will also take you all the way to the river from where you can enjoy a pretty view of Brooklyn and its bridge.
Brooklyn bridge
After stopping at the nearby Asian Obao restaurant (we had just came back from Asia and were missing the food already!), we took a stroll on Brooklyn bridge.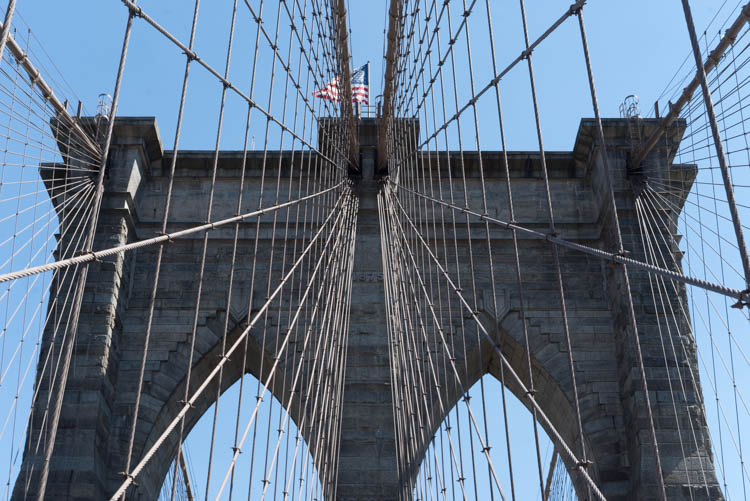 World Trade Center memorial
That's another place I'm very happy we went to. There was nothing to link me to America at the time of the tragedy, nobody can be insensitive to it. I admit I didn't really know what the memorial looked like but I sure did feel something strong when we arrived on the site. I was also very surprised at some people's behaviour there who were happily taking selfies in front of the monument.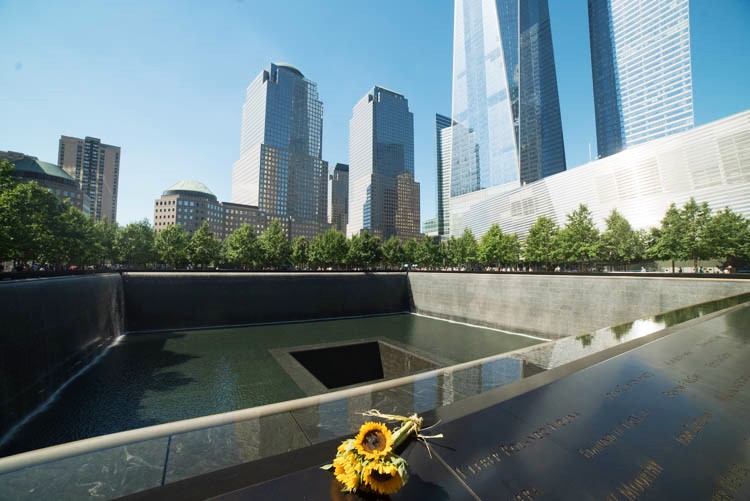 Chinatown
After several months in Asia, it was very special for us to go to Chinatown when we were back in the Western world. We were particularly happy to find, rather randomly, a very large Asian shop. We had a lot of fun recognising things we didn't know and wouldn't even have noticed the past in such a shop.
Little Italy
Little Italy was the biggest surprise for me in New York since I had never heard of it. This neighbourhood has the cutest buildings and restaurants. The area even counts a Christmas shop that is open all year long. To end the day well, we stopped for coffee and churros at famous La Churreria.
Times Square
After our morning bagel the next day, we went to famous Times Square and it was just as impressive as I thought it would be. The giant screens, tall buildings and crazy performers, it was all there like I imagined it.
Grand central station
I had seen Grand Central station in films before but I loved it even more in real. I loved the turquoise ceiling and all the restaurants in old style wagons.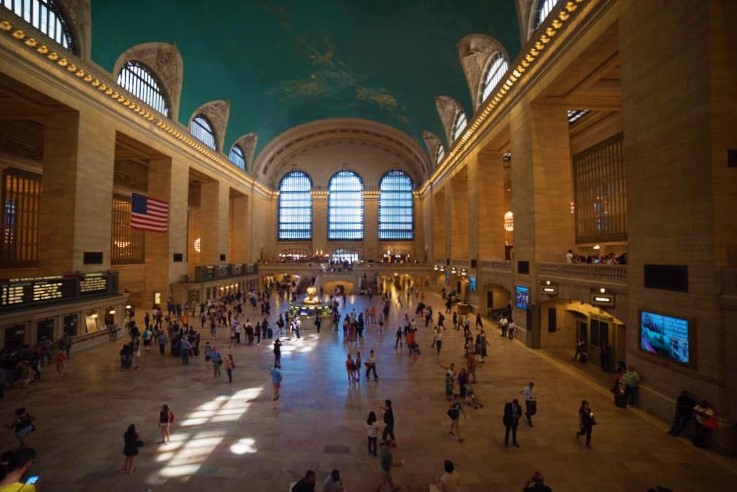 High Line Park
This place was perfect to run away from the crowd and enjoy some green. This park was built on an elevated abandoned railway. It reminded me of the promenade plantée, a similar park in Paris, of which it was actually inspired. We walked along it from North to South and ended up in a lovely and welcoming neighbourhood. We even found a salad bar which felt like a treat after the bagels, pizzas and churros!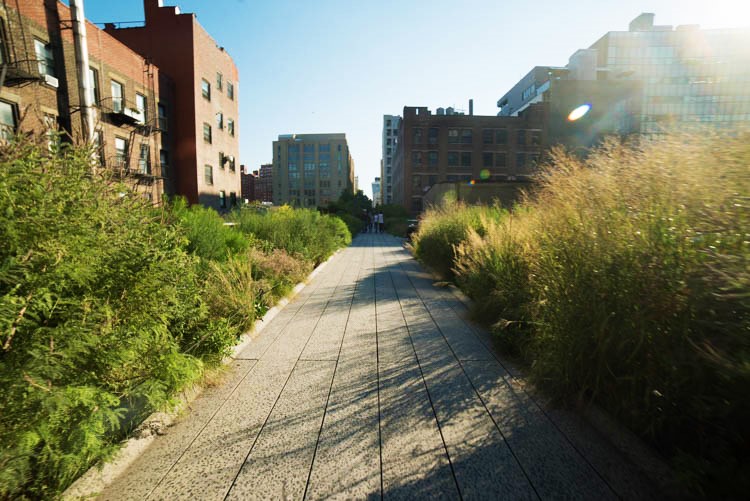 Two full days and an itinerary I couldn't have imagined any better. Any ideas and recommendation for our next trip to New York City?!
Note: there are affiliate links in this post, meaning we get a small commission if you place an order on the website through one of the links but to no extra cost for you.