The Ceremony of the Tooth in Kandy, Sri Lanka
We spent only one full day in Kandy and the temple of the tooth was a place I really wanted to visit. The temple of the tooth is a Buddhist temple, house to the sacred tooth of the Buddha. It is said that the tooth was retrieved when the Buddha was cremated and kept as a relic ever since. The ceremony that takes place in the temple three times a day sounded interesting too. We went to the 9.30 am ceremony, without knowing much about it and what to expect.
This post is also available in:

Français (French)
Before entering, our outfits were approved – we were both wearing trousers and I had to put on my cardigan to cover my shoulders, visible through the lace of my t-shirt. We passed the first gate and we already felt overwhelmed because of the amount of people sitting here and there to pray. We were even a bit confused and weren't sure where to go. Once we found the temple's entrance, we had to take our shoes off, pay the entrance fee and go through another outfit check. The temple was crowded but it was somehow nice to see, for once, that there was more locals than visitors at such a touristic place.
Several guides offered their services but we thought we would figure things out on our own. We first found ourselves in a sort of hall in front of a door and with stairs leading up on both sides. Three musicians dressed in their traditional outfits started playing their instruments as a man was coming and going through that door, bringing what looked like offerings without letting us see what was inside. We thought we might be able to see the tooth from there so we stayed for a little while. I was also keeping an eye on other groups of tourists who were with a guide to have an idea of where we were supposed to go.
We finally followed one of them upstairs, trying to make our way through this ant farm to end up waiting in line, still confused. Considering the religious character of the ceremony, we were very surprised about how little respect some people were showing, pushing others without hesitation to make their way through the crowd. We waited for at least an hour, as believers were carefully setting flowers as offerings on the designated table. We had to smile when we saw all the flowers being negligently swept away to a rubbish bin for new ones to be displayed.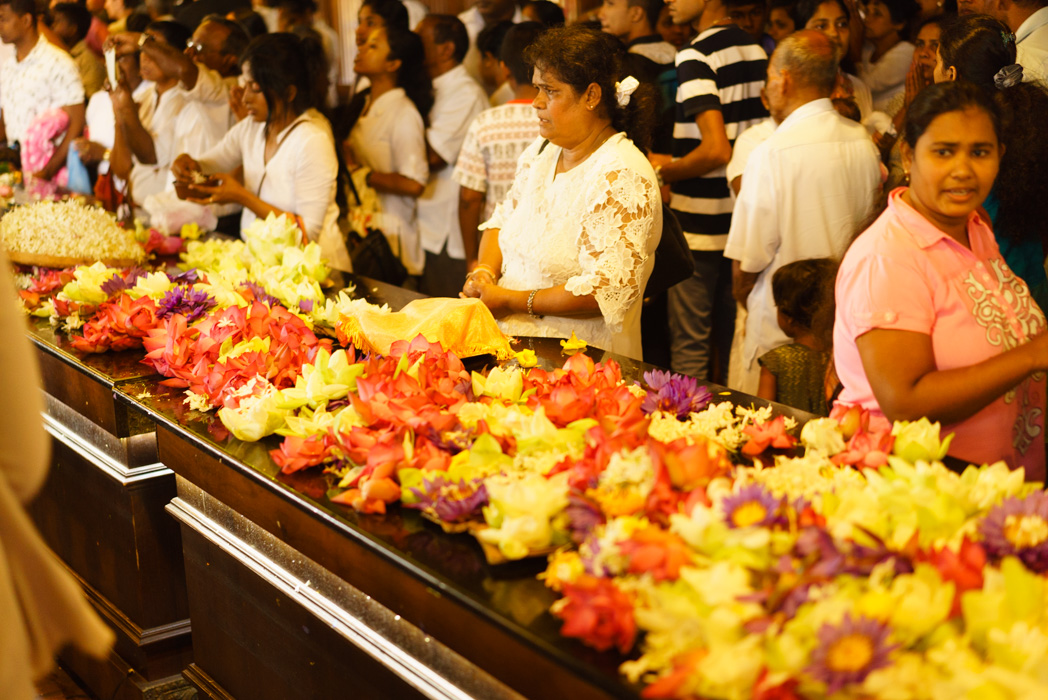 Despite of the appearing mess, everything seemed to be organised and coordinated. We were still waiting for the little gate in front of us to be opened to be able to step to the front. We were eventually able to walk forward and quickly passed a window leading to a room where some kind of big golden "box" was displayed in the back. I am doing it no justice by calling it a box, but it was so quick that we barely saw it. A man rushed us to keep walking and we realised that it was it. What we had just walked in front of was actually the sacred tooth. We tried to walk back to have a better look but the man wouldn't let us. The situation was very comical and I couldn't help it but laugh. We arrived close to 2h ago for this? It was certainly an experience!
After standing in the crowd for so long, all we wanted was to leave the place. It seemed like there was a lot to see around the temple but we didn't have the energy for it anymore. I would recommend to go anyway since the ceremony has an important place in the city's cultural life. But I will say that even today, we still feel very confused about the whole event.