Street Food Tour in Hanoi
Who wouldn't agree that food is one of the best ways to discover a new culture? I'm French and a vegetarian, which usually don't go together at all. Luckily for me, other countries are more open to vegetarianism than my own, like South-East Asia. Once we found out that our diets restrictions were no obstacles, we took cooking classes in Chiang Mai, Thailand and Ella, Sri Lanka. In Vietnam, no cooking class but we had the amazing last-minute opportunity to take a food tour in Hanoi the night before leaving the country.
This post is also available in:

Français (French)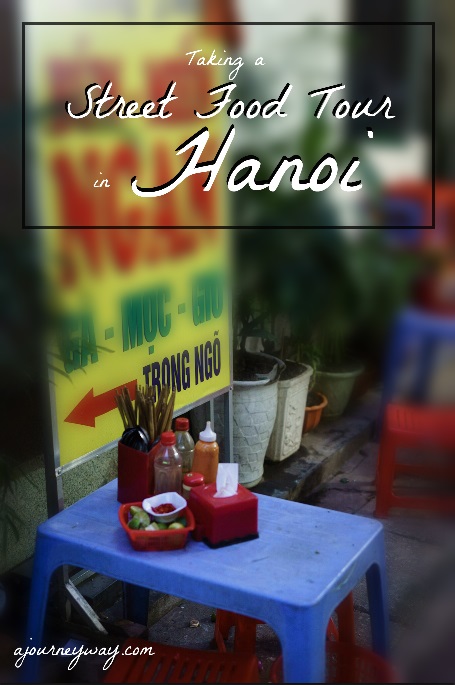 On our last days in Vietnam, we went on a two-night cruise in Ha Long Bay, which was probably one of the most relaxing experiences we've had and in a stunning setting. That's where we met our guide Thanh (or Tony), if like us you can't make the difference in pronunciation with the 6 or 7 words that sound basically the same, and we bonded with him. At the end of our stay on the boat, he explained how he wanted to become a food tour guide in addition to his job on Ha Long Bay. His boss wouldn't let him work until he took a one-month training though. So he offered to give us a free street food tour in Hanoi in the evening in exchange for an honest review for his boss to read.
On that night, we were treated with a great food tour. Tony was really professional and worked around the constraints of having me sample vegetarian versions of Vietnamese specialties and avoiding seafood for Simon.
Steamed rice "pancake" (Banh cuon)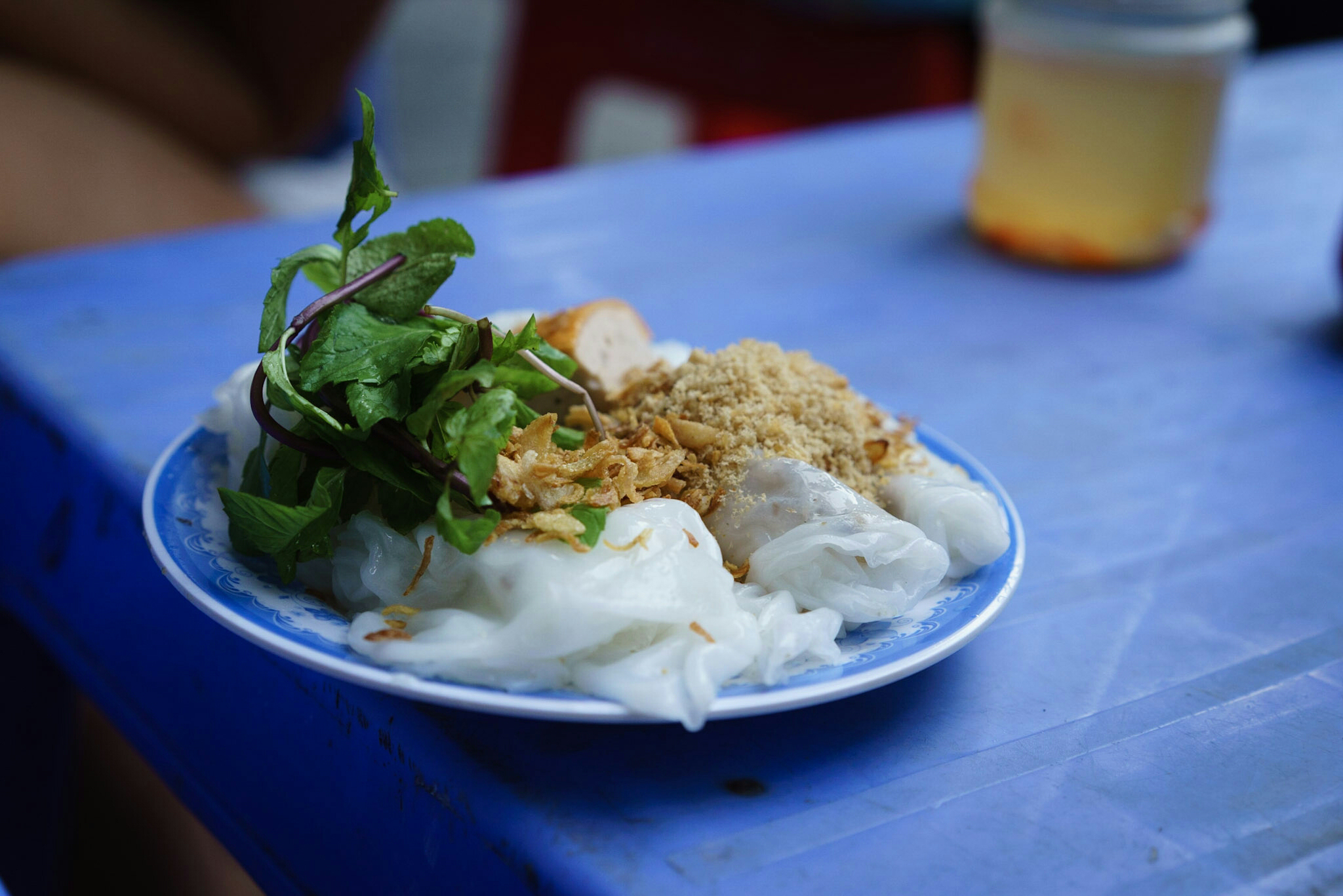 We first stopped to have Banh cuon, some very thin and delicate "pancakes". We sat on some traditional small plastic stools next to a basic set up with two giant pots with fabric stretched over them. The woman, who didn't speak a word of English, spread some of the rice flour batter on the piece of fabric and covered it for a few seconds. She then served it as a roll with meat and/or onions and fresh herbs.
Where: 73 Dinh Liet
Dry chicken noodle (Pho ga tron)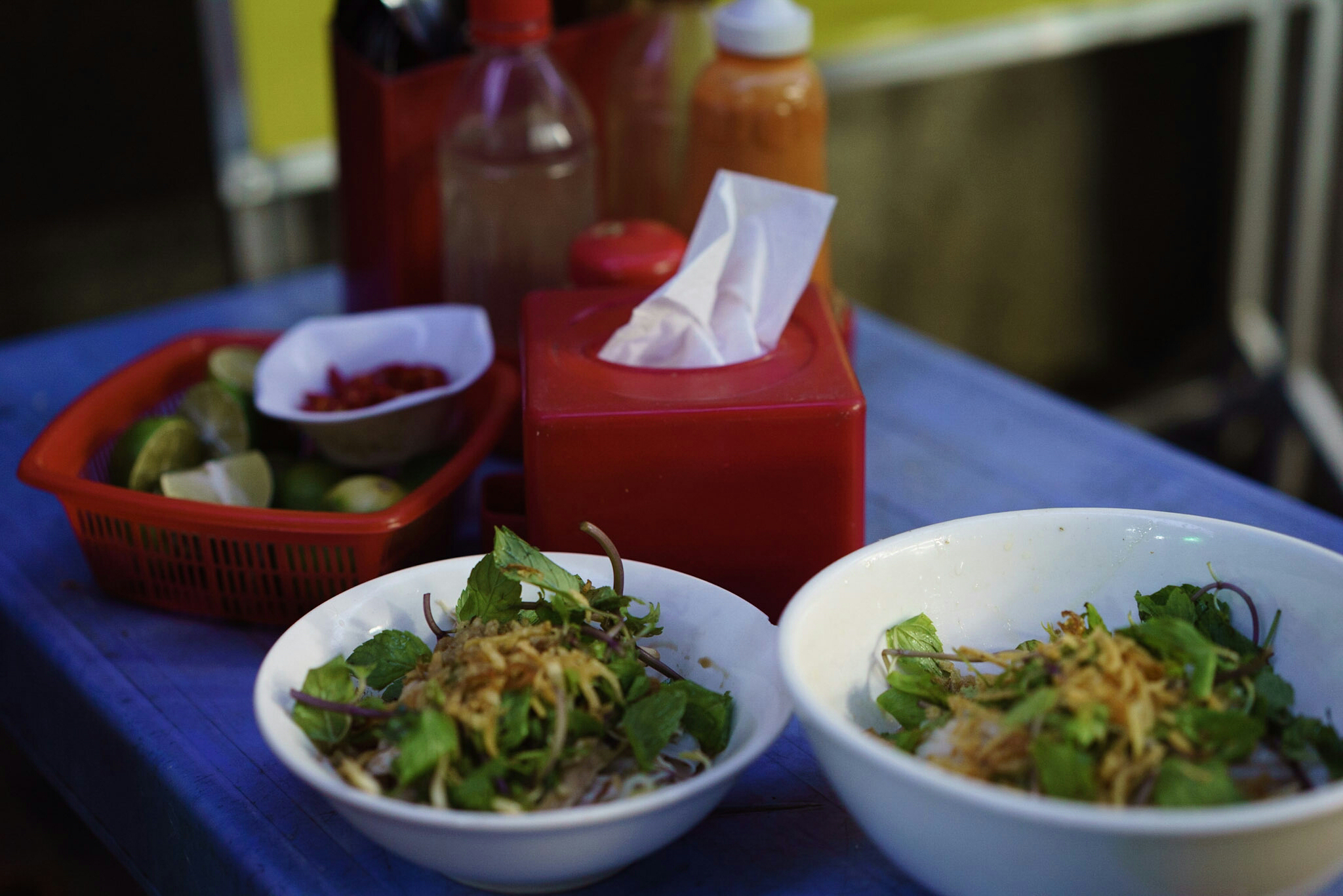 Tony took us to Hang Chi alley, a place that we would never have been able to find by ourselves. We walked through several narrow streets where we were the only tourists and where people would leave their doors open, before arriving to the street food stand. Pho ga tron is another traditional dish from Hanoi. It is a bowl of rice noodles with chicken (just skip the chicken for the "chay" (vegetarian) version) and topped with mint, fried onions and peanuts.
Where: Hang Chi Alley
Dried eel with glass vermicelli (Mien luon)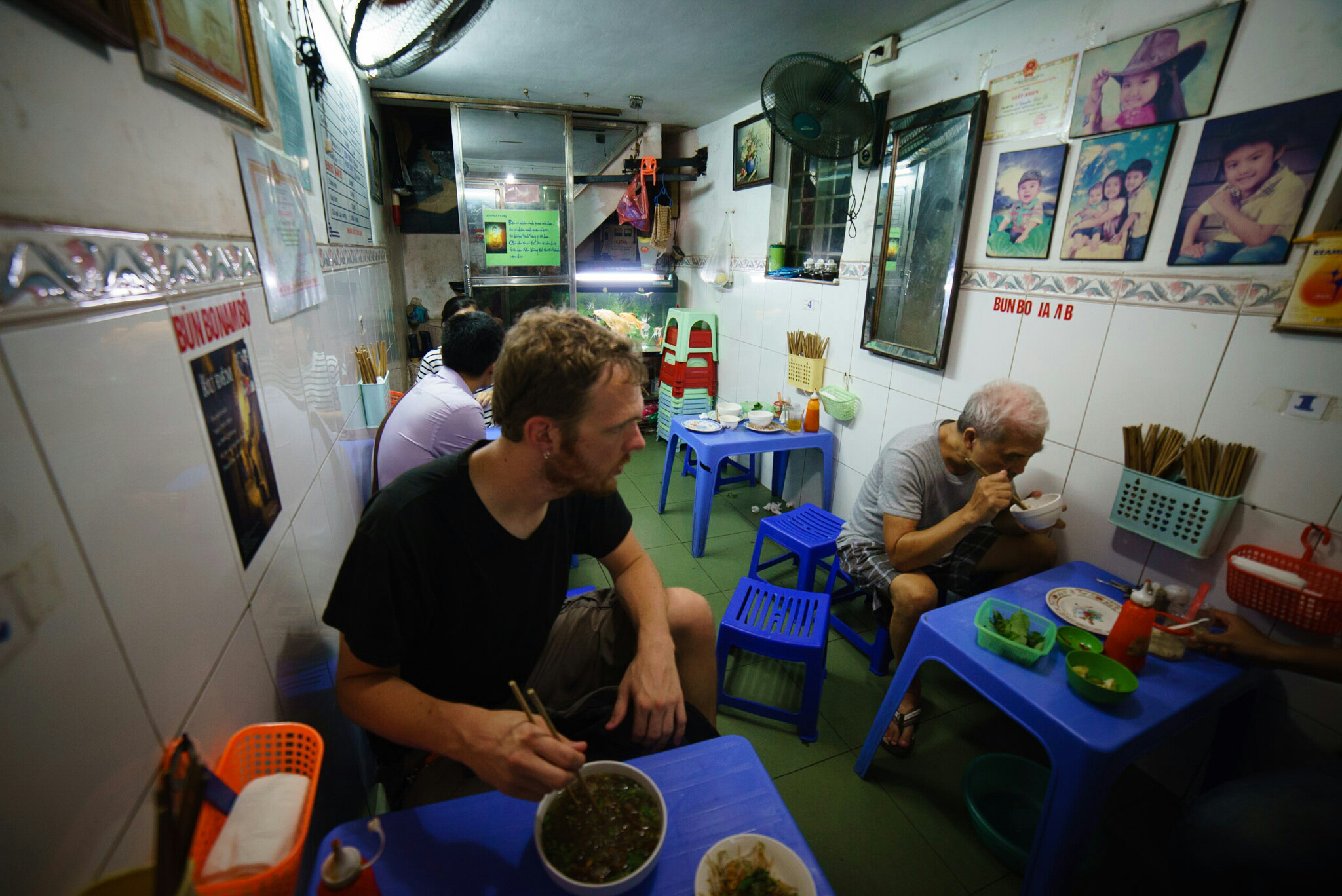 Although they look the same, glass noodles are different from rice noodles since they are made from starch and water. They are combined with broth, dried eels and topped with dried onions, mint and coriander to make Mien Luon. Despite the fact that I sometimes do eat fish, I only tried the glass vermicelli. Simon on the other hand, fought his disgust for anything that comes from the sea and ate the eels. Surprisingly, he even ended up kind of liking it!
Where: 12 Bao Khanh
Pillow cake, fermented pork, spring rolls and deep fried sticky rice cake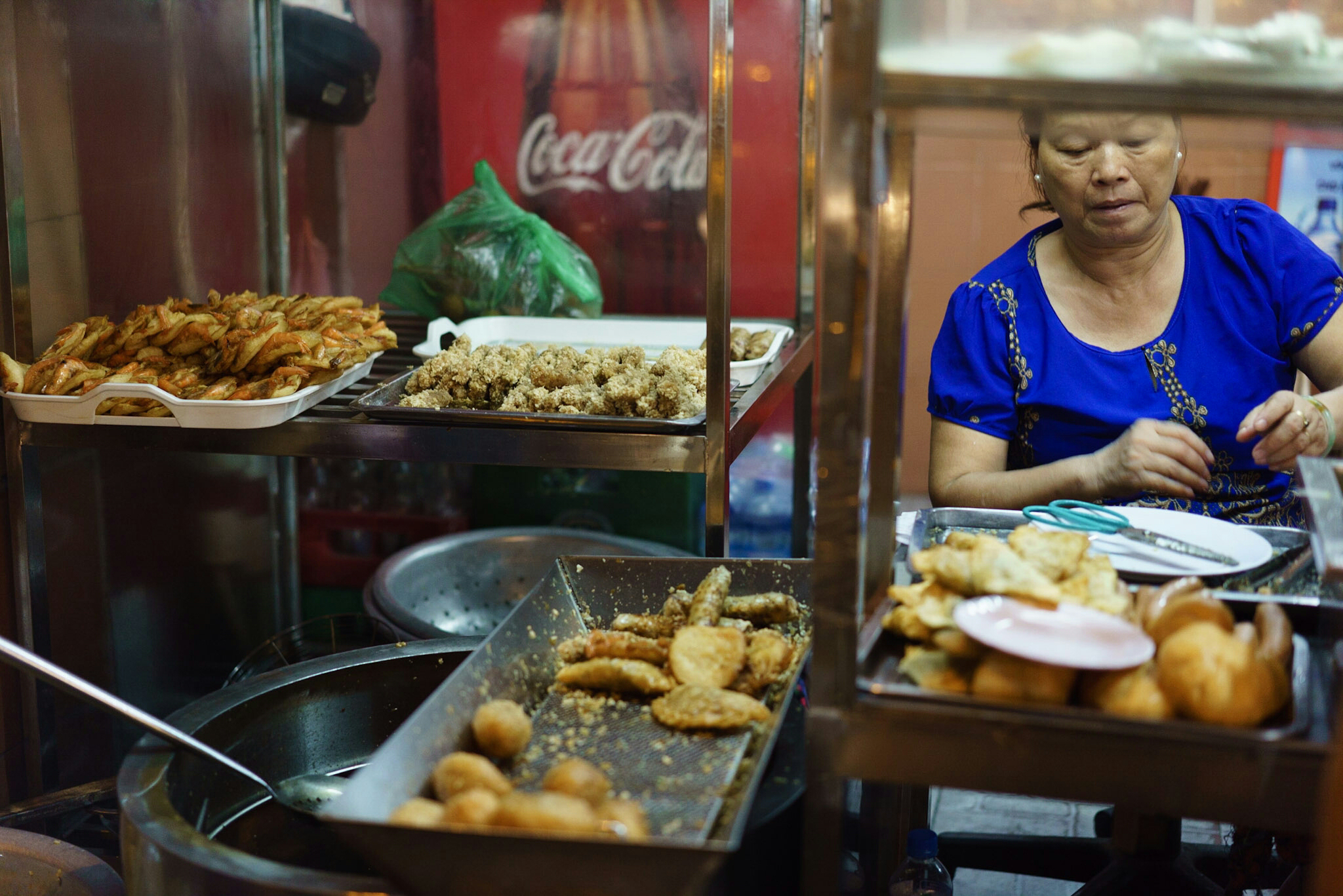 Tony then took us to a place that George W. Bush visited a few years prior. Pictures are even proudly hung on the wall of the small restaurant to prove it. There, we tried several types of deep fried items like pillow cakes (banh goi), which are crispy rice flour dumplings, glutinous rice (banh cam) along with spring rolls (cha gio) and fermented pork stick (nem chua).
Where: Ly Quoc Su
Lemon Tea (Tra chanh)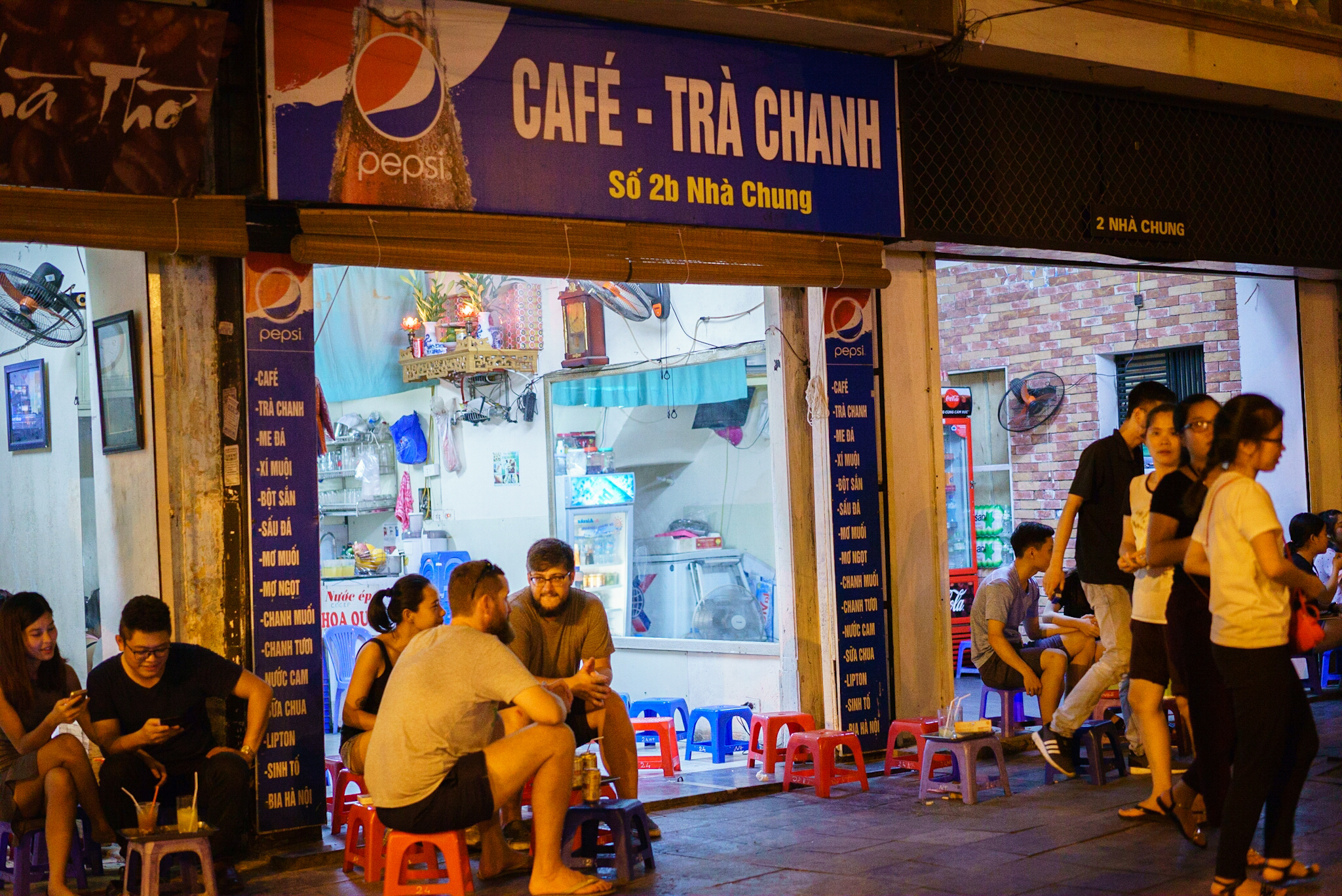 As our bellies became stuffed, we went for some iced lemon green tea, which is absolutely perfect after a hot day and a full stomach. This drink is highly appreciated among young Vietnamese and makes a good reason to hang out.
Where: Nha Chung, next to Saint Joseph cathedral
Papaya Salad with Dried beef (Nom thit bo kho)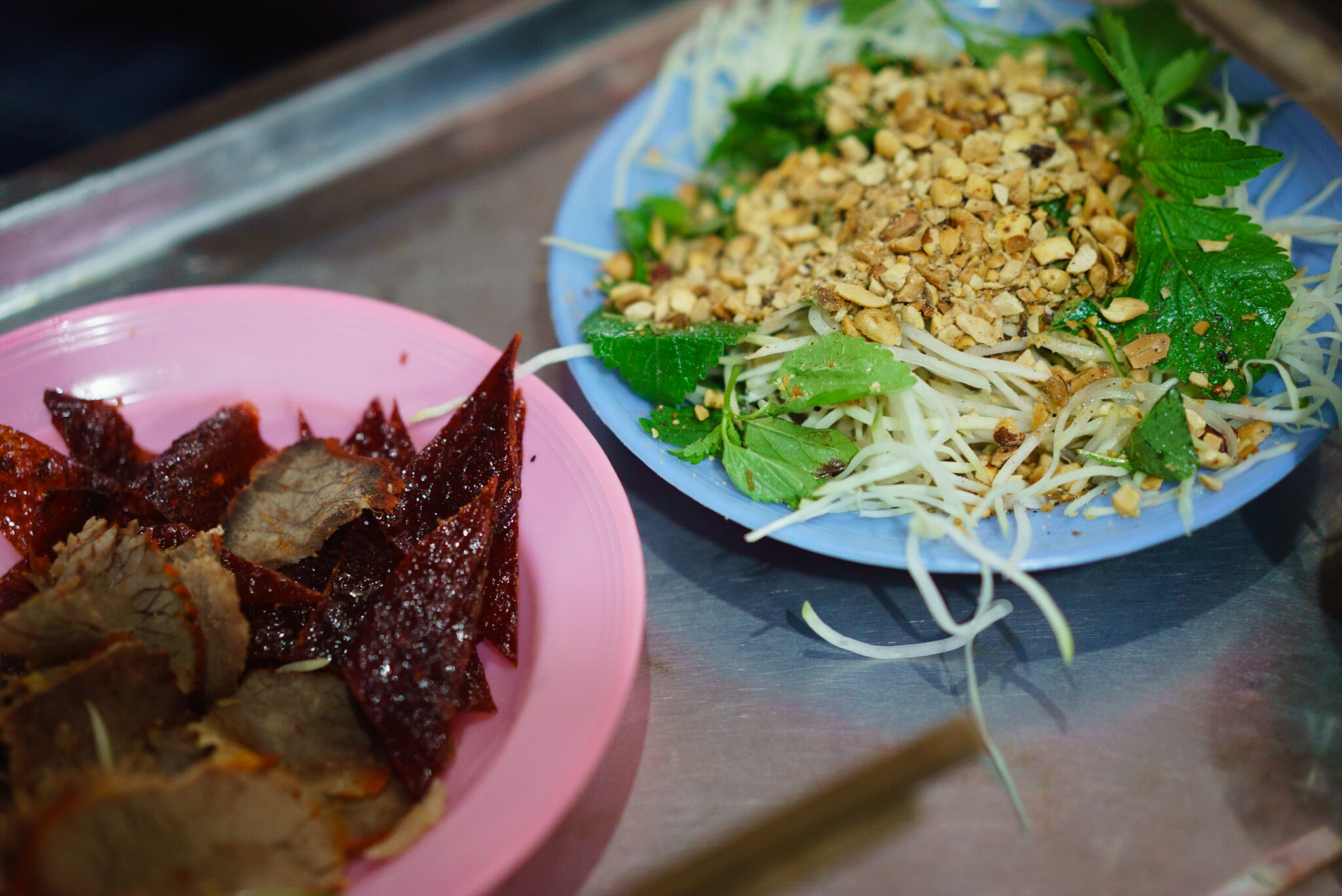 Fresh green papaya salad is definitely one of my favourite Asian dishes. I was happy to have it by itself with mint and peanuts but Simon topped his with a side of dried beef.
Where: Ho Hoan Kiem Street 
Green sticky rice with ice cream (Kem xoi)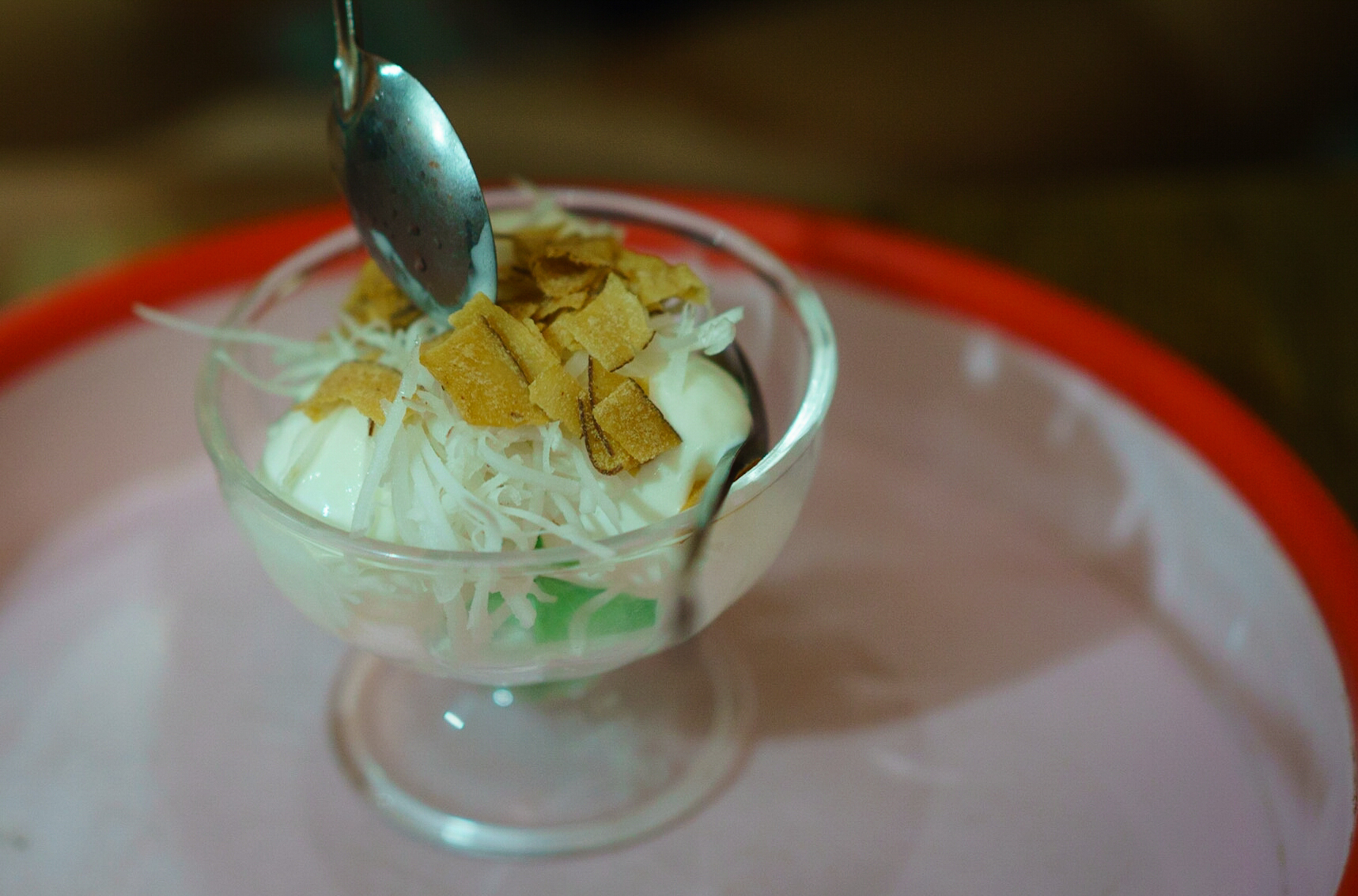 This sticky rice gets its green colour from pandan leaves and is traditionally served with ice cream and toasted coconut shavings. I wasn't sure what to expect from it but I liked it more than I thought I would.
Where: Hang Bac & Ta Hien Corner
Draught Beer (Bia hoi)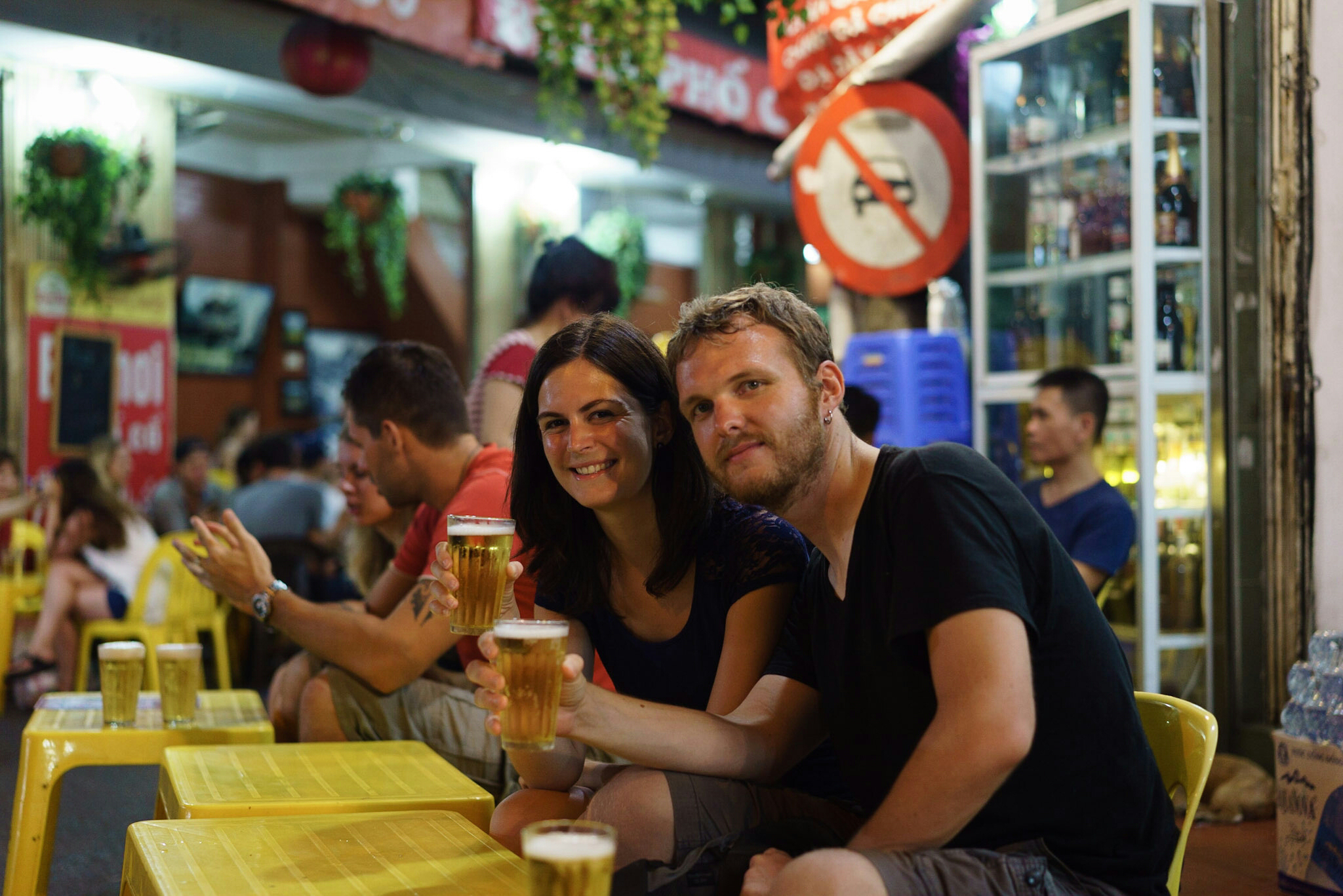 What better way to end a hearty meal is there than a beer?! Vietnamese beers are usually pretty light, easy to drink and the cheapest we had seen (about 30 cents for a glass). We were also able to enjoy how lively the city is at night.
Where: 01 Dong Thai
Tony had offered to give us the tour for free but we did tip him in addition to paying for the food. We ended up spending $24 for the two of us, which is a very good price for such an experience.
In addition to trying great food, we were able to visit Hanoi a bit more than we had had the chance to. It also turned out to be a good idea to have a local guide as most people serving street food don't speak English.
We were very happy about this tour and made sure to say so in our comment on Tripadvisor. A few days later, Tony told us he got the job thanks to our positive review.
There was no better way to end our stay in Vietnam and it remains one of our best memories in the country.
This is why we love travelling – unexpected encounters that lead to the best experiences.