Our Safari at Udawalawe National Park, Sri Lanka
Who knew you can go on a safari in Sri Lanka?! Certainly not us until we started designing our itinerary in the country. Simon had mentioned before that the first thing he would want to do in Africa if we ever go would be a safari. So when I found out that it was also a thing a Sri Lanka, I knew it would be part of our adventures.
This post is also available in:

Français (French)
The country counts several national parks and two of them seemed like they could have fit in our itinerary: Udawalawe and Yala. I read a lot on both of them and it was finally a comparative article by the Nomadic Boys that made us decide to go to Udawalawe.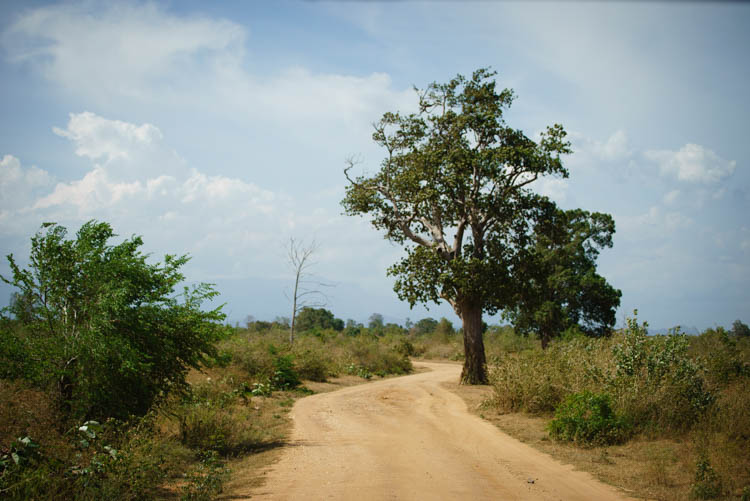 This beautiful national park, of which I was eventually able to remember the name long after we went, was built as a sanctuary for wild animals and has the particular feature of counting a huge reservoir. The road that we took on our way to the small town of Udawalawa from Ella travels along the park and the reservoir and even before going on our safari, we were able to have a peek at an elephant.
Like most visitors, we wanted to do a half-day safari. Some even arrive early in the morning for their safari and leave to their next destination before the end of the day. We didn't want to be in such a rush and we decided to take our time and spend two nights there, even if there is nothing else to do in the area. We stayed at the Mansala Safari Resort guest house where we were nicely welcomed in a correct room. We booked the safari for the next day with our host there, who recommended we went on the afternoon safari when we would be likely to see more animals. We happily followed his advice and let other guests get up with the sun for the morning safari.
When the jeep picks us up, we are surprised, but not unhappy, to see that we will have it and the guide to ourselves. While driving along the park to reach its entrance, we can see the same elephant than the day before by the reservoir. Our guide explains that the animal took the habit of going there everyday. When we enter the park, the game starts. I feel like a kid, looking everywhere to spot animals but our guide of course beats us every time.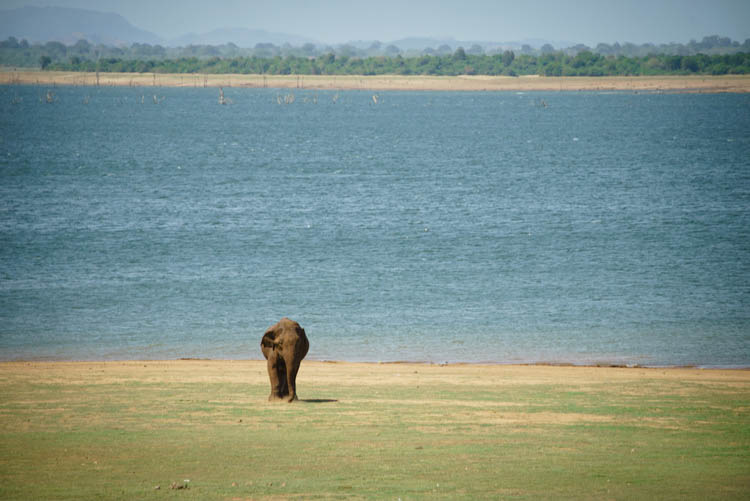 We first drive through some kind of forest and it is not long before we stop to see turtles, kingfishers and peacocks. Soon enough, we can admire a herd of beautiful elephants. As impressive as they are, they are luckily not interested in us but can walk up really close to the jeep. We then pass several ponds where buffaloes and elephants are trying to escape from the heat.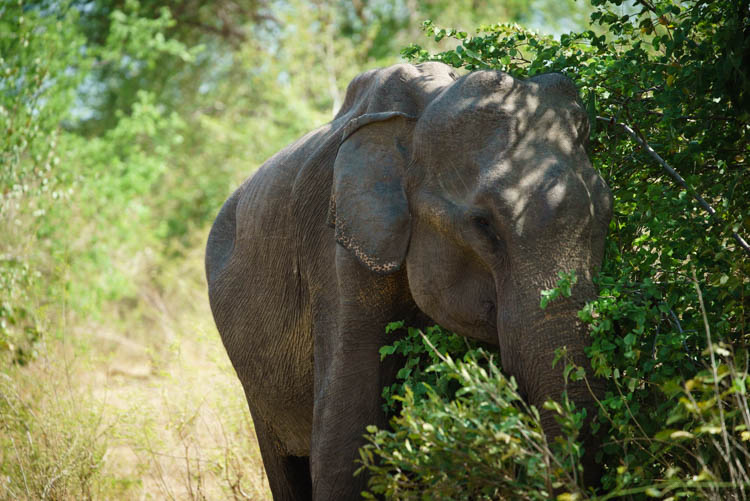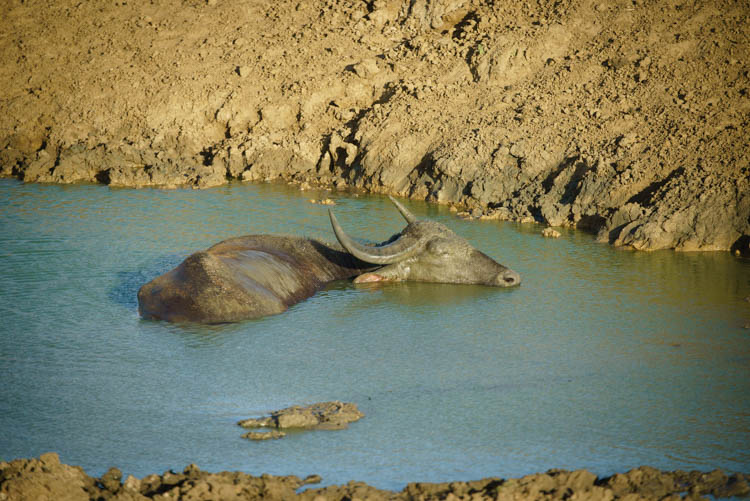 We arrive on top of a small hill, outside of the forest, where we can enjoy a wonderful view over the reservoir with mountains in the background. We have a break there to make the most of the scenery. In the distance, we can even see some eagles and jackals.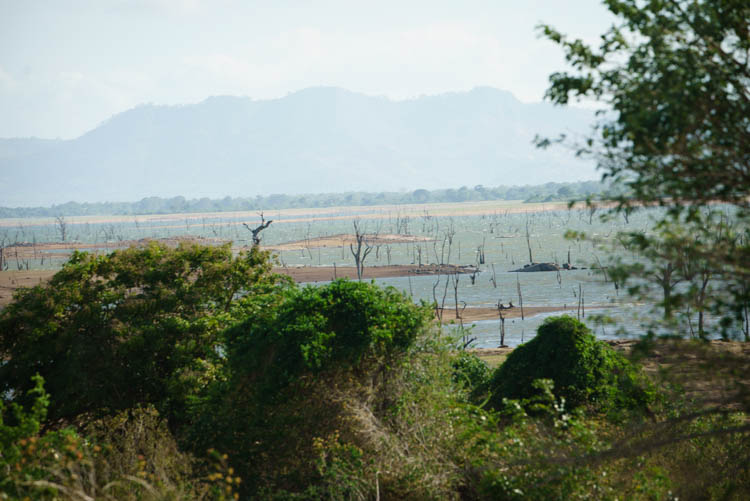 On our way to the reservoir, we run across a large group of monkeys. I think they are cute from afar, as long as they don't come too close to us and they are actually fun to look at. The reservoir is an important source of water for the animals of the park and is therefore a good place to spot them. While driving around it, we even see crocodiles.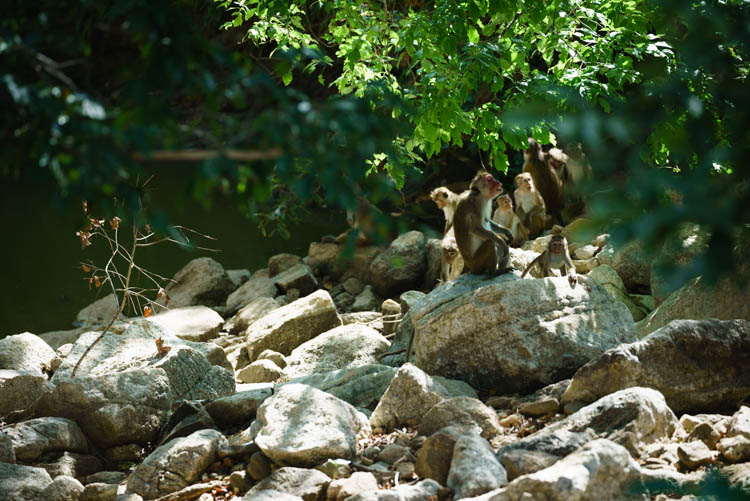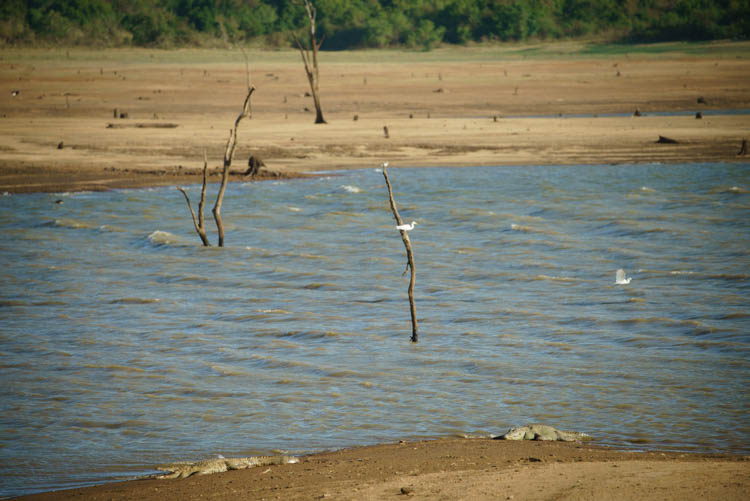 We also saw deer in the park but we were not lucky enough to see leopards. They are pretty hard to spot during the day and I trust that our guide would have stopped if he had seen any.
This park is pretty popular for safaris and we did see other jeeps, which is convenient for the guides who are happy to share information about where to take us to spot specific animals. Most of the time though, we were by ourselves and were never bothered by the amount of tourists.
Pin it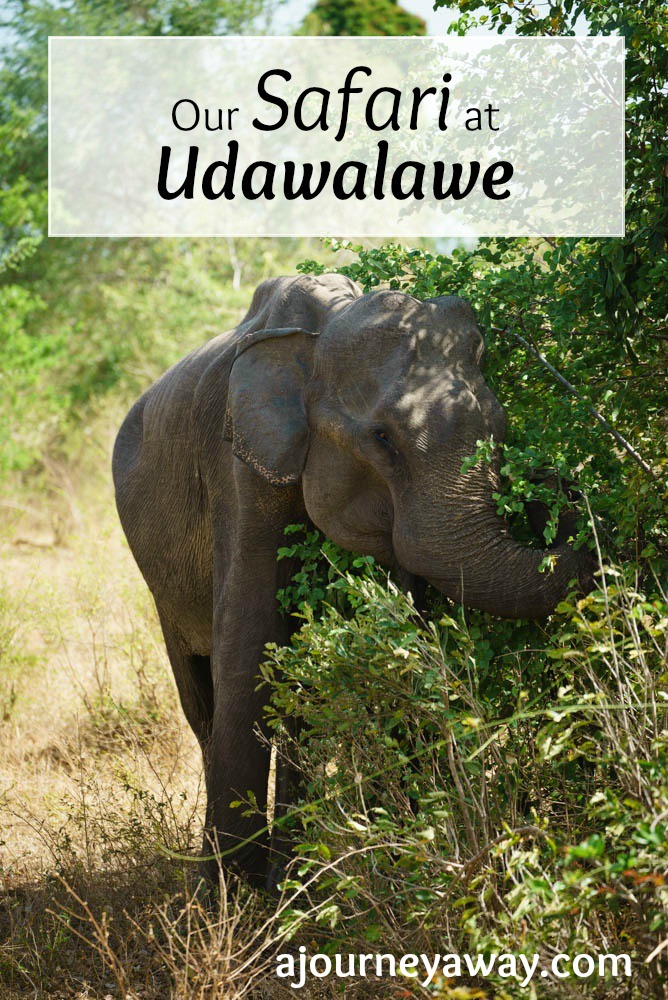 Note: there are affiliate links in this post, meaning we get a small commission if you place an order on the website through one of the links but to no extra cost for you.