A Travel Guide to Mui Ne, Vietnam
Mui Ne is located in South East Vietnam and it's a real paradise. It's a small, quaint but touristic town that's developing fast and I'm sure if we were to go back in a couple of years, it would look completely different. It's the perfect destination to take a break from the big city of Ho Chi Minh, where we stayed for a whole month. We spent a weekend there with my brother and his girlfriend and we loved it, we were able to fully relax and just enjoy.
This post is also available in:

Français (French)

How to get there
It's fairly easy to get there from HCM. Bus tickets can be purchased at Mien Dong bus station (one of the two main bus stations of the city), at the counter indicating Phan Thiet. We paid 126000 VND (about 5,5$) per person for one way and got dropped off at Phan Thiet so we took a taxi to get to our hotel. Hotels can also arrange the trip for a little extra like we did on the way back and we were picked up directly at the hotel. It's a 4-5h trip in a sleeping bus (even if you travel by day), meaning you're seating/lying with your legs stretched out (or almost stretched out if you're as tall as Simon..!). You will also enjoy music in the bus during the ride and bright colour neon lights when it gets dark!
Where to stay
The bay between the small town of Mui Ne and Phan Thiet counts a large number of accommodations of all sorts, from big hotels to family resorts and backpackers villages. You can definitely find somewhere to stay close to the ocean (along the main and almost only road) for any budget. In such a dream location, we couldn't imagine sharing a dorm again like we did in Hawaii but the cost of living here is so different that it wasn't even an option.
We found a room in a nice resort right by the ocean, the Riva Beach Resort, for only $30 night through Agoda. This website often offers good deals and is usually cheaper than other websites like Booking. We had booked a garden view room and somehow ended up in a very simple room like we expected but with a nice ocean view (that was supposed to be more expensive). The hotel had a swimming pool with a view on the ocean as well, which I loved and a direct access to the ocean so we were able to go swim without leaving the hotel.
Whatever you pick, make sure it's on the right side of the main road, by the ocean. There is nothing more relaxing that being able to jump in the water after an afternoon exploring the area in the heat! Staying in the middle of the bay also proved to be a good choice when we were off sightseeing.
Where to eat
Along the bay, if a place is not a hotel, it will be a restaurant. Whatever you have a craving for, you will find it. We had wanted to go to an Indian restaurant for a while so we found one on our first night in Mui Ne and really enjoyed it.
Among all the Vietnamese restaurants of the area, a lot specialise in fresh seafood of course and these restaurants are actually fun to go to, as much for the food as for the atmosphere. You will recognise them easily as they usually have some kind of aquariums by the street in which you can simply choose what you'll have for dinner. If you know us, you'll wonder why we went to a seafood restaurant with me being a vegetarian and Simon not being able to eat any kind of seafood. But you would actually be surprised at the length of their menu, it wasn't difficult to find something for us while my brother and his girlfriend were enjoying shellfish and other shrimps. We were rather unlucky with the place we chose though because it was big and so crowded that the waiters just forgot about us, even if we asked for our food several times. After 1h we still hadn't had everything we ordered so we left. I don't regret we went but we might have been better off choosing a smaller seafood restaurant.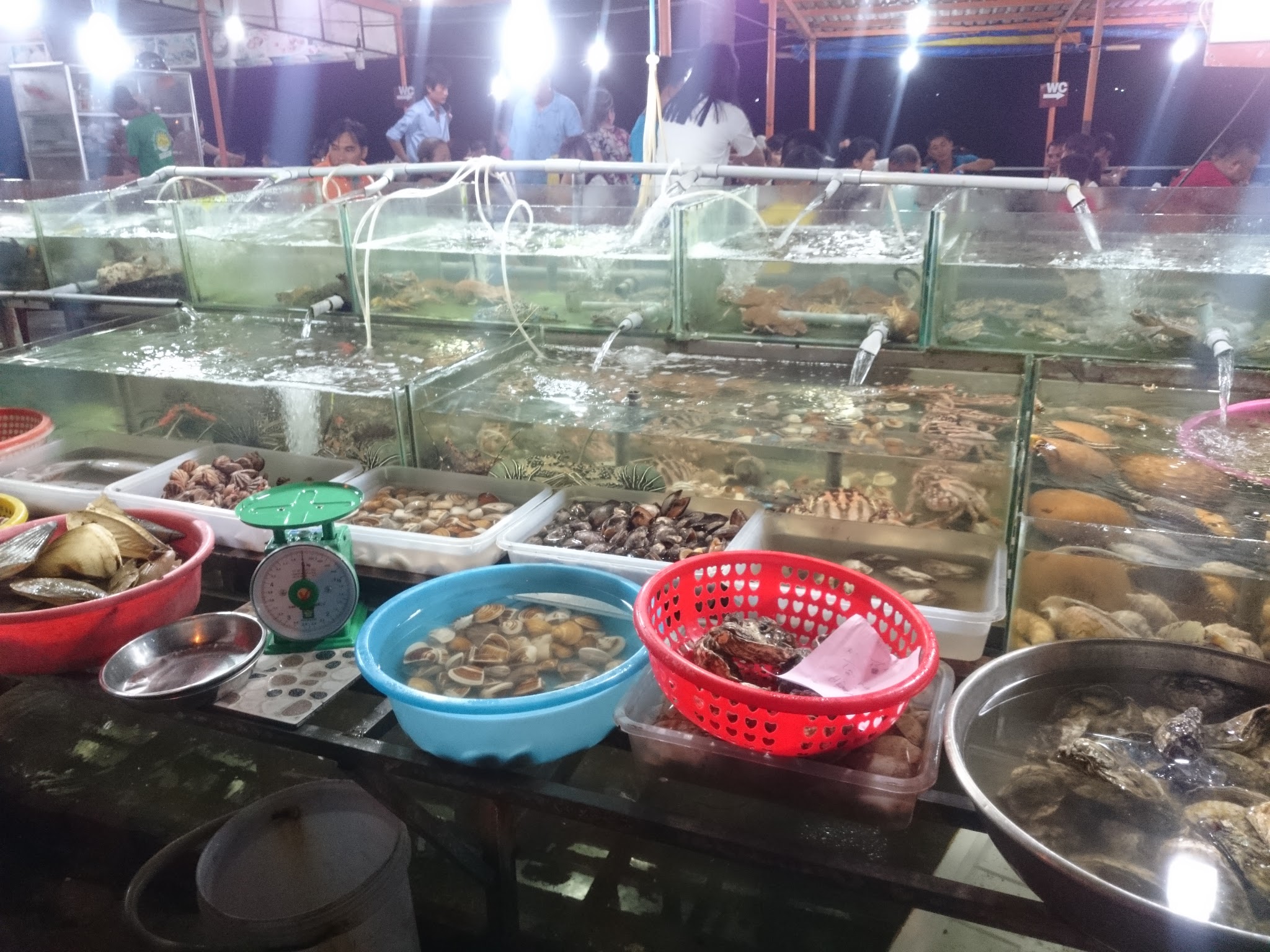 What to do
Besides enjoying your hotel swimming pool or relaxing at the beach, there's actually a lot to do. If you are comfortable driving (unlike us, again many thanks to my brother and his girlfriend for driving us around!), the best thing to do to explore the area is to rent a motorbike. Our hotel offered bikes for 150000 a day but we ended up renting ours from the nearby minimart for 120000 each. We noticed though that they changed the sign overnight and it was also 150k the next day..! Ok it's barely a $2 difference but that's still 1 or 2 extra street food meals!
We started by going to see the Po Shanu Cham Towers, near Phan Thiet, a beautiful historic site with nice views over the city. You can also see Chùa Buu Son pagoda from the towers grounds and we decided to go have a look. We were the only visitors and the place was very quiet and peaceful. All the statues and ornaments are nice to look at and they also have a gift shop where we got some bracelets, blessed by a monk for good luck. The last thing we were able to visit in a weekend was the red sand dunes. They're right by the road past Mui Ne and much bigger than I expected. It's best to go in the end of the afternoon if you want to avoid walking in burning sand. The view is beautiful and the dunes give great picture opportunities.
There is a lot more to do than we had time for. The white sand dunes and fairy stream canyon seem to be worth a visit as well among others.
Note: there are affiliate links in this post, meaning we get a small commission if you place an order on the website through one of the links but to no extra cost for you.