3 Days in Hue: Between History & Seaside
After spending one month in Ho Chi Minh to rest and spend time with my brother, we were on the road again to the pretty city of Hue. Hue was the imperial capital of Vietnam until 1945 and thus played an important part in the country's history. 
This post is also available in:

Français (French)
We had 3 full days there, staying at the Gold Hotel (very nice hotel but we definitely should have skipped the restaurants there), so we tried to see a bit of everything the city has to offer.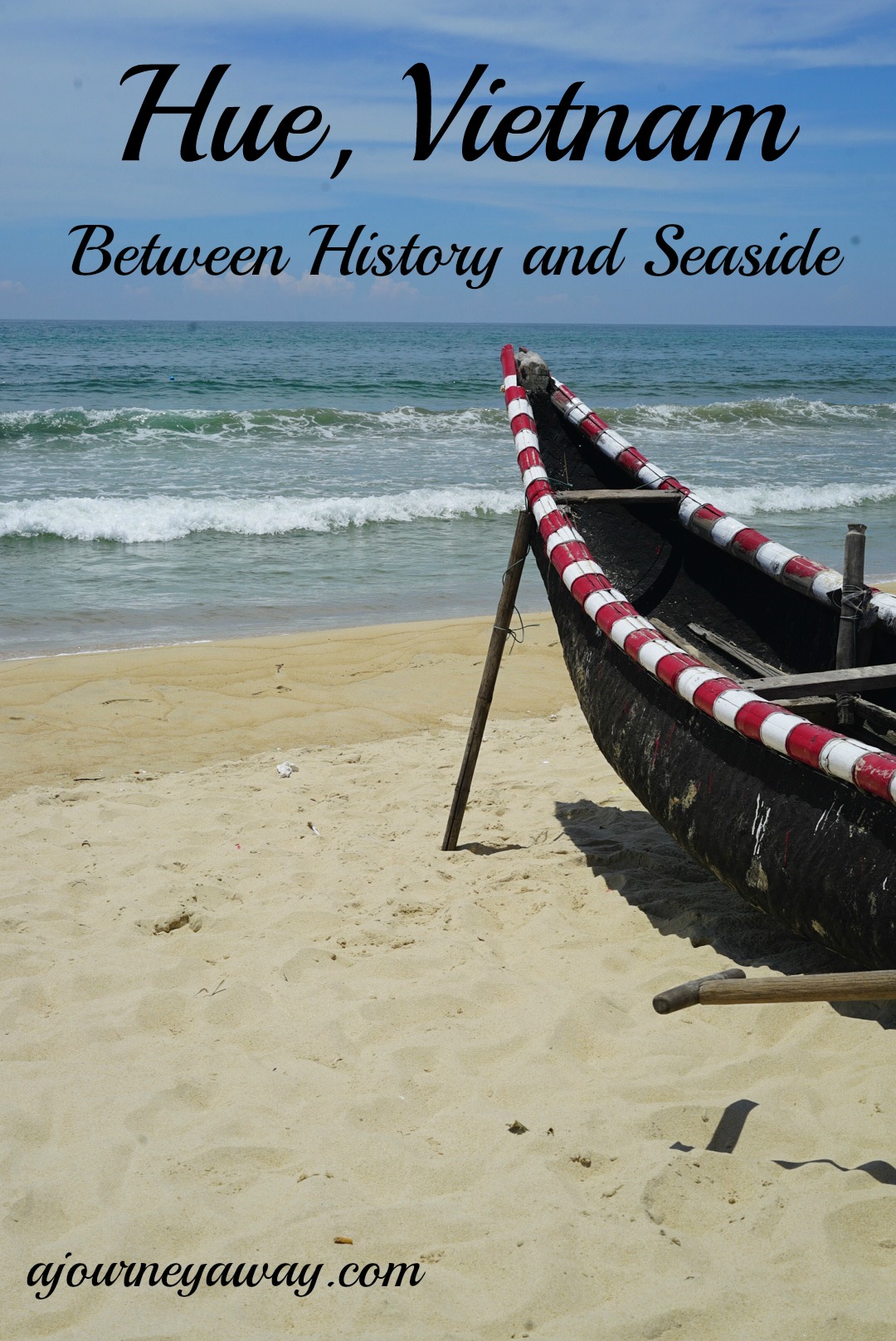 Day 1
We started with a visit of the Imperial city in the Citadel, which is the main highlight of the city. It was mostly destroyed during the Vietnam war but Vietnamese are making big efforts to restore it and keep it since it's an important part of the country's history. Some people are actually disappointed by the place but we were not. It's very big and I found there was a lot to see, even if parts are just ruins now. I especially liked the garden and the Royal Theatre. We happily took our time and stayed several hours, taking pictures and wandering through what used to be a symbol for wealth and power.
We then headed to Dong Ba market where I was hoping to find earrings. When you're travelling for a long time, you can't really bring back souvenirs from everywhere you go to and it can sometimes get frustrating. So I made it a habit to buy earrings in each country we visit. I can always find some cheap ones and they don't take much room. The market is big and it's fun to get lost in the small aisles where you can find a bit of everything, from watches and jewelry to food, clothes and kitchenware (no luck for my earrings though). We also felt comfortable enough there – no overwhelming pressure to buy except from this woman who started talking to us as soon as we stepped into the market and followed us until we had a look at her stall.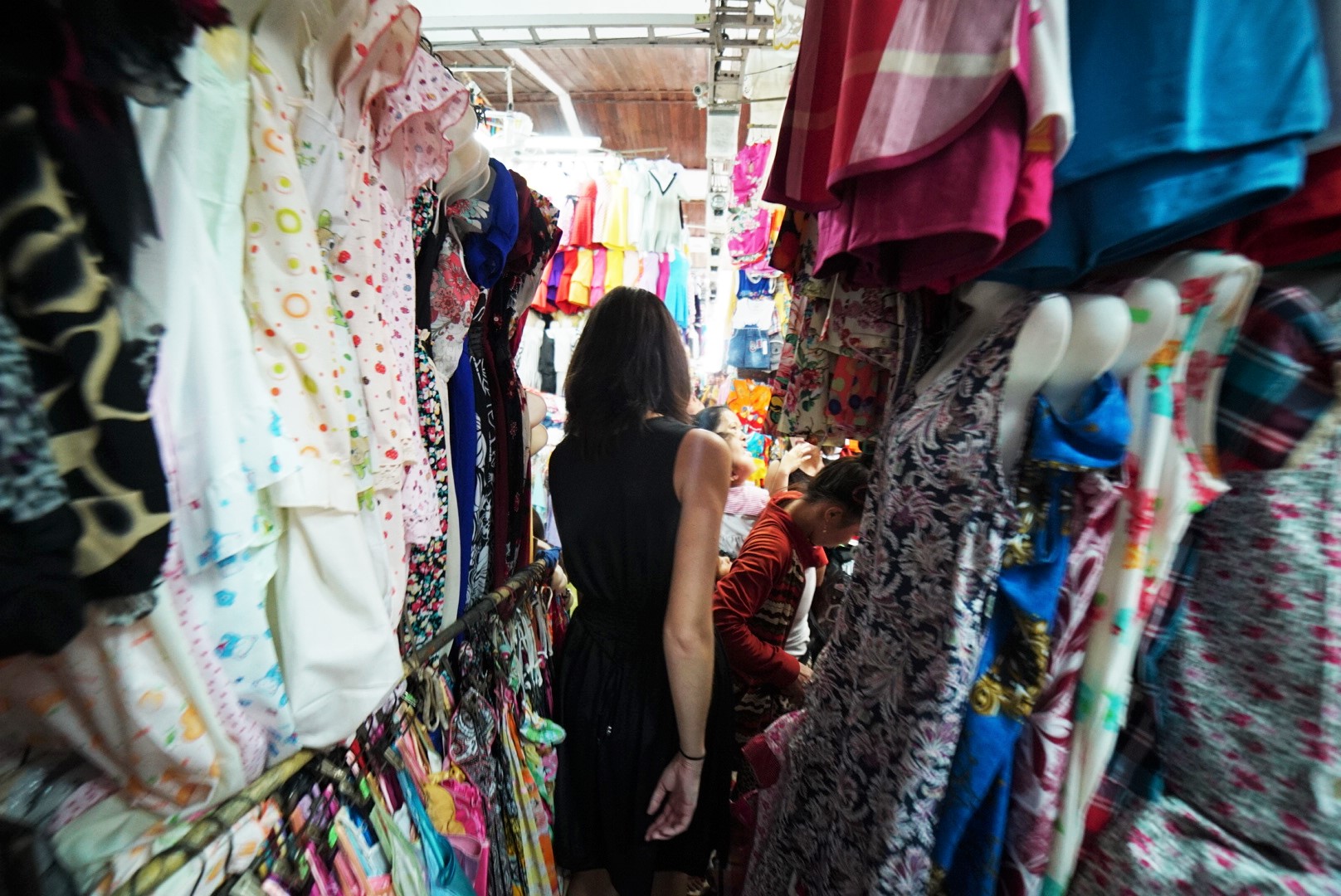 We also visited the Dieu De Pagoda nearby. After some difficulties to find the entrance (which is actually on the riverside and quite noticeable), we discovered a very peaceful and also deserted place, except for some locals taking a nap in hammocks. The only sounds came from crickets which always remind me of the South of France.
In the same area, we also completely randomly  found a really nice vegetarian restaurant, where we stopped for lunch. It had these traditional low tables and chairs that I love and an appealing menu. The prices were also very appealing with the most expensive item being 25, 000 VND, or just above $1. We ended up getting a noodle soup, some fried rice, a mixed salad and two drinks for $3.5.
Practical information
Imperial city: 150,000 vnd per person, open from 8 am to 6 pm. It's included in many guided tours but they probably don't give you enough time to explore it by yourself.
Dong Ba market, Tran Hung Dao street, open until 8.30 pm.
Dieu De pagoda, Bach Dang street, free admission
Am Thuc Chay Kieu Nhan restaurant, 54 Bach Dang street, vegetarian.
Day 2
The other main thing to see in Hue are the royal tombs. There are seven of them a bit outside of the city and are not just a gravestone. The kings believed that their life actually started at the moment of their death, at the end of the ephemeral life on earth and building their tomb was a big achievement of their lives.
A common way to go visit some of them is to make it a day trip and rent a motorbike, which is not really our thing. We had booked a guided tour the previous day with our hotel. The plan was to visit 3 tombs in a half day. We were ready to go at 8.30 am to get picked up at our hotel and off we were to visit our first tomb, Tu Duc tomb. I was surprised to see how big the place is and I understood how important it was for the king. In addition to the tomb itself, there is usually also a palace and gardens. Kings wanted a place to retreat and entertain themselves. This first tomb also had an area where people were wearing traditional outfits and playing traditional music.
The tour then made a quick stop in an incense and iconic hats making village, which was really a stop in a shop, where we ended up buying some lemon incense cones, hoping they will stay in shape until the end of our travels. The next stop was Minh Mang tomb, the "romantic" one. The place counts a pond and a river with lily pads and nicely kept gardens. The last one we saw was Khai Dinh tomb , the newest one that was built in 1925. It's crazy to imagine this kind of site being constructed so recently. That king had travelled in Europe during his life and wanted to add some European influence to his tomb which gives it a unique look. The view from the top is also very nice and you can even see a big white statue of a female Buddha in the distance.
The tour ended for us with a buffet lunch at the Stop & Go Cafe, that also organises tours, probably a bit cheaper than what we paid at our hotel.
Practical information
Half day tour booked with the hotel, 250,000 vnd per person
Tombs: entrance fee of 100,000 vnd per person for each tomb (not included in the tour)
Stop & Go Cafe, 3 Hung Vuong street: casual restaurant where you can also book tours.
Day 3
If you want to do more cultural sightseeing, you will definitely find other pagodas or alike to visit. For our last day though, we wanted a change of scenery and decided to go to Thuan An beach. The seaside area is not so touristic or even developed so it was difficult to find information about it. With no local bus system at all, our hotel offered a private car with a driver to take us there and back for $35 but we felt like taking a taxi by ourselves would be cheaper so that's what we did. The taxi driver even gave us his phone number so we could contact him whenever we were ready to go back to the city. It turned out to be a good idea since we haven't seen a single taxi in the area.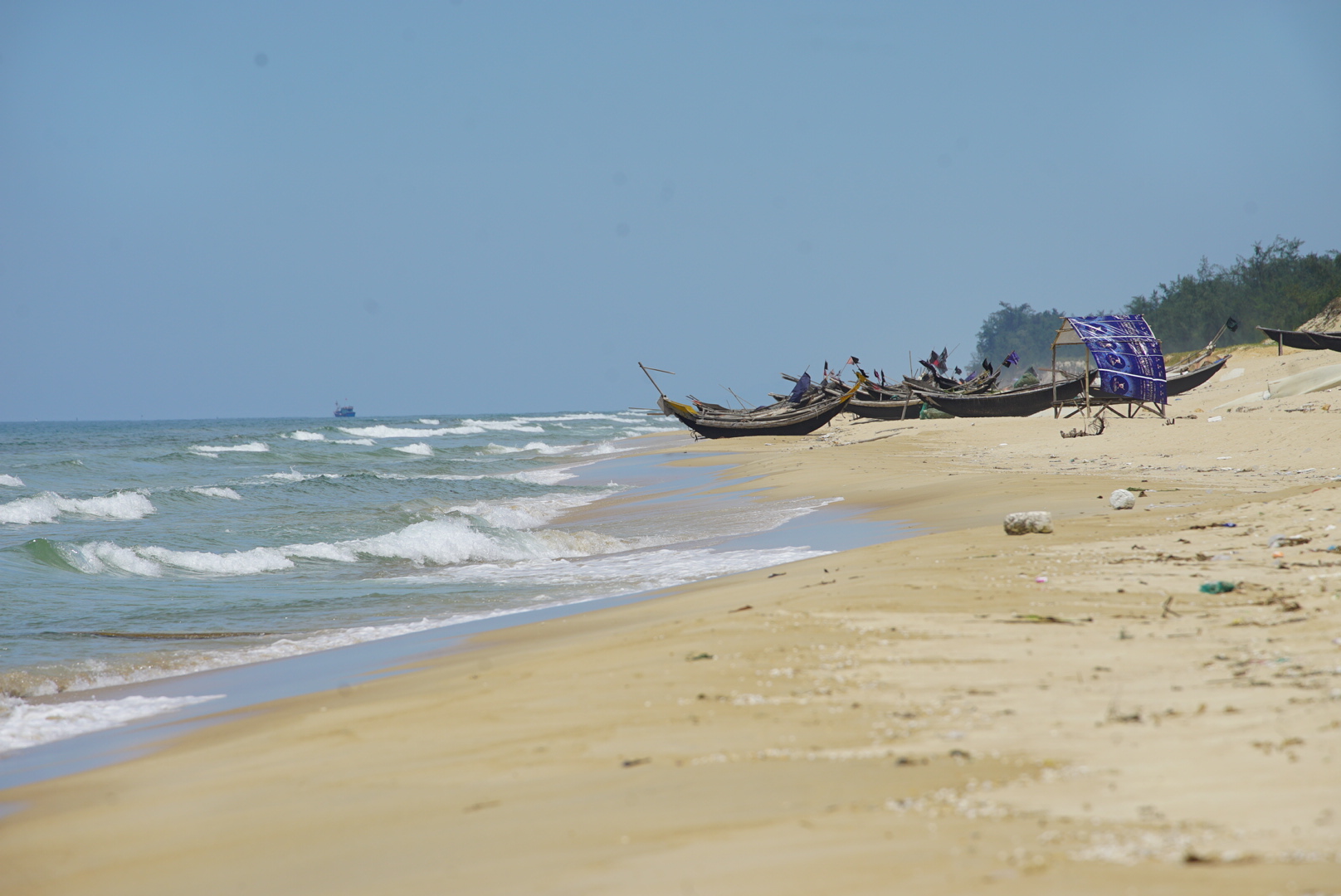 Not really knowing what to expect, we asked to be dropped off at some random place by the beach and we ended up what felt like the middle of nowhere. We found a large beach, completely deserted lined with a couple of seafood restaurants. After walking a bit in the heat, we eventually found a restaurant that had beach umbrellas to rent (not obvious though, you need to ask) and we were finally able to enjoy this beautiful beach without turning into cooked lobsters.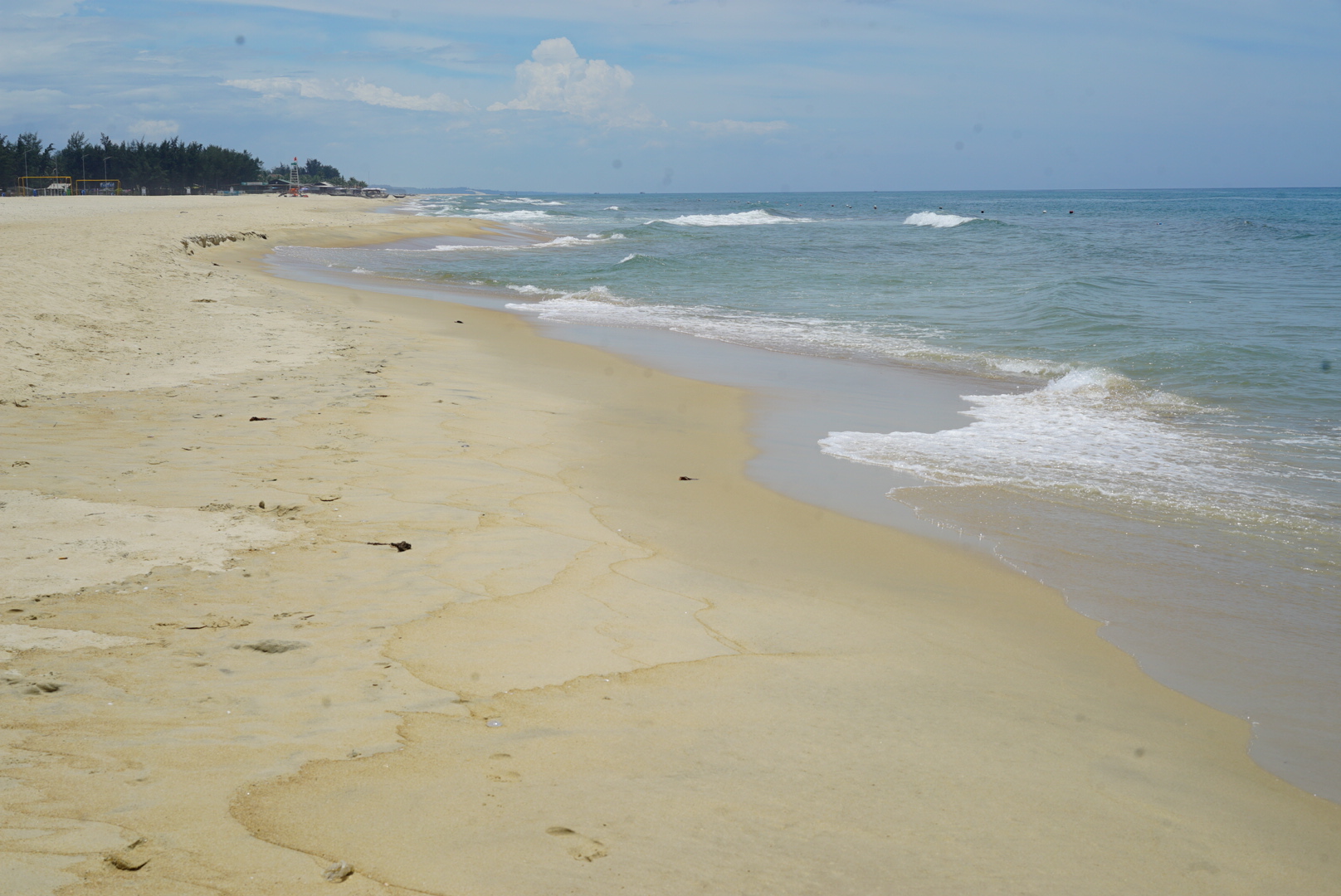 Practical information
Thuan An beach, 14 km East from downtown Hue. We paid 470,000 (tips included) for a return in taxi. Renting motorbikes would still be the cheapest option. We arrived at about 11 am and had the place to ourselves. A couple of other tourists and some locals came as well but didn't stay long.
Nha Hang Nhu Y restaurant, beach umbrella for 50,000 vnd. We also had lunch there (we luckily were able to find options without meat or seafood) and they even called our taxi for us when we were done.
All in all, our 3 day program was diversified enough. We liked the city and were also happy to leave the bustle and enjoy the calm beach. Thuan An beach area has a lot of potential and I would actually be curious to see what it will look like in a few years.
Note: there are affiliate links in this post, meaning we get a small commission if you place an order on the website through one of the links but to no extra cost for you.