11 Things to Do in Hong Kong
Out of all the places we visited, Hong Kong isn't our favourite. Our first impressions of the city were not the most positive and we were never really able to feel comfortable there. In hindsight though, I think staying in Wan Chai wasn't the best choice for us. The image of it that I keep in mind today is a rather gloomy and dark city with dirty streets and locals staring at me although foreigners are everywhere.
This post is also available in:

Français (French)
Of course, I couldn't say that I regret going though. All experiences are good to take and I'm glad we had the opportunity of seeing what life is like in Hong Kong. Although we probably wouldn't want to go back, we were able to see places that we did enjoy and have great memories of.
Hong Kong island
Hollywood Road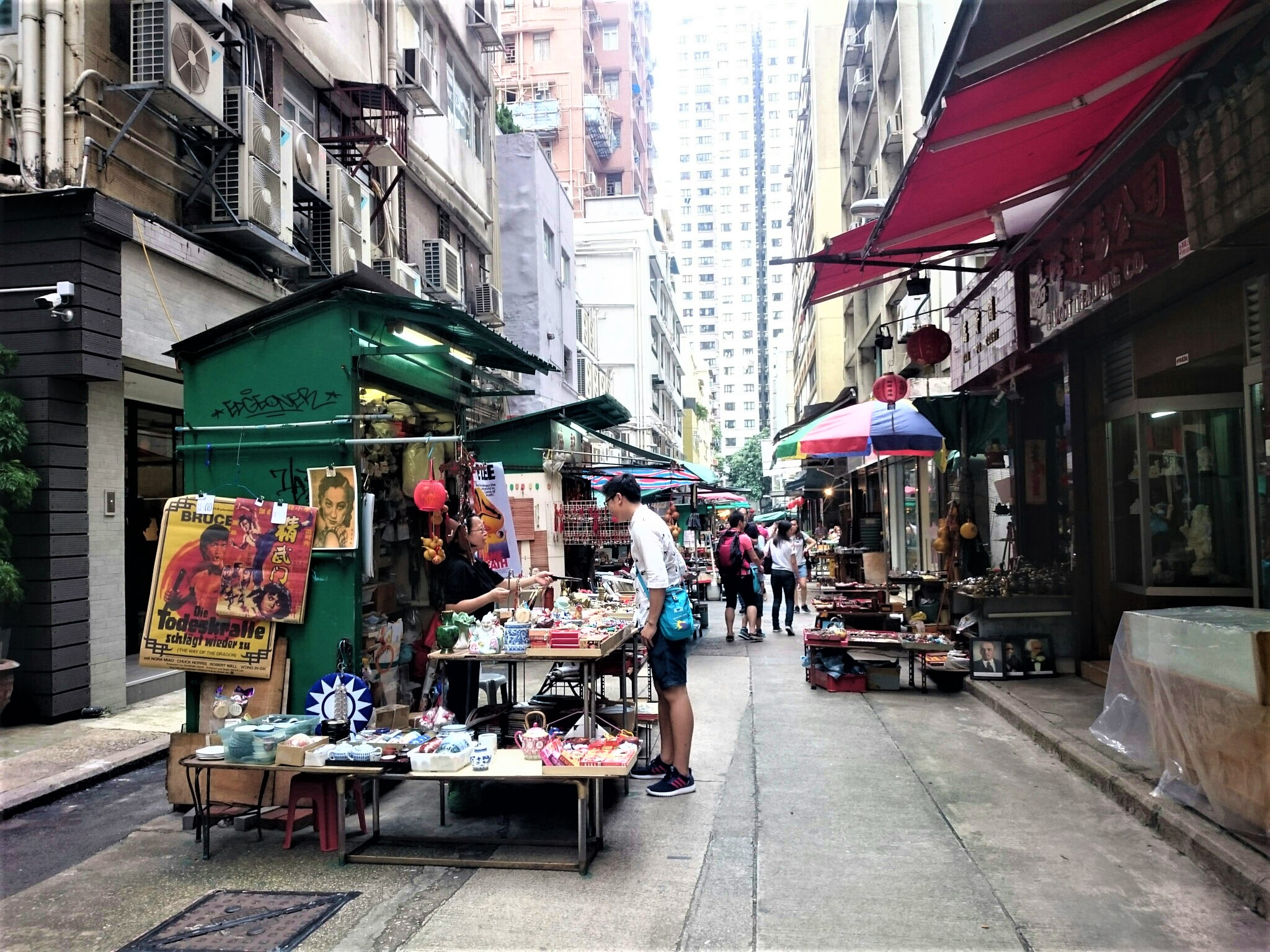 Hollywood Road is the place to go to if you are looking for authentic souvenirs to bring back home. The street is home to several trinket and antique shops. I'm usually not crazy about antiques back in France but it was hard to resist all the Buddhas statues and cute tea sets there.
Man Mo Temple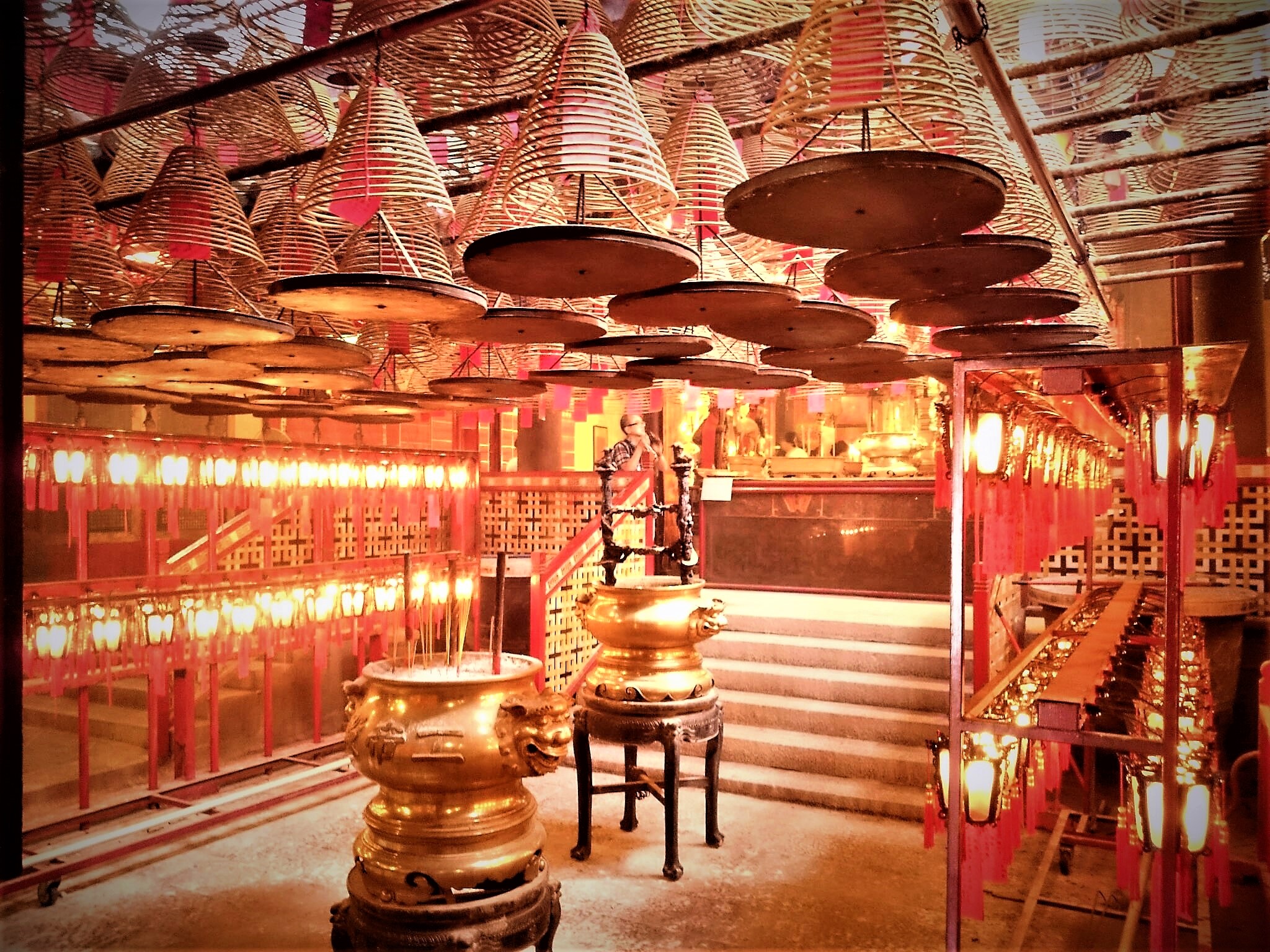 When we arrived in Hong Kong, we had just spent a whole month in Japan where we visited a lot of temples and I can say we were close to "temple burnout". We couldn't just avoid all temples in Hong Kong so we decided to pick carefully the ones we wanted to visit. Although it is very small and doesn't require a lot of time to visit, Man Mo temple is a pretty place that is worth the detour. It is actually located right next to the antique shops of Hollywood road and is known for its incense spirals hanging from the ceiling. They are beautiful to look at and even a bit mesmerising.
Where: Man Mo Temple, 124-126 Hollywood Rd, Tai Ping Shan, Hong Kong
Hong Kong park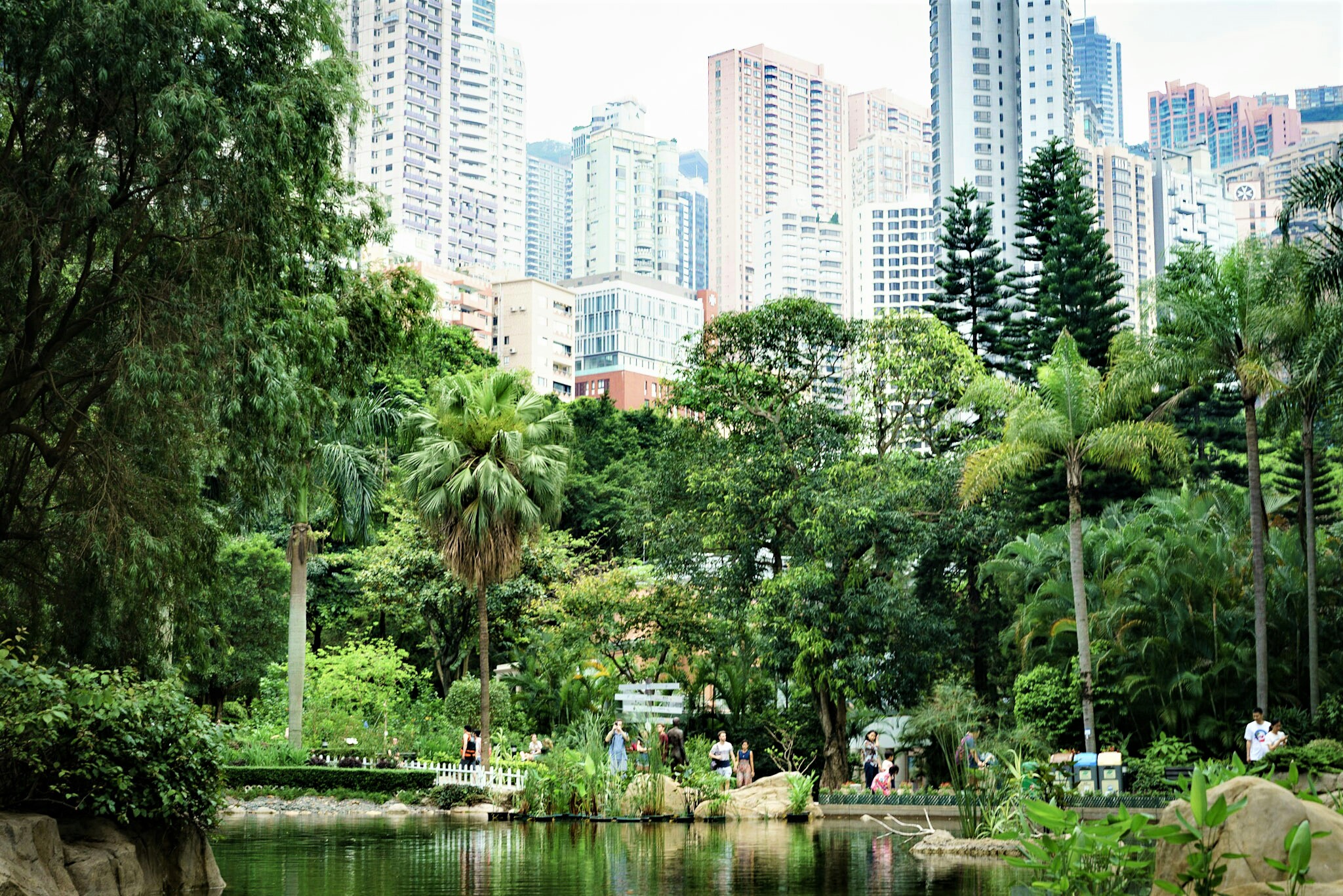 This park is a nice place to take a break from the bustling streets of the city. It is surrounded with tall buildings (just so you remember where you are) and offers some pretty views. It is also home to an interesting tea ware museum (a good excuse to enjoy the AC too) and a good restaurant.
Where: 19 Cotton Tree Dr, Central, Hong Kong.
Victoria Peak and Victoria Peak Park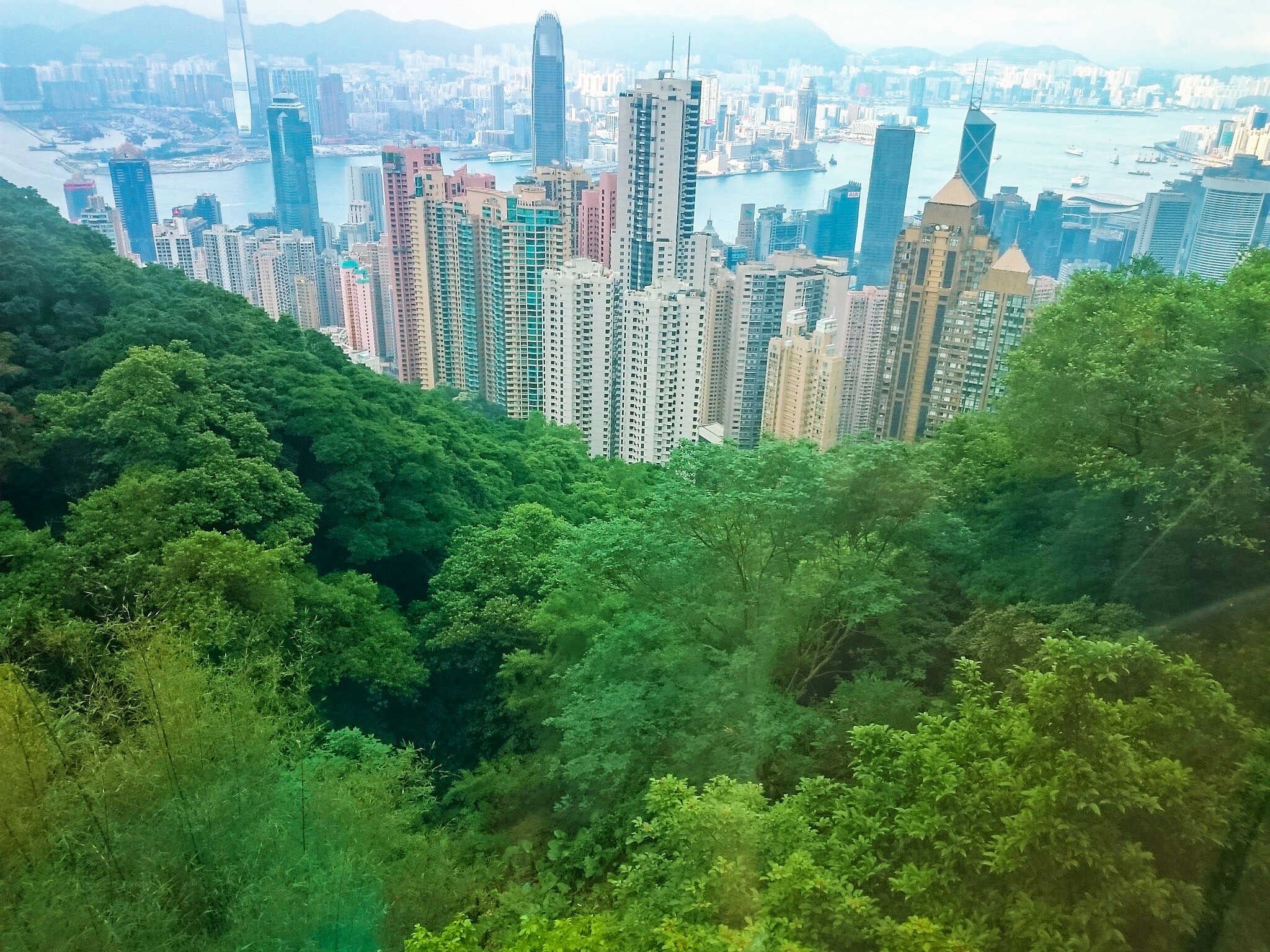 The Peak is one of the biggest attractions of Hong Kong. You take a train to reach the top of a hill and get the best view of the city. We didn't pick the best day to go since it was a bit cloudy but we were still able to enjoy the cityscape. It is a highly touristic place so we quickly decided to escape from the crowd and went to Victoria Peak park from where you are supposed to have a different view. When we arrived at the viewpoint though, it was so foggy that we couldn't see a thing and felt like we had found the end of the earth! So don't hesitate to share your experience in the comments if you were luckier than us at this place. The mist would actually give the park a kind of mysterious atmosphere and we really liked it.
To get there, take the train at Garden Road Peak Tram Terminus.
Repulse bay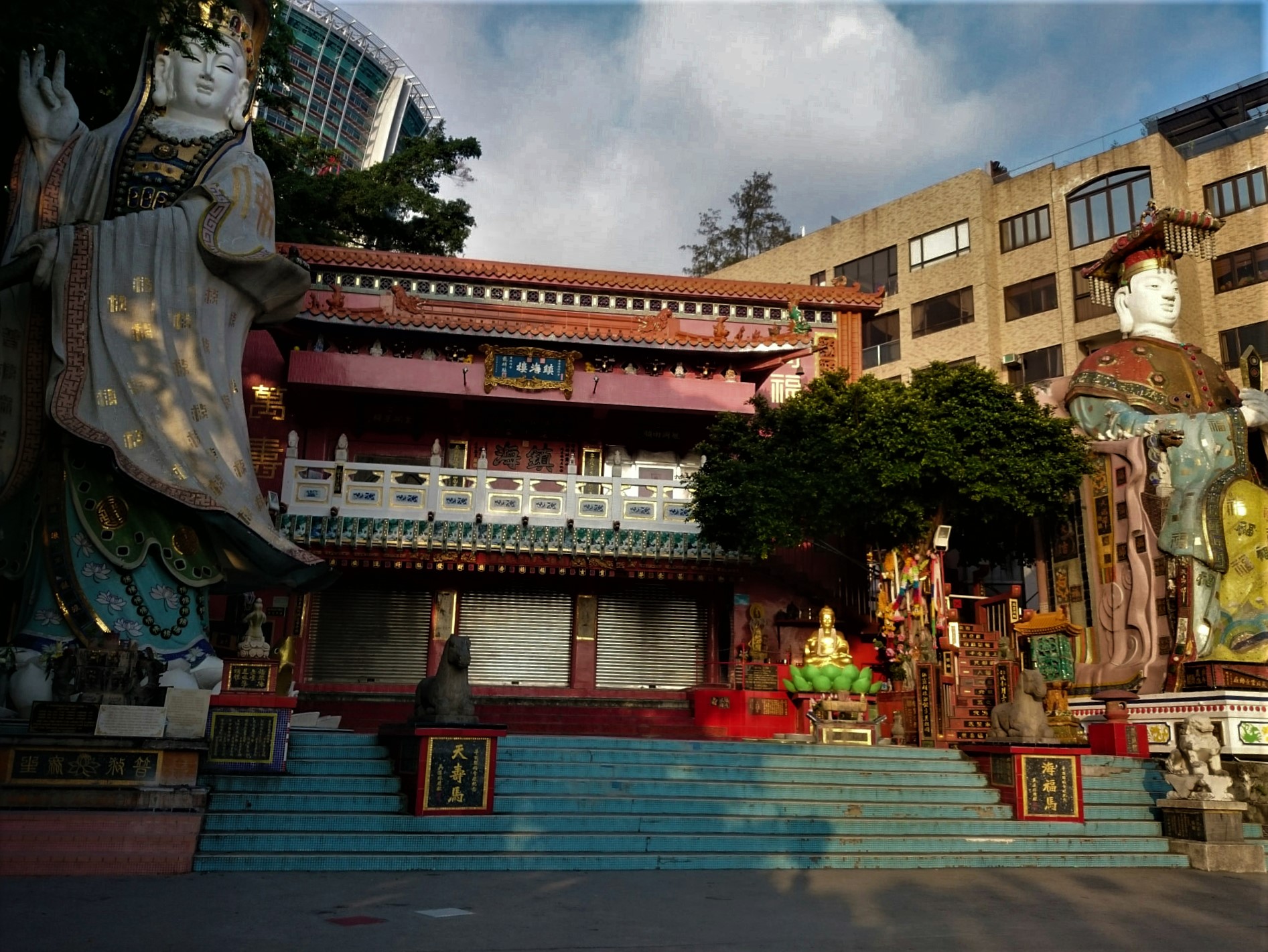 Repulse Bay is a nice area away from Wan Chai. It has a beach and an impressive temple with two giant statues (Tin Hau and Kwun Yum statues). We really enjoyed taking our time to admire all the details and colourful ornaments of the place.
Tea tasting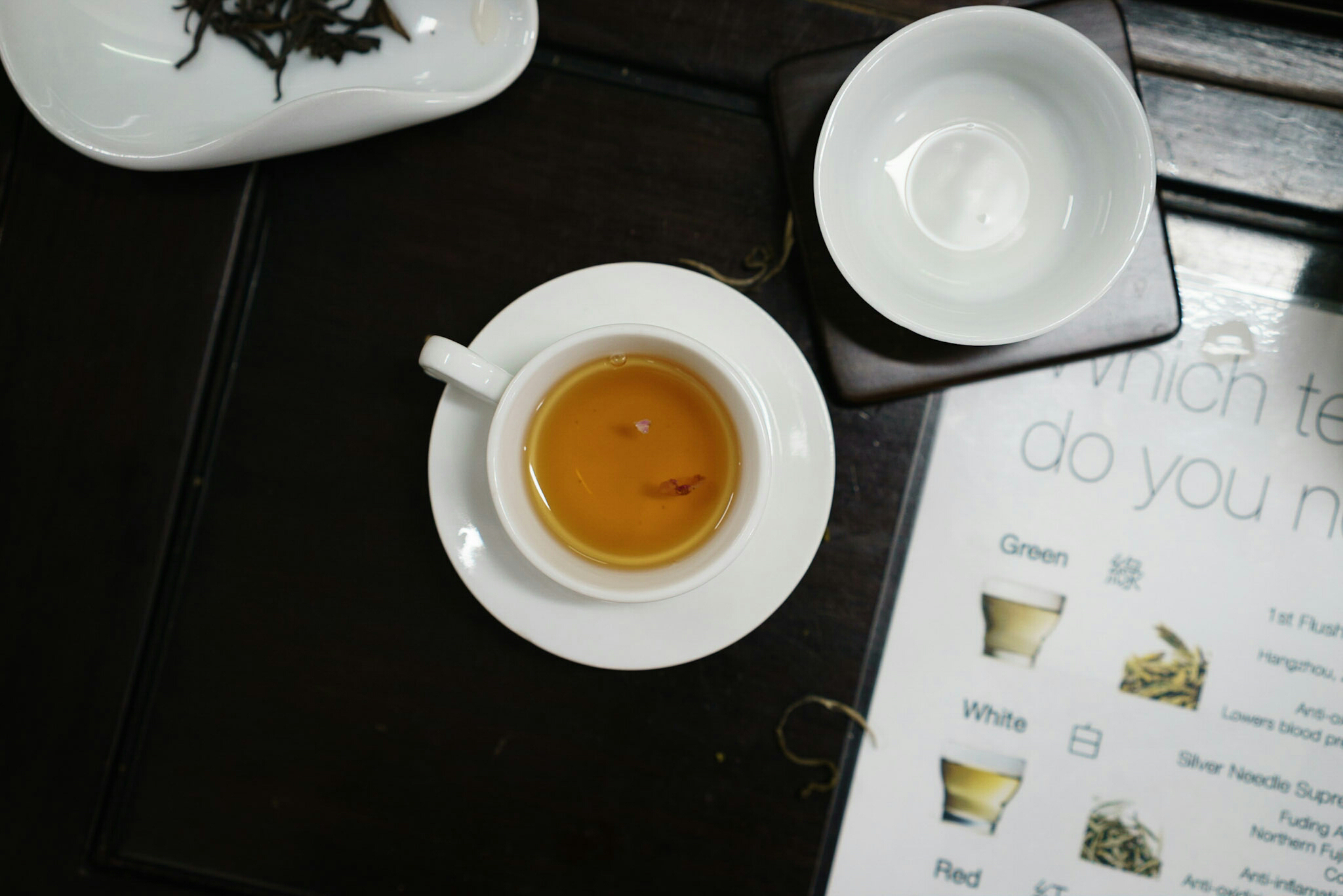 As tea lovers, tea tasting was something we didn't want to miss out on. There are several to choose from in Hong Kong. We picked the tasting session offered by MingCha Tea House and we were very happy with it.
Read more about our tea tasting in Hong Kong.
Where: MingCha Limited, 12/F Wah Ha Factory Building, 8 Shipyard Lane, Taikoo, Hong Kong.
Stanley market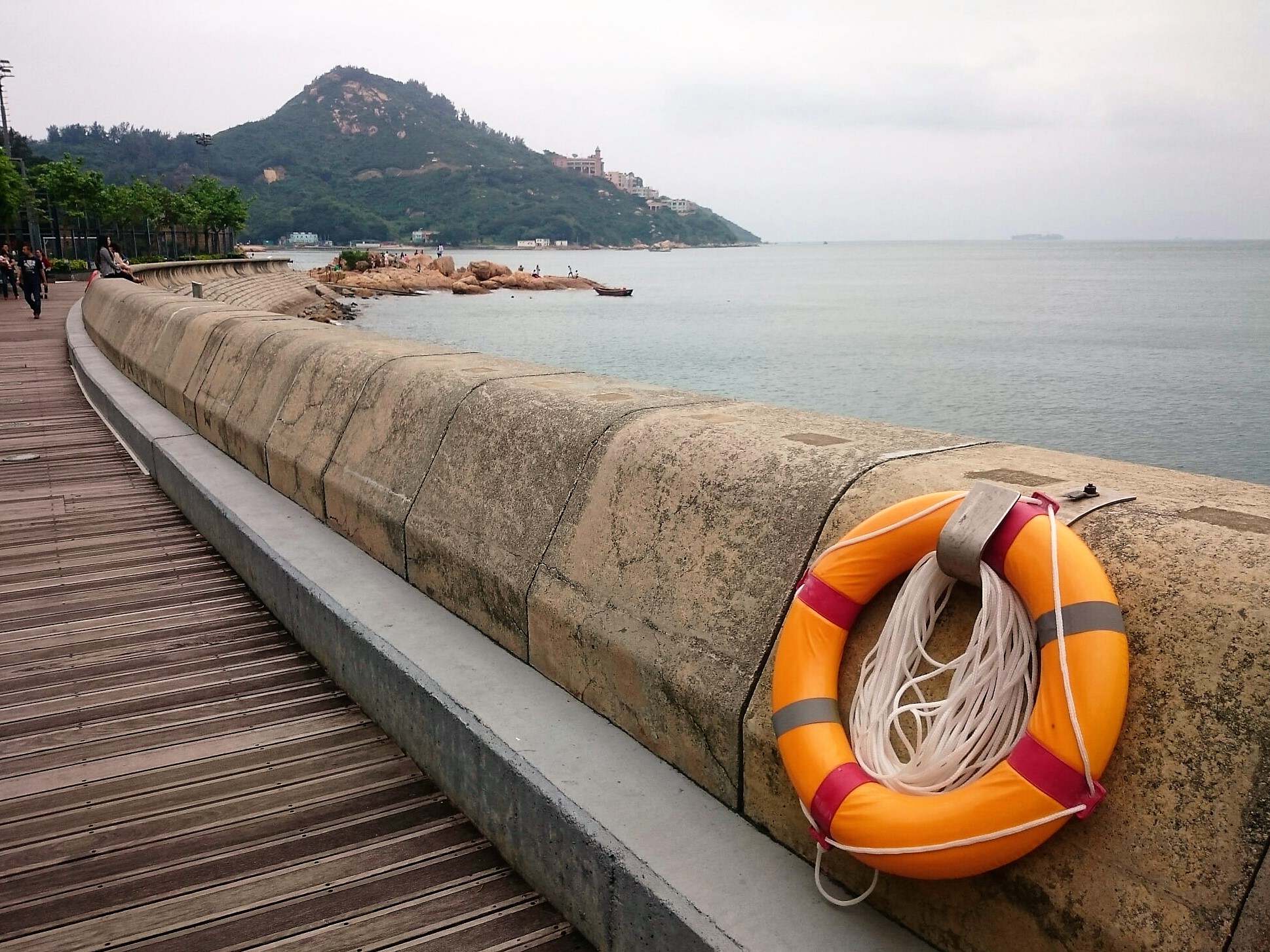 Stanley market is another great place to escape from the city. It has a lot to offer, from expensive tea ware and jewellery to more affordable souvenirs. I couldn't resist and bought some pretty coin purses and a fabric fan. The market is located right next to the sea front lined with cafes as well as a shopping centre.
Kowloon
Victoria Harbour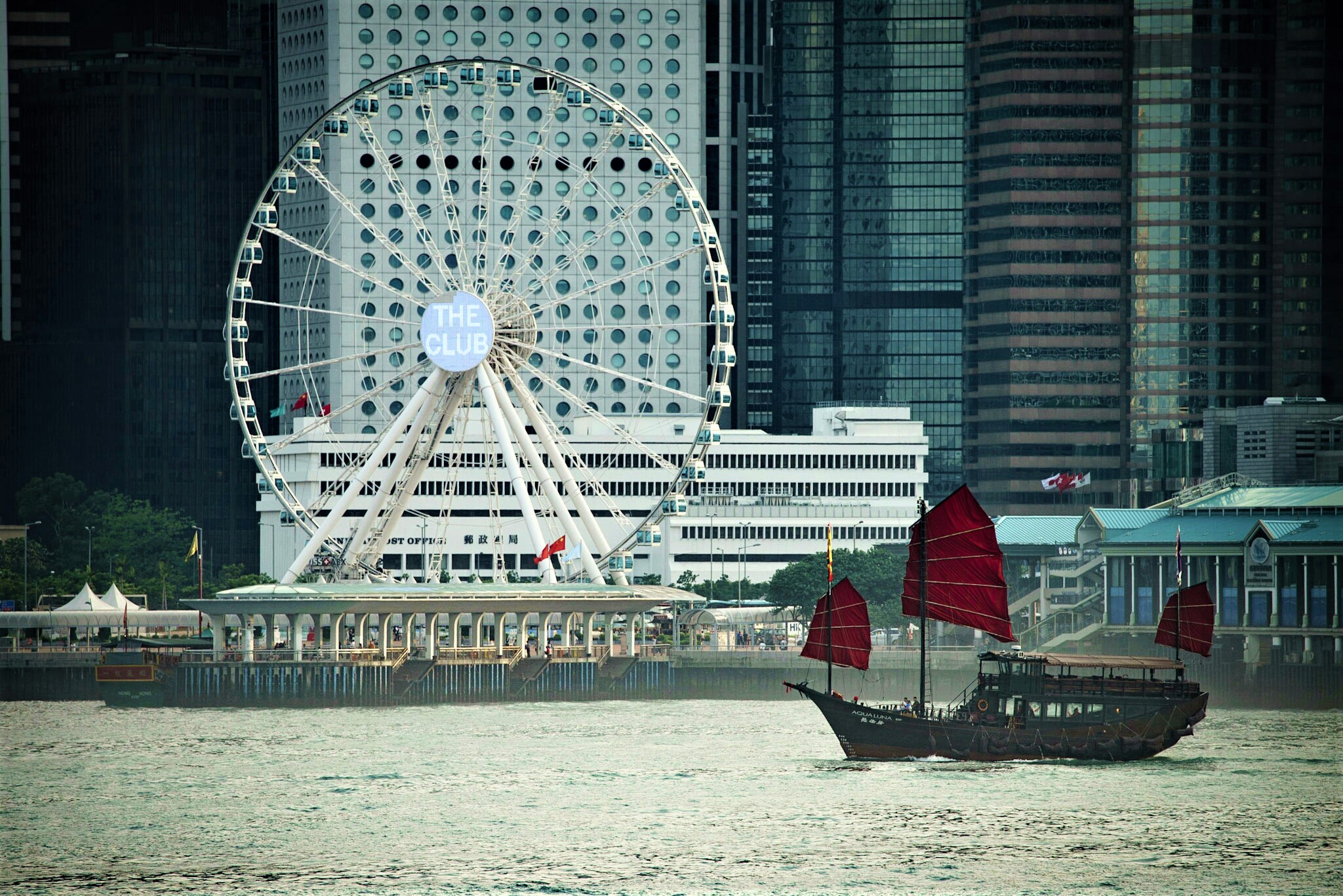 Victoria harbour is a popular place for a walk and to enjoy a nice view.
This is also where Simon almost had his wallet stolen. A man walked up to us and asked him in a friendly way if he had lost his wallet. At this point, they are hoping you will reach out to your wallet to check if you have it so they can know where it is. They would then give the information to an accomplice that will steal your wallet. We had luckily heard about the scam before and didn't fall for it but we did notice that another man, very likely the accomplice, was watching us and following us just a few minutes later. We started to feel very uncomfortable and quickly left the area.
Kowloon walled city park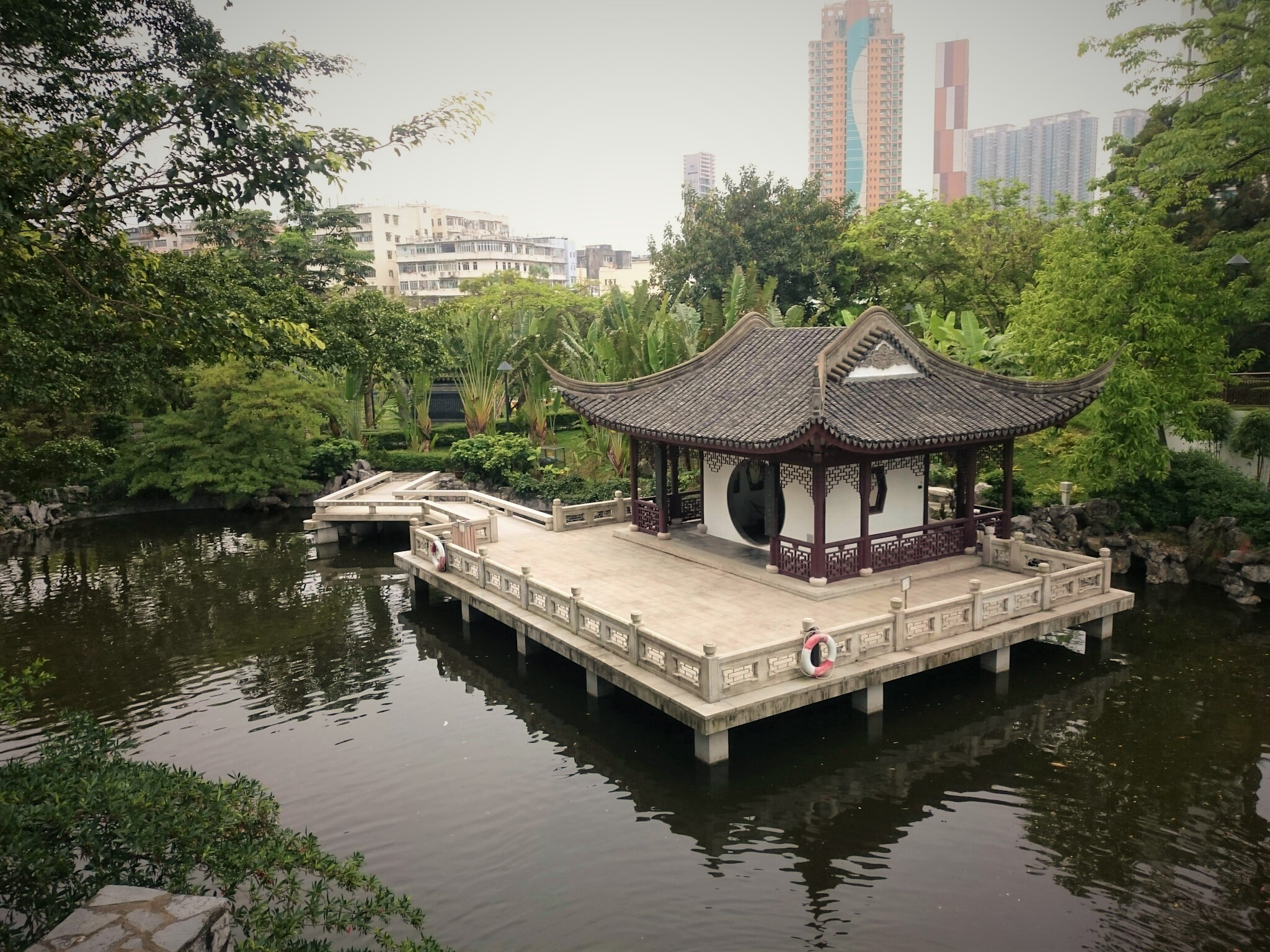 Located in an area where we didn't see any other tourists, Kowloon walled city park looks like a very elegant and well kept park, but it carries a heavy burden of history. Before it was destroyed in the end of the 1900s, Kowloon walled city was a packed slum, heaven to criminals, drug dealers, prostitutes and unlicensed dentists. Some families didn't have any other choices but to live there where they could benefit from extremely cheap rents before they were relocated when the city was replaced with a park.
We noticed that most visitors of the park were old people and we couldn't help but wonder if they had ever lived in the walled city.
Ten thousand Buddhas monastery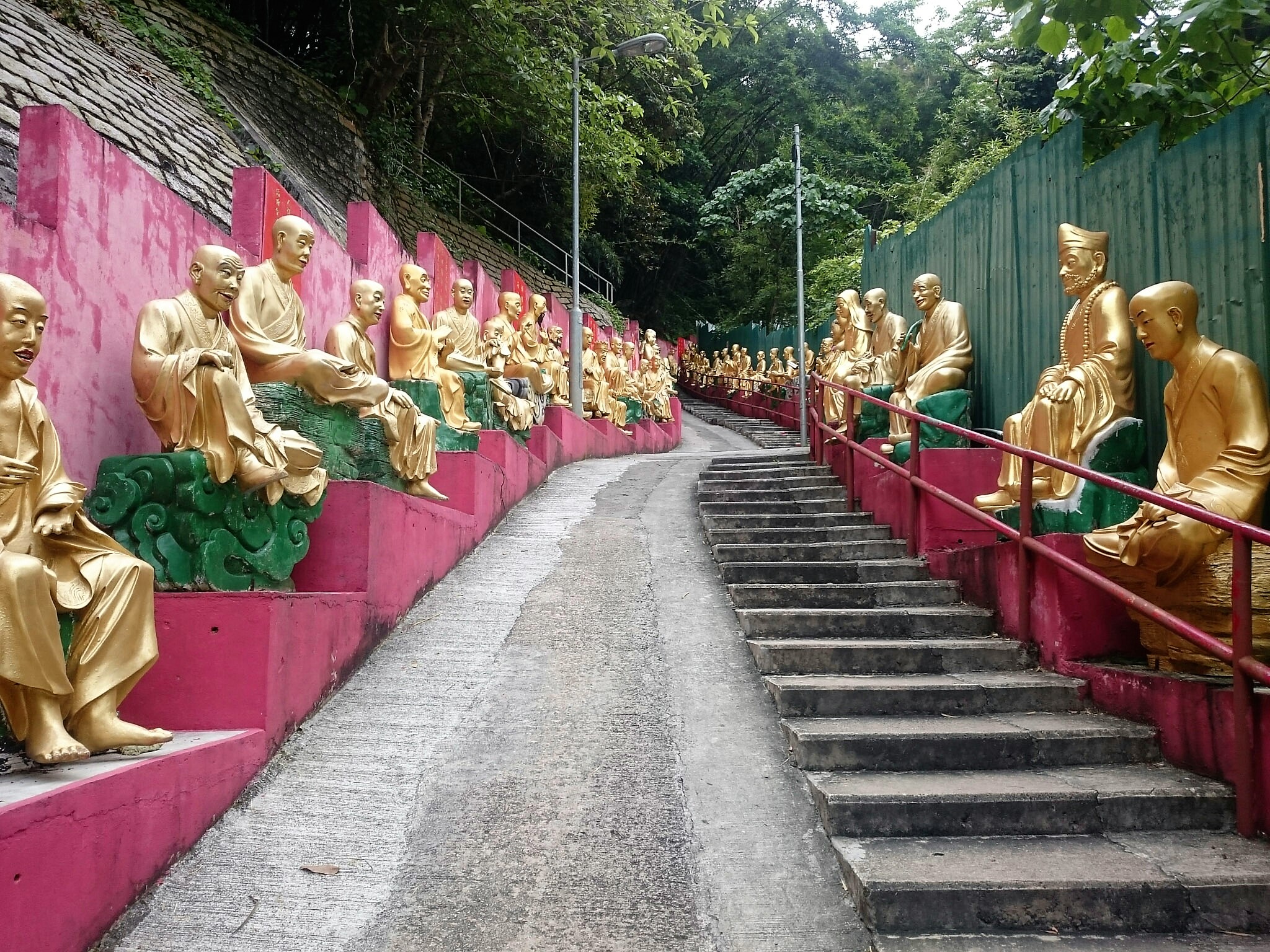 This was one of the highlights of our trip in Hong Kong and probably the thing we liked the most on this list. It takes quite a while to reach this monastery from Wan Chai (at least one hour with public transportation) but it is worth the ride. The monastery counts several worship places as well as a vegetarian restaurant that are open to visitors and located uphill. To reach them, you will walk up several flights of stairs, all lined with impressive golden Buddhas statues that are all different.
This place is also known for a common scam when fake monks beg you for money. In Hong Kong, monks are not allowed to ask for money so don't let these cons fool you.
Lantau Island
Tian Tan Buddha and the Wisdom Path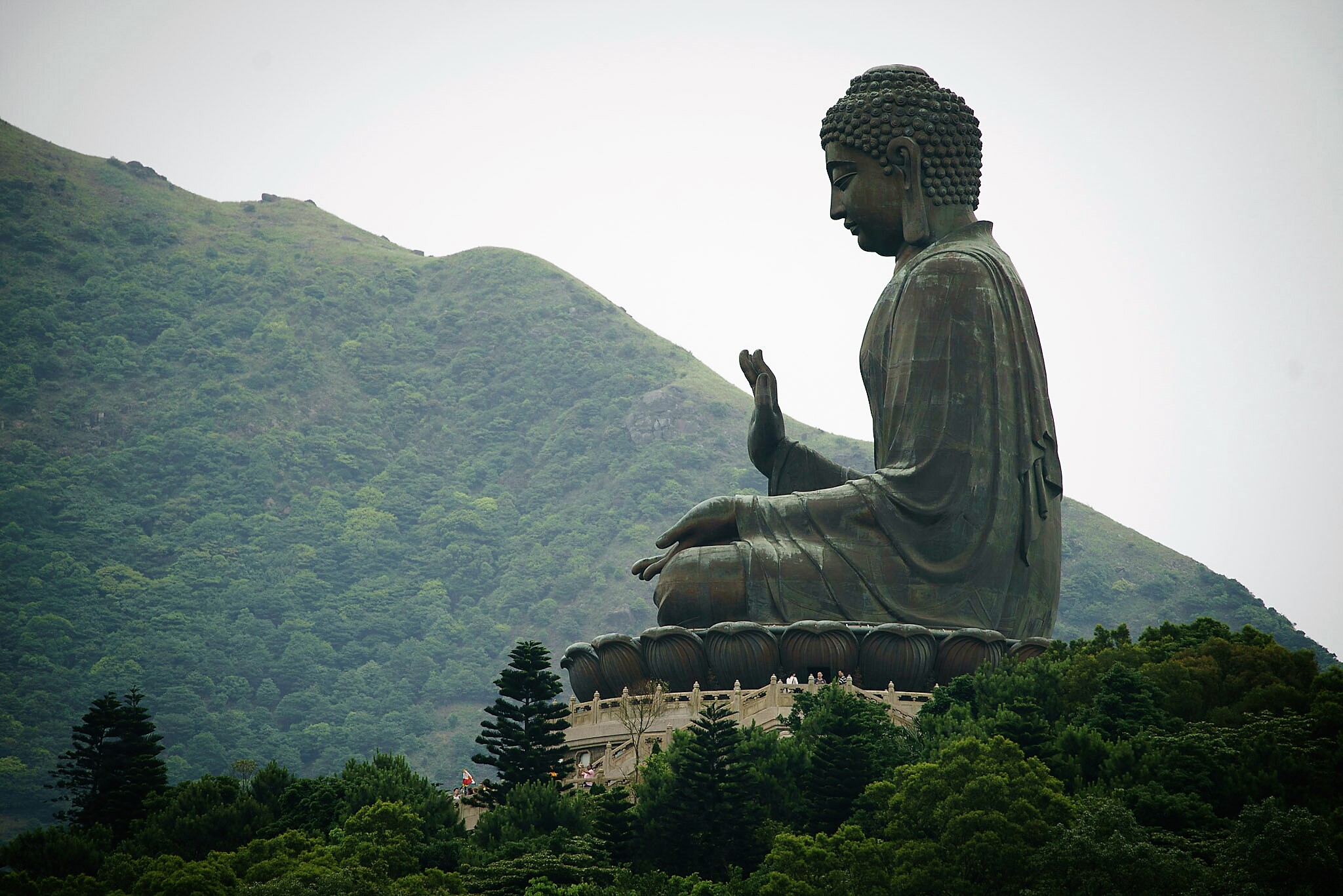 The big Buddha must be the most popular attraction of Hong Kong. Although it is highly touristic, I didn't want to miss it and I was not disappointed. The statue is as beautiful as impressive. There are a few other things to see in the area. We decided to walk away from the crowd and went to the Wisdom Path. This peaceful path is lined with wooden poles on which payers are engraved.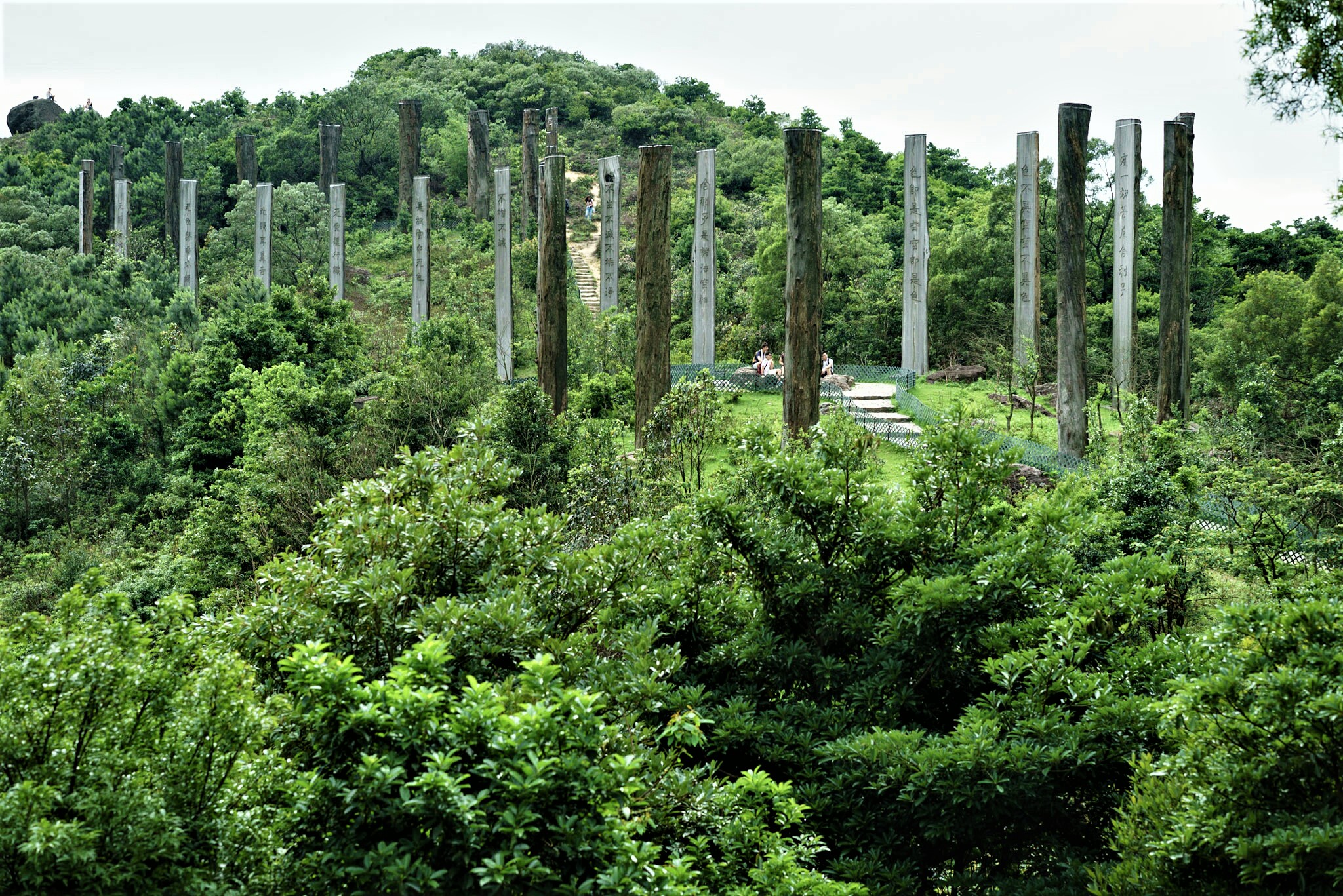 The cheapest way to reach the big Buddha is the bus but there is also a cable car available that offers great views over the hills and the magnificent Buddha.
Share this post